If you're looking to scrap your car or van in Southampton, you've landed in the right place. Offering instant quotations, it is easier than ever for you to compare offers and dispose of your vehicle.
From Bassett Green, Highfield, Shirley and Regent Park, to Netley, Swaythling, and Portswood, if you're looking to upgrade your vehicle or facing costly repairs after an accident, we'll help you find the best quote for your scrap car.

Best prices

Quick and easy

Huge buyer network

Instant Quote
---
Where to Scrap My Car in Southampton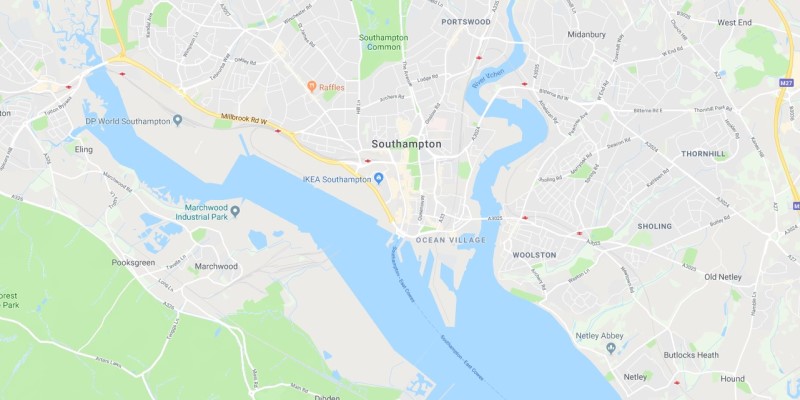 At Scrap Car Comparison, we've worked hard to establish a network of the best scrap and salvage buyers across the country, allowing you to access the best prices, wherever you're based.
Once you've found the best deal, we'll arrange for your scrap car to be collected free of charge, so you won't have to worry about getting your car to a Southampton scrap yard.
With no hidden fees or charges, you will enjoy free collection at a time and location in Southampton convenient for you. Along with providing all official paperwork, our helpful team will also be available to answer any questions you might have.
Vehicle Recycling Southampton
With the rise of recycling and the ever-lucrative market in scrap metal, it's now the case that almost every component of today's scrap cars can be processed for recycling. You can learn more about today's car scrappage and recycling processes here.
If you have a car to be scrapped or a salvage car based in Southampton or the surrounding region, we can make sure it goes to the right place, and help you make some money too.
Scrap Car Collection in Southampton
Over the years, we have helped many customers around the UK and in Southampton to find the best scrap deal for their damaged vehicles by building strong relationships with vetted and professional buyers. We check all of our buyers thoroughly to ensure you receive the highest quality of customer service and are satisfied with our scrap service.
If you would like to compare offers to dispose of your van or car in Southampton, check out our comparison service today. We work hard to find you the best possible deal, so you can make the highest return possible for your damage or scrap vehicle.
For further information about scrapping your car in Southampton, get in touch.
Scrap My Van Southampton
We have hundreds of buyers across the UK that want to buy your scrap van, no matter what condition it's in. All of the experienced buyers within our extensive network have spent years in the industry, and have an abundance of knowledge and expertise in both buying and recovering, damaged or broken vans across Hampshire. 

In order for us to generate a quote for your van, we first require your van's details. This can be done by either calling one of our expert advisors on 03333 44 99 50, or by completing the form at the top of this page.
What Our Scrap Car Customers Are Saying
We pride ourselves on the professional, friendly and efficient services we provide, from the beginning of your journey, to the very end. We always give impartial advice and provide our customers with the knowledge they need to pick the deal that's right for them. Read what some of our customers have to say:
"An incredibly quick and easy deal. I got the money they quoted me online paid straight into my bank. I'd definitely recommend to anyone having to scrap their car."
Donna W – Reviews.co.uk
"Great service from start to finish! All went smoothly and both of the service advisors I spoke to were so helpful. Payment went into the bank exactly when they said it would."
William T – Reviews.co.uk
"I can only say that I was very impressed by the service provided by Scrap Car Comparison, my car was picked up within 48 hours and the money in my account 24 hours later. 5 Star Service."
David H – Reviews.co.uk
Scrappage FAQs
Where Can I Scrap My Car in Southampton?
We're able to provide you with quotes from a number of local scrap dealers based around Southampton, but don't worry, you won't need to take your car anywhere to be scrapped. They'll come to you at a date and time that suits you.
How Do I Scrap a Car in Southampton?
You could try taking your car to a local scrap yard, but it can be more hassle than it's worth. You'll be tied to the price, and have to arrange to get the car to the scrap yard, even though your vehicle may not be roadworthy! It's much easier to fill out our form, get quotes, and have your chosen dealer pick up from you.
How Much Can I Make from Scrapping My Car?
The amount of money you would make scrapping your car or van varies based on a number of factors such as the make/model, the age, the condition and the state of repair. Take a look at our article on scrap car valuations to find out more.
Do You Quote for Salvage Cars in Southampton?
We are able to provide offers for a salvage car or van, which is where the vehicle has been written off by an insurer. These are typically worth more than their scrap equivalents, so make sure you fill out our form to get the most competitive quotes from Southampton's scrap dealers.
Where is a Scrap Yard Near Me?
Don't worry, if you have a car to be scrapped, you don't need to find a scrap yard or worry about how you'll get the vehicle there. Just fill out our online form to get quotes from local providers, and your chosen scrap dealer will contact you to arrange collection at your convenience.
If you have any more questions on collection, payment or the process, visit our scrapping FAQ page.
Other Locations Near Me
Our most popular Southampton scrap car collection areas include Marchwood, Woolston, Portswood, Totton and Thornhill.
Our large buyer network allows us to collect cars and vans in Southampton and elsewhere in the UK. We make it quick and easy for you to sell your car, without the hassle of taking it to a Southampton scrap yard yourself. Here are some of our larger pickup locations.