Whether your vehicle has been written off in an accident, failed its MOT or simply reached the end of its lifespan, if you are looking to scrap it there are specific documents you will need to present.
To help ensure you have all the right documents, we've compiled a handy list of the required paperwork in order to save you time and help you successfully go about scrapping your car.
Documents needed to scrap your car
Only certain centres are legally allowed to scrap cars – Authorised Treatment Facilities (ATFs). This is because hazardous parts such as batteries and oil need to be safely and responsibly removed.
In order to scrap your car, you will need to present the following documents:
Vehicle registration document (V5C)
The vehicle registration document, also referred to as a V5C. This is the vehicle logbook and is the most important document required to scrap your car.
The V5C confirms the registered keeper who is responsible for the vehicle. It also prevents an unauthorised sale of your vehicle.
Find out more about the V5C and other scrap car documentation.
V5C/3
The V5C/3 is the yellow slip from your vehicle registration document, and you must present this when looking to scrap your car. Also ensure you keep your receipt from the Authorised Treatment Facility (ATF), you'll need each of these documents to scrap your car.
Personal identification
It is a legal requirement to provide a form of ID, such as a driving licence or passport when scrapping a car, whether you have the V5C document or not.
I don't have a V5C – can I still scrap my car?
Having trouble locating your V5C logbook? If this is the case, you are still able to scrap your car, but you'll need to follow some additional steps first.
You can replace the V5C document by contacting the DVLA and paying a fee of £25, although you can avoid this cost by simply writing to the DVLA to inform them that you have sold your car to a registered ATF as scrap.
In order to notify the DVLA, you will need to provide them with details which they'll update to show that you are no longer the registered vehicle keeper.
You'll need to provide the following:  
Your personal information
Authorised Treatment Facility (ATF) details
Car make, model and registration number
Date of the sale
If you happen to select a car scrap yard (ATF) that demands you present a logbook, and you don't have one, it is advised that you present photographic ID and a utility bill. Having these documents to hand will help the process run more smoothly and increases the likelihood of you being able to scrap your car at an ATF without your logbook.
Looking for more information about scrapping your car? Find out more about the scrapping process in our guide to scrapping your car.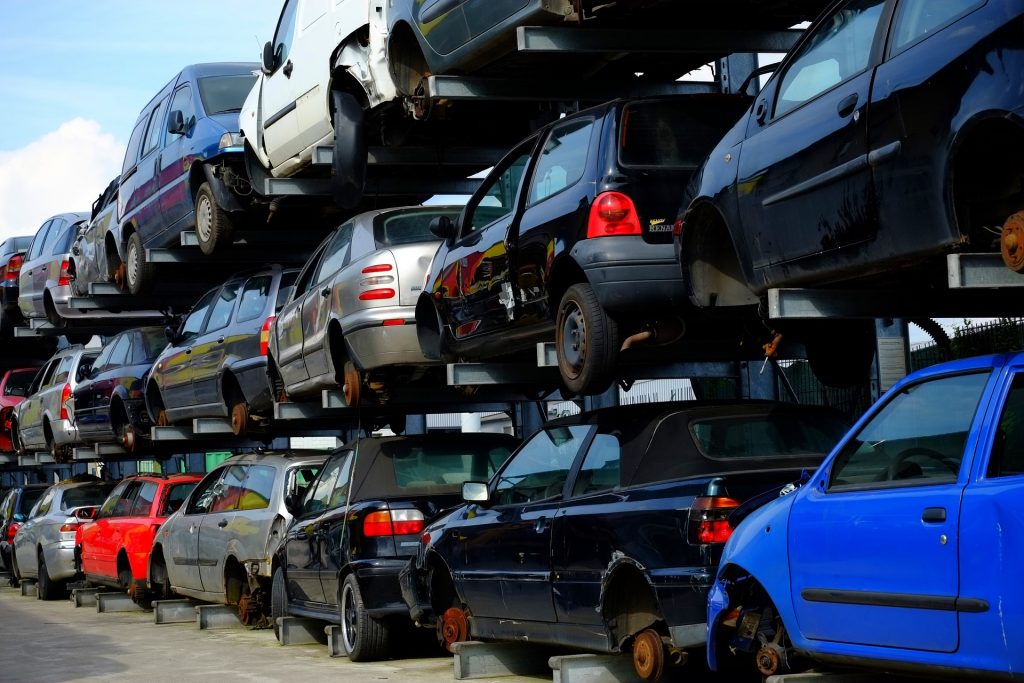 What happens to my vehicle once it is scrapped?
Certificate of Destruction (CoD)
Once a vehicle has been given to an ATF to be scrapped, the AFT will issue a Certificate of Destruction (CoD).
A Certificate of Destruction (CoD) is the certificate that proves you have had your car recycled. It can only be issued by a centre with an ATF licence. The V5C/3 section will be completed and exchanged for a CoD, and this needs to be sent to the DVLA.
A CoD also clears you of any responsibility for your vehicle following the scrappage. Once the DVLA receives your CoD, they will automatically refund any unused road tax back to you.
Find out about how your car is recycled in a three-step car recycling process.
Find out more
If you'd like to scrap your car with us, or need further information on the documents needed, we make the process quick, simple and hassle-free. Simply enter your details in our quote form and we'll find you the best possible quote from our trusted buyers.
Contact us here if you have any other questions about scrapping your car.