Here at Scrap Car Comparison, we have worked hard to create a car scrappage comparison site that offers the very best prices for your vehicle in Sheffield.
From the moment you land on our site, you will be able to enjoy a bespoke service that aims to get the best price for your vehicle, regardless of its make, model or condition.

Free Collection

All Sheffield Areas

Local Buyer Network

Guaranteed Prices
---
Where to Scrap My Car in Sheffield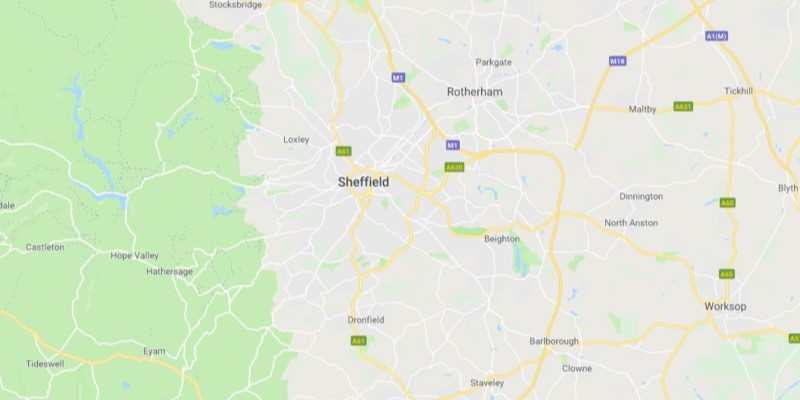 All of the comparing agents we work with fully understand the value in an end of life, damage or unwanted vehicle, which is why we are always able to help you get the best price.
As part of our hassle free, car scrappage service in Sheffield, you will also be able to enjoy free collection on a time and day that works for you, instant quotations and guaranteed prices.
Above all, you will always get the price you have been quoted and there are absolutely no hidden costs.
Whether you're looking for a scrap collection service in Sheffield, or you are looking to dispose of your damaged car, check out our comparison service today, in order to get the best deal for your vehicle, and enjoy free collection on a time and day that works for you.
Vehicle Recycling Sheffield
The process of scrapping your car is not how it used to be – the days are gone when old cars would be crushed and piled up at the local scrap yard. Modern car scrappage saves nearly every component of a scrap car for recycling. Check out our full guide to car recycling for the full story how cars are scrapped using the latest techniques.
Scrap Car Collection in Sheffield
For many years we've successfully assisted customers in the UK and in Sheffield to find the best possible scrap deals. We do this by building strong relationships with local professional buyers who are strictly vetted by our processes, making sure you get the highest standards of customer service when you scrap your car with us.
To go ahead and get offers for your car or van in Sheffield, try our comparison service today. We've worked hard on making sure the best possible deal for your car is just a few clicks away, whatever type of vehicle you have, whenever you're based in the UK.
If you need any further details about scrapping your car in Sheffield, get in touch with us.
Scrap My Van Sheffield 
Getting the best price for your van couldn't be easier when you use Scrap Car Comparison's free and instant quote calculator. Or, if you'd prefer to speak to a human, you can talk to our expert team directly who can talk you through the process, answer your queries and get you the best price for your van.

We scrap vans in a similar way to scrapping cars, and your van will be collected free of charge and on a day and time that suits you. Plus, Scrap Car Comparison guarantees all quotes which means that, regardless of any fluctuations in the scrap metal market, the price which you have been quoted is the price that you will receive.
Car Breakers in Sheffield
It's never ideal when your vehicle breaks down or stops working, and sometimes repairs can be too costly. Sometimes you just need a part or two to get you back on the road, that's where car breakers, or scrap yards, can come to the rescue. From models such as Ford, Honda, Nissan, Audi and BMW to parts such as tyres, seats and bodywork. The idea of a car breaker is that a motorist can find a specific part for their vehicle for a much cheaper price, rather than having a car manufacturer make a new piece.
What Our Scrap Car Customers Are Saying
We pride ourselves on the professional, friendly and efficient services we provide, from the beginning of your journey, to the very end. We always give impartial advice and provide our customers with the knowledge they need to pick the deal that's right for them. Read what some of our customers have to say:
"Very quick, very helpful, very friendly. No hassle and everything was very clearly explained. From my first phone call to the last one everyone was as friendly and helpful. 5 big stars!"
Katrien E – Reviews.co.uk 
"Excellent service from start to finish. Communication was fantastic throughout, with no pushy sales pitch and really helpful staff. The whole process was really efficient and the payment was received the same morning as collection. Would definitely use again and firmly recommend to anyone needing to get rid of they're Vehicle at a fair price."
Robert S – Reviews.co.uk 
Scrap Yard FAQs
How Much Does it Cost to Scrap My Car in Sheffield?
Today's cars are a great recycling opportunity, and a rich source of scrap metal, so in fact you'd expect to make money from car scrappage. To find out what you could make when you sell your car for scrap, fill out our quick and easy online form and we will get back to you with a competitive range of offers from scrap dealers in Sheffield.
Can I Donate My Old Car to Charity?
Many people choose to donate the funds raised from scrapping a vehicle to charity, and we're more than happy to help our customers do this. With Scrap Car Comparison you can choose the percentage of the value of your scrap car you want to donate, and the charity that benefits – find out more with our article on car donation.
Could I Get My Scrap Car Collected Near Sheffield?
If you're located in Sheffield or nearby places like Rotherham, Chesterfield or Barnsley, we can get your car collected and scrapped. Just complete our online form and we will come back to you with a range of offers, and when you have chosen the quote you want to proceed with, the local scrap merchant will come and collect your old vehicle from your address.
Could I Scrap My Van?
Our network supports van scrappage too, simply complete our form providing the information about your vehicle and we'll issue quotes for scrapping your van from local providers based in the Sheffield region. Your chosen dealer will then collect the van on a mutually convenient date.
Can I Recycle a Car in Sheffield?
The latest recycling methods have developed to a point where nearly all components of a car can be either reused or broken down for recycling. If you are based in Sheffield, or the surrounding South Yorkshire region, we can get your vehicle recycled for you. Complete our online form to start the process and we'll take it from there.
If you have any more questions on collection, payment or the process, visit our scrapping FAQ page.
Other Locations Near Me
We work with a huge range of professional buyers throughout the UK. Contact us for a quick, hassle free collection anywhere in the UK. Here are some of our larger collection areas.
Bradford
Hull
York
All locations