Here at Scrap Car Comparison, we can help you find the best price for your car or van across Hull and Yorkshire. Our free online scrap calculator means that you can compare prices from our extensive network of trusted buyers and snap up the best deal. All of our experienced buyers are fully checked to ensure they deliver the best customer service and make the process run smoothly. Plus, you can rest assured knowing there will be no hidden costs or unexpected extras, just scrappage made simple! 

Collections from all Yorkshire areas

Guaranteed prices

We collect for FREE!

Trusted and experienced
---
Where to Scrap My Car in Hull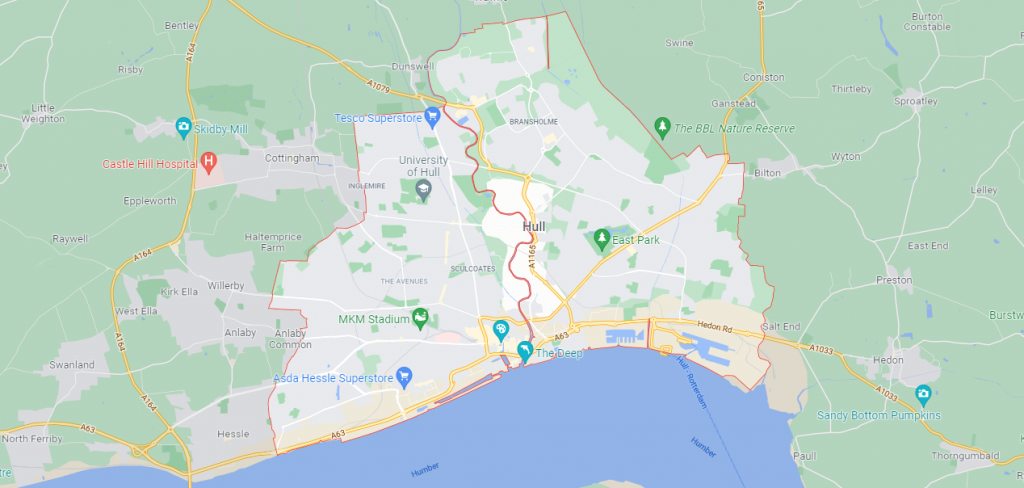 Our extensive network of scrap and salvage specialists covers the whole of the UK, so you can access the best prices from across Yorkshire and surrounding counties. We compare prices to ensure that the prices you're quoted are the most competitive, so you can get the best deal possible. Once you've selected the quote you'd like, our friendly team will be in touch to talk you through the rest of the Scrap Car Comparison process.
Vehicle Recycling Hull
Recycling vehicles is more important than ever. The reasons for recycling a car are different from person to person, and could include any of the following:

A vehicle has been involved in an accident and

has been damaged

Replacing a diesel engine vehicle
Wanting to donate a car for a charitable organisation
Scrap Car Collection in Hull
We'll collect your vehicle completely free of charge with no extra costs along the way. Plus, our friendly team is on hand to guide you through the process and answer any questions you have. If you want to find out how much your car could be worth, use our scrap value calculator and start comparing the best prices.
Scrap My Van Hull
Do you have a van that you're looking to sell in Stratton? Scrap Car Comparison will offer you a top, guaranteed price for it – regardless of the condition. Whether your van has failed its MOT, is old and worn out, has crash damage or a faulty part, our knowledgeable scrap and salvage buyers will quote your van and offer you the most competitive prices, plus they'll collect it free of charge.
The process of scrapping a van is similar to our scrap car process, so find out more or get started with your personalised quote.
What Our Scrap Car Customers are Saying
We pride ourselves on the professional, friendly and efficient services we provide, from the beginning of your journey, to the very end. We always give impartial advice and provide our customers with the knowledge they need to pick the deal that's right for them. Read what some of our customers have to say:

"I received excellent service and the staff were extremely helpful and very professional.
Highly recommended. First class."
Dennis F – Reviews.co.uk

"After a very near emotional goodbye to my BMW of 8 years. Very good service quick and easy and reliable. I would definitely recommend this company"
Colleen A – Reviews.co.uk

"Professional, reliable, clear communication, car collection and payment exactly when they said. Highly recommend ScrapCarComparison."
Mark H – Reviews.co.uk 
Scrap Yard FAQs
What Happens To My Car?
Once you have accepted a quote for your vehicle the buyer will contact you to arrange the collection of your vehicle. What happens once your vehicle is collected will depend on the reason why the vehicle was bought. The vehicle may have been purchased to be dismantled and scrapped at an Authorised Treatment Facility (ATF), or it may have been bought for salvageable parts; in which case parts of your car will be taken apart and fixed, or used to return another vehicle to the road. This guide explains more about what happens to your scrap vehicle.
Are Your Prices Guaranteed?
Yes, subject to inspection. All of our prices are guaranteed, subject to inspection, upon receipt of a signed purchase agreement. This means that as long as the vehicle has been described accurately during the quotation stage you will receive the exact amount which you were quoted.
When Will I Get Paid?
All payments are put through once the vehicle has been collected, so you'll get paid the very same day. If you have any more queries on the scrapping process, read our most frequently asked questions or get in touch with us.
Do You Buy Insurance Write-Offs?
Yes. Our network of buyers spans nationwide and consists of specialist buyers for both scrap and salvage vehicles. So regardless of the condition of your vehicle, if you are selling a category car we'll be able to find somebody interested in purchasing it. Read more in our Buy Back Hub.

Do You Buy High-End Vehicles?
Yes. Our buyers specialise in purchasing vehicles for both scrap and salvage purposes regardless of the make, model or condition. If you'd like to retrieve a quote for your vehicle simply add your details to the quote form above for a free instant, no obligation, quote.
I Have Taken Parts Off My Vehicle, Can You Still Scrap? 
Removing parts off your vehicle may significantly affect the price in which you are quoted as it means your car may only be suitable for scrap, and not salvage purposes. However your vehicle will still be worth something. In order to find out what the value of your vehicle is, simply fill out the above form with your vehicle's details and we will search our nationwide network of buyers for you to find the most suitable buyer and price for you.
I Don't Have The Keys For My Car?
That's ok, however if you don't have the vehicle's car keys please ensure that you let us know at the initial quote stage so that we can ensure the buyers we find for you have the correct recovery equipment to retrieve your vehicle. Find out more on scrapping without keys in our helpful guide.
Do You Buy Alloy Wheels?
Many of the buyers on our network purchase vehicles with alloy wheels for both scrap and salvage purposes.
Can I Put Household Rubbish In The Car?
No. The buyers on our network don't expect the vehicle to be waxed and polished but many buyers will not take the vehicle if it is full of rubbish inside. Read more in our guide to removing rubbish from your vehicle before scrapping.
When Will I Get Paid?
All payments are put through once the vehicle has been collected, so you'll get paid the very same day. If you have any more queries on the scrapping process, read our most frequently asked questions or get in touch with us.
Other Locations Near Me
We can collect from all over the UK, no matter how far. Just get in touch with us and get the process started by getting your instant, free quote.
Here are some of our larger collection location: