If you are looking for the very best price to scrap your car in Bradford, look no further than Scrap Car Comparison. Here at Scrap Car Comparison, we'll help you find the best possible price for your scrap car in Bradford, no matter where you are located.
Using our independent comparison service, you'll have access to deals from over 100 of the very best scrap and salvage yards across the UK. You'll be able to select the best deal for you and we'll even come and collect your car from Bradford, completely free of charge.
Whether you're based in Addingham, Baildon, Bingley or Harden, or any other area in Bradford, you'll have access to the very best possible deal for your damaged or scrap car.

Large Bradford Network

Hassle free collection

Guaranteed quote

Experienced and professional
---
Where to Scrap My Car in Bradford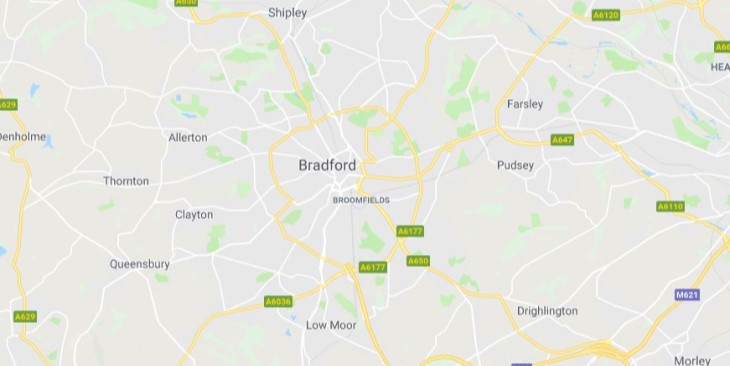 Knowing where to go to get the best deal can be difficult when looking to scrap your used car in Bradford. Luckily Scrap Car Comparison has you covered and will ensure you find the very best deal.
We've built a network of approved, trustworthy and reputable wastage sites and salvage buyers across the UK, enabling a convenient method of comparing prices and securing the very best possible quote for your scrap car.
We'll compare scrap and salvage yards in Bradford and across the UK to find the best possible price for your scrap or damaged vehicle. And you can rest assured that there's no extra costs or hidden charges.
Vehicle Recycling Bradford
Scrap Car Comparison can arrange your vehicle to be collected for a modern and environmentally friendly recycling process. Details of the current standard procedures for the dismantling, depollution and breakup of scrap cars and vans are available in our article on car recycling. For easy disposal of your end-of-life car or van by a properly licensed dealer, we're the ideal choice – complete our online form to receive a choice of quotes now.
Scrap Car Collection in Bradford
Wherever you are based in Bradford, we'll collect your scrap car and deliver it to your chosen scrap yard, free of charge, at a convenient time and date that suits you. This is thanks to our expansive network of collection agents located around the country.
To find out more about scrapping your car in Bradford or to find out how much your scrap car is worth, get in touch today, we'll be happy to help.
Scrap My Van Bradford
Prices in the scrap metal market are calculated based on a van's weight – usually per ton. However, the value of scrap metal can fluctuate depending on how the market is performing, which will directly affect the quote you're offered. With Scrap Car Comparison, we guarantee all of our quotes for 24 hours, so while you make up your mind, you can rest assured that your quote is safe. 
We scrap vans in a similar way to scrapping cars, and your van will be collected free of charge and on a day and time that suits you. We'll quote your van regardless of it's condition too! Get your free, personalised van quote, or speak to one of our expert advisors to find out more.
What Our Scrap Car Customers Are Saying
We pride ourselves on the professional, friendly and efficient services we provide, from the beginning of your journey, to the very end. We always give impartial advice and provide our customers with the knowledge they need to pick the deal that's right for them. Read what some of our customers have to say:

"Very happy with the service. Everyone involved was friendly and helpful, and (much to my surprise!) there were no hidden catches: everything proceeded as promised at the outset. Would strongly recommend it."
Paul J – Reviews.co.uk

"10/10 for everything, would highly recommend. Quick, simple & easy. I got a quote yesterday and today my car was picked up. Just needed to have over the documents for the vehicle and it was done. Quote guaranteed and was paid in full same day as collection."
Ayden C – Reviews.co.uk
Scrap Yard FAQs
Where Can I Scrap Cars in Bradford?
In the Bradford region we have many local scrap car dealers and wherever you are, they'll be able to collect your old scrap or salvage car from you – there's no need to take your vehicle to a scrap yard.
I Need a Scrap Car Collected Near Bradford, Can You Assist?
100% – we have unique access to a range of professional scrap car merchants who routinely collect old vehicles as a standard part of the service. It's simple and hassle-free. Our scrap car service covers the whole of the UK, so if you have a vehicle for scrap in central Bradford or suburbs such as Keighley, Bingley or Haworth, we'll be able to help you out.
Can You Buy Salvage Cars?
Should you have a salvage car or van written off by insurers, we can make you an offer. Salvage vehicles very often fetch a higher price than scrap equivalents. To find out what you could get for your salvage car, complete our online form today.
What is the Procedure For Scrapping a Car in Bradford?
At Scrap Car Comparison we pride ourselves in a service that's fast and convenient for people in Bradford looking to scrap their car. Complete our easy online form with details of your scrap vehicle, and we'll respond with quotes from different providers in your region. Choose your local scrap provider and they'll contact you to collect your scrap car – job done!
Will I Have to Take My Old Car to One of Bradford's Scrap Yards?
Don't worry, you won't have to go through all the hassle and inconvenience of taking your scrap car to a scrap yard, and you won't have to go with the offer of just one scrap dealer. Our process is much more simple. Choose the best price from a range of offers we'll forward to you, and the local scrap and salvage merchant will come to collect your vehicle at your convenience.
If you have any more questions on collection, payment or the process, visit our scrapping FAQ page.
Other Locations Near Me
We collect from all over the UK, so wherever you are and whenever you need us to come and collect, we'll be there. Get the process started by completing a free quote today.
Here are some of our larger collection areas.
Castleford
Dewsbury
All locations