---
How to Sell a Car Without an MOT
Selling a car without an MOT
Selling a car can be a trying process at the best of times, but selling a car that has failed its MOT test or has no MOT, that can be even harder. Especially as most people who seek to purchase a car are looking to buy a vehicle they can drive home that same day. Without an MOT that isn't legally possible.

How Do I Sell My MOT Failure?
To get started with selling your MOT failure, simply add your details to the quote form above. We will use these details to search our nationwide network of scrap and salvage buyers to locate the best price for your vehicle, instantly.
When adding your details, it's important that you describe everything as accurately as possible; all of our quotes are guaranteed, subject to inspection. This means we base our prices on the information you provide us with; if you have not described your vehicle truthfully then we reserve the right to amend our price. We do this because our buyers need to arrive with the correct recovery equipment. If they have been told they are collecting a vehicle which is severely damaged but starts, and then discover the vehicle does not start, they may not be able to recover your vehicle.
In an event such as this the buyer would have made a wasted trip and the customer may end up having money deducted from their quote to accommodate for loss of time. The details you provide will also affect which type of buyers are interested in your car or van. For example, whether it's an ATF who would like to scrap your vehicle, or a private buyer who wants to use your vehicle for salvage, either as a donor, or to repair and return to the road.
What Is An MOT?
MOT stands for Ministry Of Transport and the MOT test was first introduced in the 1960s under the direction of Ernest Marples, the minister of transport. The MOT test is an annual test required by all vehicles which are driven on roads (as defined by the Road Traffic Act 1988) and is in place to ensure that vehicles are safe enough to be deemed as roadworthy. In order to assess this, the MOT tester will inspect various elements of the vehicle to check that the vehicle is compliant with safety laws. The test will assess every important aspect of the vehicle, such as: the interior of the vehicle (including seatbelts), the vehicle's lights, brakes, engine parts and emissions.
The test was implemented by Ernest Marples under the Road Traffic Act and whilst it used to be a fairly basic test, as technology and vehicles have advanced , the test has become more comprehensive to accommodate this. In 1956 when the MOT test was first introduced it was originally a ten year test; however, in 1961 it was reduced to every seven years due to high fail rates. In 1967 the MOT test became the annual test that we know today in an attempt to keep road safety standards higher. But despite the fact that MOT tests must take place annually after a car reaches three years of age, MOT failures are still occurring nationwide. In 2015-2016 alone there were 106,527 vehicles which failed their MOT, a whopping 36.8% of all vehicles which were tested during that time.

Who Needs An MOT?
In order for a vehicle to be deemed legally road worthy, it must pass its annual MOT. Any car, motorbike or van made after 1960 needs an annual MOT once the vehicle reaches 3 years of age, or is damaged prior to this. Any vehicle made before 1960 does not require an MOT test, nor do tractors or electric vehicles. Lorries, buses and trailers are also not required to take an MOT test as they undergo a different test which is similar in principle but has different criteria, this is called an 'annual vehicle test'.
Unless your vehicle is being driven to or from, an MOT centre where the vehicle has a pre-booked appointment, it is illegal to drive a vehicle on a public road without an MOT. When you are selling your car without an MOT, it's important to ensure that the buyer of your vehicle has a recovery vehicle. All of the buyers listed on our network have a multitude of recovery vehicles and so regardless of whether your coupe, convertible or campervan failed its MOT – we can get it collected for you!
If you're not sure whether your vehicle has an MOT or when it is due you can use the government MOT checker tool. The MOT checker is a verified resource governed by the DVSA and is not just a great resource in discovering when your MOT is next due, but can help you look into a vehicle's history. This information can be invaluable if your car or van has just failed its MOT. If you didn't own the vehicle from new you will be able to look into the vehicle's past to see if this is a one off or recurring problem and assess whether the vehicle is worth the expense of fixing it, or whether it should be sold.
Can I Sell A Car With No MOT?
Yes! Whilst vehicles without an MOT cannot be driven, they can still be sold. The price which you are quoted for your vehicle will vary upon the extent of the work required to fix it, and who buys it. A private buyer may not have the tools or resources to fund the repair and as a result they will haggle down the purchase price to attempt to offset the cost. As a result of the private buyer's lack of knowledge, they may offer you a reduced rate. If you were to use our service, we'd be able to compare prices from our buyers nationwide to get you the most competitive price offer. Because our network is made up of industry experts, the price quoted will be a fair and accurate representation of what your vehicle is worth.
The value of MOT failure vehicles varies based on multiple factors. These factors include: the age of the vehicle, whether or not it is sought after and its general condition. These factors matter because they will determine what your car is purchased for. Vehicles which are without an MOT are typically purchased for one of two reasons: to scrap or to salvage. Cars or vans which are sought after as scrap are taken to an Authorised Treatment Facility (ATF) where they are depolluted before being recycled, whereas salvage vehicles can be repaired and returned to the road.
There are a multitude of reasons a vehicle may fail its MOT and whilst the most common failures relate to the obvious categories such as brakes and suspension, sometimes it can be caused by less obvious elements. Fixing an MOT failure can, depending on the extent of the reasons for the failure, be costly and time-consuming. Without industry knowledge, repairing cars can be incredibly difficult, especially when it comes to the time spent in sourcing the required replacement parts. For those in the industry, trade discounts and shorter turnaround times means finding parts can be a breeze. This is why selling a vehicle without an MOT can often be the most efficient option.
Some private buyers who purchase MOT failures work within the automotive industry. This means they often have access to the tools, resources and required skillsets which make fixing these financially worth it.

What's Tested On An MOT?
The MOT test is designed to assess whether a vehicle is safe to be on the road, and so any element of the vehicle which can affect its own safety, or the safety of others, is checked. For example, lights, brakes and engines all have the capability to affect road safety and so these are checked. Whereas worn or ripped interior lining would not, and so it's not a vital consideration for the test.
Below is a breakdown of what an MOT tester inspects when looking at your vehicle to determine whether it should pass or fail its MOT.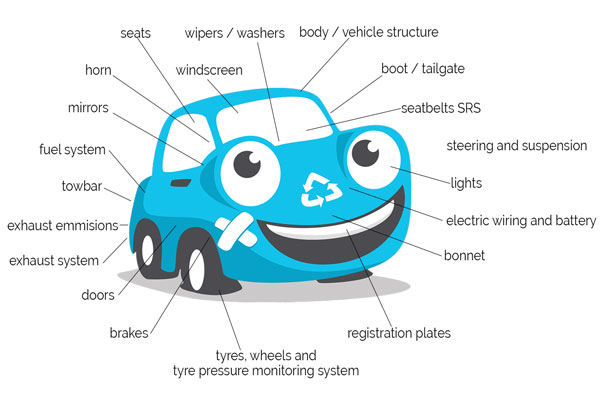 What Are The Most Common MOT Failures?
According to the DVSA, in 2015-2016 alone, over 106,500 cars failed their MOT test. This accounts for 36.8% of all cars tested during this period. Of this number, 27.9% failed their retest. While this statistic shows that many vehicles are not roadworthy, it also shows that 8.8% of those which failed were failed with faults which were easy to rectify.
In the financial year of 2015-2016 the top four initial failures were:
#1 – Lighting and signalling.
#2 – Brakes.
#3 – Steering and suspension.
#4 – Tyres and wheels.
Saving your vehicle from a failure mark could be as simple a checking the bulbs in your lights, checking your brake pads, and the tread on your tyres. It's also important that your vehicle is clean; if a vehicle is exceptionally dirty, or it is too cluttered to enable the MOT tester to perform the test, they can submit a refusal to test or a fail based on this. If your vehicle has failed its MOT but only a partial retest is needed and the vehicle is left at the garage for repairs and retested within ten days, you may be able to get the retest done for free or at a heavily reduced rate.

Do You Pick Up Non-Runners?
We sure do! We believe that selling a vehicle, regardless of its condition, should be an easy process. Regardless of whether your vehicle failed due to engine failure or bodywork damage we have a network of buyers waiting to purchase your vehicle.
To get started with your quote, simply fill out the quote form at the top of this page or give us a call on 03333 44 99 50 to get instant offers for your vehicle.