At Scrap Car Comparison, we can help you find the best price for your scrap car in Coventry.
Comparing over 100 vetted, professional scrap car buyers across the UK, we'll help you find the very best price for your vehicle, regardless of its make, model, or condition. Simply complete our online form providing your car registration and postcode, or call us for free, and we'll take care of the rest.
And, with our local collection agents across the country, we'll collect your car from any area of Coventry, including Finham, Edgwick, Chapelfields, Hillfields, and more.

Large Coventry Network

Guaranteed Prices

Free Collection

Expert Buyers
---
Where to Scrap My Car in Coventry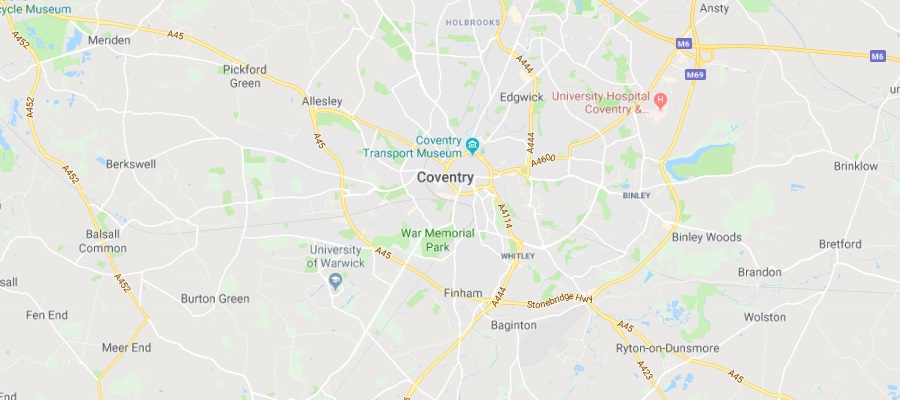 We'll help you compare scrap yards in Coventry and across the UK in order to find the best possible price – and we guarantee there's no extra costs or hidden charges.
Scrap Car Collection in Coventry
With local collection agents across the country, wherever you are in Coventry, we will collect your car and deliver it to your chosen scrap yard, free of charge and at a time and date that suits you.
To find out more about scrapping your car in Coventry, get in touch.
Scrap My Van Coventry
Getting the best price for your van is a simple process whether you use our smart online tool or speak to our expert team directly.

Prices in the scrap metal market are calculated based on a van's weight, however the value of a van can fluctuate depending which way the market sways. The good news is that Scrap Car Comparison guarantees all quotes which means that regardless of any market fluctuations, the price which you have been quoted is the price that you will receive, guaranteed.
Vehicle Recycling
We can also arrange for your car to be recycled. The recycling of a car is a really interesting process and it's surprising what actually gets recycled..
If you're looking to recycle your car in Coventry or anywhere else in the UK then get in touch with us today and we can start the process.
Car Breakers in Coventry
Cars and vans are taken to scrap and salvage yards when a vehicle is in good shape, but it has one or more parts which are severely damaged, making it uneconomical to repair but possible to salvage. If you're searching for a specific part for your MOT failure, non-runner, or damaged vehicle, car breaker or scrap yards could be the way forward. Getting a manufacturer to produce new parts, or buying parts brand-new, can be too expensive, that's why car breaker yards and scrap yards exist where car parts in good condition can be salvaged and reused. Not only is this a cheaper option, it's also economical as parts are being recycled and reused!
What Our Scrap Car Customers Are Saying
We pride ourselves on the professional, friendly and efficient services we provide, from the beginning of your journey, to the very end. We always give impartial advice and provide our customers with the knowledge they need to pick the deal that's right for them. Read what some of our customers have to say:

"This company helped so smoothly, they prompted me what to do when I asked, I got a fair price for my car and was paid promptly after the car was picked up. Would use them again, no hesitation, the driver was polite and the lady on the phone was nice and polite too. Absolutely no doubt I would use it again. Thank you."
Victoria M – Reviews.co.uk 

"I wanted to scrap my car, these guys sorted it out, got me a great price, car picked up with no fuss, payment made and cleared the same day the car was picked up fantastic a great service."
John C – Reviews.co.uk
Scrap Yard FAQs
Are You the Best Scrap my Car Coventry Providers?
We offer you the best price from a range of buyers throughout the country, you'll not be limited to a single price from a Coventry scrap yard. This, added to the ease and convenience of using our service, makes us a great choice when scrapping your car or van.
What's Involved in the Car Scrap Process?
We have a simple 3 step process in place to make things simple and straightforward. You can find out how it works here.
Where Are Your Scrap my Car Coventry Locations?
Although this page is titled scrap my car Coventry,  we collect vehicles throughout the UK. We are not limited to where you are – whether it's Holbrooks, Edgwick or Whitley, we'll come to you. Our salvage vehicle collection experts based throughout the West Midlands and further afield are all available for all the scrap your car Coventry needs. Contact us today! 
How Can I be Sure I get the Best Price for my Car?
Scrap car prices are based on a number of different things. You can read more about this in the how to scrap or salvage a car article. When we've quoted you the best price you can feel safe in the knowledge that this price is guaranteed.
Do you Quote on Salvage Cars?
We're happy to quote on and collect salvage cars and vans. We're your car salvage Coventry experts! If you have any more questions on collection, payment or the process, visit our scrapping FAQ page.
Other Locations Near Me
Our most popular Coventry scrap car collection locations include Binley Woods, Allesley, Baginton, Keresley and Edgwick.
We have a vast network of buyers in Coventry and the surrounding area. Contact us today for a speedy collection anywhere in the UK. Here are some of our larger collection areas.