---
What Price Can I Get for Scrapping My Car?
Here at Scrap Car Comparison, we are regularly asked about how our prices are calculated and our customers are often surprised to find that it can rely heavily on the national car scrap value. With international factors to consider, such as international trade agreements, flux in the financial sector, socioeconomic movements and sudden changes in demand, there are a lot of elements that impact the car scrap value in metal. It's for this reason that we have created this page, to keep you up to date with how much your car's scrap value has fluctuated, as well as let you know why it might have changed. All of which is useful for when you are looking to scrap your car.
---
Car Scrap Value Tracker
Each month we aim to provide a UK average scrap car price, so that you can see the current national car scrap value for yourself. These figures are regularly calculated using estimated national averages and data collected from our national network of local scrap car collectors across the UK.

Scrap Car Pricing Data Provided By LetsRecycle

How Is Car Scrap Value Calculated?
You may be wondering how the prices of scrap cars are decided? Well, the weight of your car is the main indication: the heavier the vehicle, the more scrap value it has. When a vehicle has come to the end of its life, it will eventually be crushed and the metal it is made from will be recycled and used again, in vehicles or other products.
There are however other factors that can affect how much your vehicle is worth, such as certain makes, models or engines that are considered to be worth more. Some collectors will be willing to offer a higher price than the market scrap metal value for specific vehicles. This is usually when they know that they can make more profit out of recycling your vehicle. This is where we help you the most, comparing offers from scrap buyers who will give you a variety of prices depending on your specific car. However, we don't simply give you the highest price for your scrap car, we also help you to work out the best value buyer. We'll help you to sell your vehicle to buyers with reliable and convenient collection, ensuring everything goes smoothly. If you're looking to sell a damaged car or sell a car without an MOT then your vehicle may be eligible for salvage pricing and fetch a higher price.
Customer testimonials
Our Customers Love Us!

3716 Reviews rate us 4.85/5



Read More Reviews
Anonymous
Excellent communication from the first start through to pick up . The man who picked the car up ( shaun ) was so polite , thank you
Mickle B
easy to use and great service. Very happy.
James H
The process was much easier than I expected. Received an offer on the day I entered my details - and pickup date was fixed the same day also. Pickup took about 10 minutes flat and the driver advised when he would arrive by text - and then arrived promptly. Couldn't be happier overall.
Francesca D
Really easy, great comms, picked up when they said they would, would DEFINITELY recommend!!
Maxine P
Friendly quick service from first telephone call to end transaction. Felt supported along the way.
Hari C
Reliable and on time the driver very helpful too
Philip C
From initial gaining quote right through to completion of car every stop of the way was made clear.
Deposit in back and then balance paid on day of collection
No hassle at all!
Peter D
Excellent service, good communication
Will S
Really quick, efficient and a good price received with same day payment
The UK Cash Ban: Scrap Metal Dealers Act 2013
In October 2013, as a result of rising criminal activity in the scrap industry, the government changed the law regarding the legal payment methods for scrap cars. This meant that you could no longer be paid in cash at the point of collection for your scrap car. Payment via business cheque or instant bank transfer upon collection became the standard practice for all scrap buyers. This had a large impact on the price scrap car buyers could offer customers, as it allowed for fast direct payment and sped up collection times. This increased collection rates and helped inflate prices for the remainder of that year.
Calculate your Car Scrap Value
As we've shown already, there are numerous factors that will affect your vehicle value calculation. We've answered some of the popular questions we get asked by people coming to use the price calculator, but if you have a question that has not already been answered here please contact us on 03333 44 99 50 and we'd be happy to help.
1. How do I use your scrap car calculator?
Simply input the car registration and postcode into the quote form and we'll calculate the amount it's worth. It's simple, quick and easy to use – give it a go!
2. Once I have a scrap car price, will it change?
Remember, these calculations are free and guaranteed to be valid for 24 hours.
3. How does the scrap car calculator work?
There are numerous contributing factors that are used to derive a figure for what the car or van is worth. These include:
The weight of the vehicle – the heavier the vehicle the greater the value when scrapping
The make of the vehicle – some are worth more than others
Different model vehicles (as well as makes) can have different values
Some cars can be salvaged or will have desirable parts – it's not all about crushing and recycling!
Changing prices for the UK average scrap price will affect the scrap calculation
4. Will you be updating your value tracker?
Yes, we aim to update the value tracker on a regular basis to provide up-to-date car scrap value information. As this relates directly to how much your car is worth when scrapping or salvaging it makes sense to keep this current.
If you are looking to compare different make and model prices you can do so on our make and model scrap car pricing section. Here you can browse many different vehicle brands and find out which models make the most, which colours are scrapped more and other information. You can view make model data here.
Getting The Best Scrap Car Valuation
We are the first and only vehicle scrap price comparison site in the UK. That means that when you need to get rid of the tired car, motorbike or van sitting on your driveway, we are the place to go to get the best price for your scrap vehicle. We'll help you to compare a wide selection of the best prices across the whole of the UK within a few minutes.
By using our online site, you save yourself time! No need to ring around all of the possible scrap merchants, salvage yards and other buyers in your area, we'll compare them all and provide you with the best prices available to you, ensuring that you don't miss out on some of the nationwide salvage and scrap car buyers that we work with. They can offer some of the highest possible prices and have been in the industry for many years. You are in safe hands as all of the collectors and buyers that we work with will fill out all necessary scrap car forms correctly, making sure that you don't end up with any extra fines for a car that you no longer own later on down the line.
Now that you know exactly how scrap car value is worked out, get in contact to ensure that you are getting the true value of your vehicle and find out just how much it could be worth. We have already done all the hard work so you don't have to!
A Guide To Understanding The Worth Of Your Scrap Or Salvage Vehicle
Working out the value of a scrap or damaged vehicle can be a confusing and frustrating time. Knowing when to sell, how much your car is worth, or even how to go about selling a damaged vehicle can all add unnecessary stress. Unnecessary, because we've devised a straightforward comparison website which helps you to understand the process of both selling a damaged vehicle, and how to get the best price when you choose to do so.
When the above quote form is completed, your vehicle's details will be run through our network of specialist scrap and salvage buyers across the UK, to find the most competitive price for your vehicle from trusted and reputable buyers.
It's important to remember, when looking into getting your vehicle valued, that cars are priced on an individual basis and there are various factors which can affect the quote a vehicle receives. When assessing a vehicle's worth, it's important to ask yourself, "What would somebody be willing to pay for it?" This question is important because there are often certain car models which are more popular or sought after. However, as with all things, the industry changes rapidly so it's important that when you're trying to obtain the best price for your vehicle, you look in the right places.
On this page we'll help you to understand how to get the most for your unwanted vehicle, by explaining how to identify what category of sale your car or van will fall under and the different factors which can affect a vehicle's worth.
The Different Sale Categories
It can be easy to assume that vehicles are solely priced on their make and model but, whilst this is somewhat true, scrap and salvage pricing strategies work slightly differently. Each vehicle is priced on a vehicle-by-vehicle basis and the valuation which will determine a price will be based on the make, model, age and condition of the vehicle. Buyers take all these aspects into consideration when making their offers. Because the reasons for wanting to buy your vehicle vary, understanding the different categories can help you to understand why each quote differs.
The different sale categories are split into three: Scrap, Salvage and Retail.
What Is My Car or Van Worth To Salvage Buyers?
Salvage vehicles are cars or vans which have been damaged or broken, but could be repaired with the right parts. Damage on salvage vehicles can vary from electrical to mechanical to structural, but the cars which fall into this category are typically under ten years old. Salvage vehicles tend to receive higher valuations than scrap because the vehicles are often more desirable. Things to consider when the vehicle is valued include:
The Post-Repair Value
This will depend on the specific vehicle and an array of other considerations, such as the vehicle's: mileage, condition, service history, optional extras and whether there are any other known faults. These markers are carefully deliberated by a salvage buyer because when they purchase damaged vehicles, they do so with the intention of returning either them, or their parts, to the road once fixed. Because of this, salvage buyers need to consider your vehicle's current worth against what the value may be once fixed, to ensure that they have the opportunity to achieve a reasonable profit for the time and resources they have invested in fixing the vehicle.
The Cost Of Repairing The Vehicle
Many salvage buyers have the space and expertise necessary to perform repairs in a cost-effective manner. Trade connections and years of experience in the industry mean that salvage buyers are often able to bring the cost involved in repairing the vehicle down. This makes it significantly cheaper, and safer, for a specialist to fix your vehicle than it would be for you to do so yourself.
How Much Is My Car or Van Worth To Scrap Buyers?
Vehicle scrappage is the category given to vehicles which have reached the end of their life. The cars in this category are often considered old and unfit to drive, or they're not worth the cost it would require to fix them. As a result of this, scrap vehicles are often stripped for parts before being recycled for their metal. If you are selling your car for scrap, the main factors which will affect the price given are:
The Vehicle's Weight: The largest contributing factor to the value of a scrap vehicle, is the amount of metal it has. Therefore, heavier vehicles usually mean more metal, which consequently holds a higher value.
Any Valuable Parts: Newer vehicles often have parts that are viewed as high value to some scrap buyers. These parts can include engines, gearboxes, body panels or alloy wheels in addition to other parts and would be resold as used parts.
Catalytic Converters: A catalytic converter is the part of the exhaust system which filters the vehicle's emissions. These units are made from precious metals such as silver and platinum. These materials can be refined and reused to make jewellery, industrial components, and other high value items.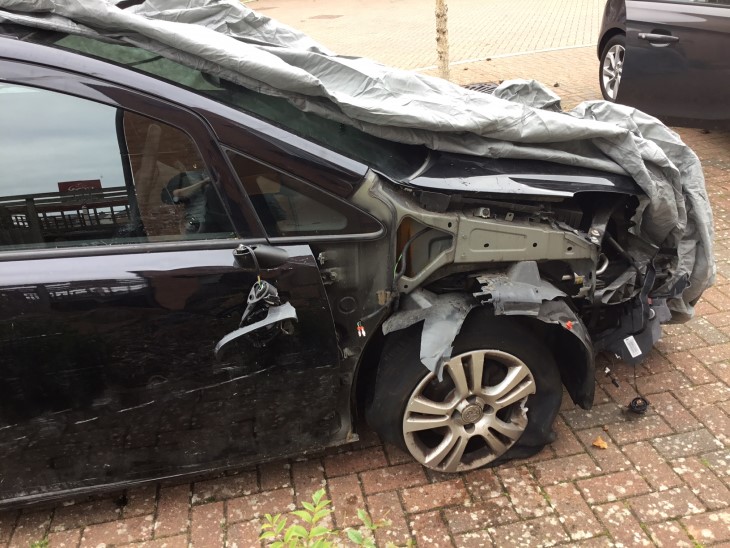 Car and Van Value
The factors which make up a vehicle's worth are constantly changing, which means that the value of any given vehicle fluctuates and is never fixed for very long. As part of our service we guarantee all of our quotes for 24 hours regardless of any market fluctuations. To see what your car or van is worth simply complete the form above for a free, instant quote.
Find your car or van value with ease
Car and van valuation based on up-to-date value
Quote guaranteed on the given value for 24 hours
How Much Is My Car or Van Worth To Retail Buyers?
Even though many of our buyers specialise in scrap and salvage vehicles, if you're looking to sell a car or van that doesn't have any faults, we've still got you covered. With a network of car buyers across the UK we can work out a price based on your car's condition using various trade pricing tools.
If you're not sure what category your car falls under or you're looking to obtain an instant, no obligation, quote for your vehicle simply fill out the quote form above or call one of our specialist advisors on 03333 44 99 50.