If you're looking for a quick, simple, and hassle-free way to scrap your car in Leeds, we can help.
The first and only comparison site for scrap and damaged vehicles, we will work on your behalf to help you find the best possible price for your vehicle. All of our buyers have been checked for quality and service, and you can rest assured that you won't face any unexpected fees or costs – we'll even come and collect your car from Leeds and transport it to your chosen scrap yard.

Large Leeds Network

Huge Network

Quick and Easy

Best Prices
---
Where to Scrap My Car in Leeds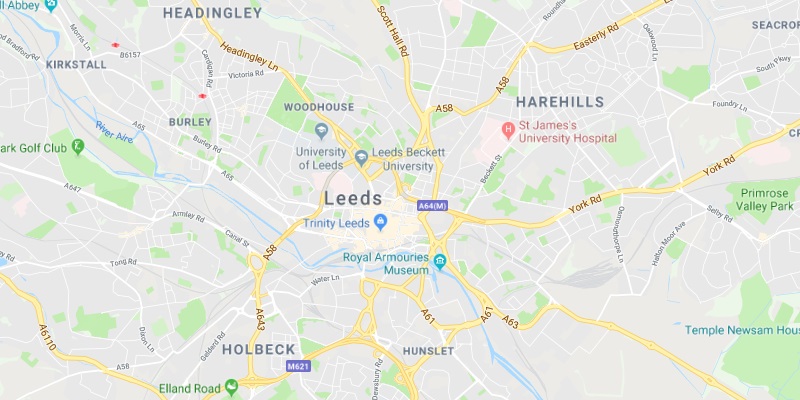 Over the past 9 years, we've built a network of over 100 vetted, professional scrap car buyers across the UK. We also monitor pricing levels across the country to help you get more for your scrap car.
Vehicle Recycling Leeds
Due to increasing interest in climate change and the rising value of scrap metal, it is typical for nearly every component of scrap vehicles to be subject to recycling. You can read our guide to the latest car recycling methods, and if you have a car in need of recycling, just complete our form and we'll handle the rest.
Scrap Car Collection in Leeds
We have local collection agents across the country, so wherever you're based in Leeds and whichever scrap yard you have chosen, we'll provide free collection on a time and day that works for you.
Get in touch today to find the best price for your scrap car in Leeds.
Scrap My Van Leeds
All of the experienced buyers within our extensive network have spent years in the industry, and have an abundance of knowledge and expertise in both buying, and recovering, damaged or broken vans. So whether your van is old or damaged, we'll offer you a top, guaranteed quote for it, wherever in Leeds you are. 

In order for us to generate a quote for your van, we first require your van's details. This can be done by either calling one of our advisors on 03333 44 99 50, or by completing the form at the top of this page.
What Our Scrap Car Customers Are Saying
We pride ourselves on the professional, friendly and efficient services we provide, from the beginning of your journey, to the very end. We always give impartial advice and provide our customers with the knowledge they need to pick the deal that's right for them. Read what some of our customers have to say:
"Very professional efficient service. I got twice what the local scrapyard were paying. All parties involved were great and the process was explained & was fast and seamless. Would definitely recommend! Well done everyone."
Nick H – Reviews.co.uk
"Great service. Didn't know what to do with my car as engine died. ScrapCarComparison were great and helped me through procedure how to get best deal for my car. Updates and service were spot on and ran like clockwork. Definitely recommend and use again."
Craig B – Reviews.co.uk
Scrap Yard FAQs
Where Can I Scrap My Old Car in Leeds?
The beauty of using Scrap Car Comparison is that you won't need to take your car anywhere for scrapping – we'll collect it from you. Just complete our form to get a selection of competitive offers from local dealers. Once you've chosen your preferred offer, the scrap car collection agent will collect the car when it's convenient for you.
How Do I Scrap a Car in Leeds?
At Scrap Car Comparison we have worked tirelessly to make the process of scrapping a car in Leeds as quick and easy as possible. You won't have the hassle of taking the car to a scrapyard, which would be a great inconvenience if the vehicle is off road (SORN). Also, you aren't depending on a single scrap dealer for an offer – our network gives you are range of competitive offers so that you can choose the best. To get things started, just complete and submit our online form, and you'll hear from us very soon.
How Much Will I Get When I Scrap My Car?
The amount which you get for scrapping your car will depend on a number of factors including the make, model, age and condition. Our article on scrap car price offers will give you a fuller insight into how this process works. To see what you'd get for your scrap car, just complete our simple online form and we will get back to you.
Can I Sell a Salvage Car in Leeds?
Our scrap car network covering Leeds can also make competitive offers for salvage vehicles. If you have a salvage car that's been written off by an insurer, you will find that in many cases it will fetch a better price than it would do as a scrap car. To find out how much you can get for a salvage car, simply complete our online form giving us details of the vehicle, and you'll receive a number of offers for the car from local dealers.
Where's a Scrap Yard Near Me For My Old car?
If you go with Scrap Car Comparison, we will take care of the scrapping process for you, so you won't need to transfer your old vehicle to a scrap yard. Instead, one or our local scrap agents will collect if from you at a time convenient for you. To start the process, just complete our online form and you'll hear back from us with some competitive offers for your old car.
If you have any more questions on collection, payment or the process, visit our scrapping FAQ page.
Other Locations Near Me
Our most popular Leeds scrap car collection locations include Holbeck, Headingley, Harehills, Kirkstall and Hunslet.
We have partnered up with professional buyers in Leeds and throughout the UK. Contact us for a quick, hassle free collection in your area. Here are some of our larger collection areas.
Harrogate
Pudsey
All locations