Are you located in Harrogate and have an old vehicle that you're looking to scrap? We can lend a hand.
Here at Scrap Car Comparison, we have a large network of over 100 scrap and salvage buyers across the UK looking to buy your scrap car. Whether you're based in Harrogate or one of the surrounding locations, such as Leeds, Wetherby, or Bradford, we'll be able to help you find the best deal possible for your scrap car.
All our buyers have had thorough quality and service checks carried out, and we can guarantee that you won't be subject to any unexpected fees or costs when selling your scrap car with us.

Large Harrogate Network

Guaranteed Prices

Free Collection

Experienced and professional
---
Where to Scrap My Car in Harrogate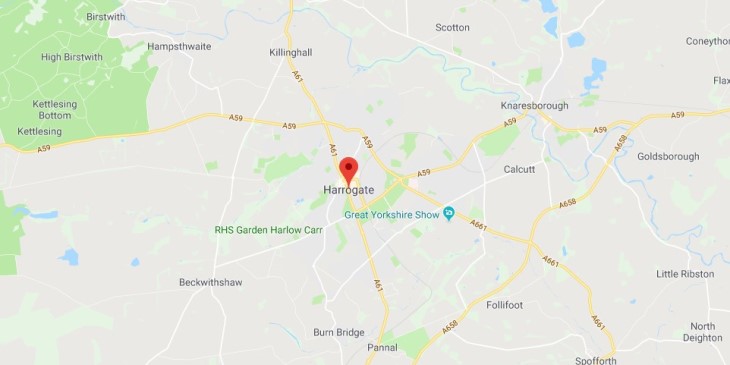 The best deal for your scrap car may not always be right on your doorstep in Harrogate, down the road in Leeds or even up in Kilburn.
Sometimes, the best price for your scrap car may come from a buyer down in Basingstoke or Doncaster. When you look for the best price with us, we don't just search for buyers in the areas local to you, but also across our entire network in the UK, making sure you're getting the best deal for you.
Vehicle Recycling Harrogate
Recycling is increasingly becoming a huge part of the scrap car industry and nearly everything on a modern car can be recycled. If you're looking to potentially thinking about recycling your car in Harrogate and want to be safe in the knowledge that this will be done in an environmentally friendly way, complete the quote form today and get the best price for your vehicle.
Scrap Car Collection in Harrogate
Don't worry if you find out that your buyer isn't based near to where you are in the Harrogate area. We have collection agents located in many locations around the UK who can pick up your scrap car and easily transport it to your chosen buyer for free.
You can organise the collection time for your scrap car whenever you're available.
Get a quote for your scrap car and find your buyer today at Scrap Car Comparison.
Scrap My Van Harrogate
Getting the best price for your van couldn't be easier when you use Scrap Car Comparison's free and instant quote calculator. Or, if you'd prefer to speak to a human, you can talk to our expert team directly who can talk you through the process, answer your queries and get you the best price for your van.

We scrap vans in a similar way to scrapping cars, and your van will be collected free of charge and on a day and time that suits you. Plus, Scrap Car Comparison guarantees all quotes which means that, regardless of any fluctuations in the scrap metal market, the price which you have been quoted is the price that you will receive.
What Our Scrap Car Customers Are Saying
We pride ourselves on the professional, friendly and efficient services we provide, from the beginning of your journey, to the very end. We always give impartial advice and provide our customers with the knowledge they need to pick the deal that's right for them. Read what some of our customers have to say:

"An incredibly quick and easy deal. I got the money they quoted me online paid straight into my bank. I'd definitely recommend to anyone having to scrap their car."
Donna W – Reviews.co.uk

"First Class service, professional and knowledgeable who provide the service you would expect and go over and above to ensure you are provided with the best quote. Fantastic and would highly recommend."
Jonathan A – Reviews.co.uk
Scrap Yard FAQs
What Happens to My Car in Harrogate?
Once you have accepted a quote for your car the buyer will proceed to contact you to arrange the collection of your vehicle. Depending on the reason why your vehicle was purchased will determine what happens once your vehicle is collected. The vehicle may have been purchased to be dismantled and scrapped at an Authorised Treatment Facility (ATF), or it may have been bought for salvageable parts; in which case parts of your car will be taken apart and fixed, or used to return another vehicle to the road. For more information read our What Happens Next? Featured on how to scrap a car page.
Are Your Prices Guaranteed?
Subject to inspection from one of our experts, yes. All of our prices are guaranteed, upon receipt of a signed purchase agreement. This means that as long as the vehicle has been described accurately during the quotation stage you will receive the exact amount which you were quoted.
Where Are Your Scrap My Car Harrogate Locations?
Although this page is titled scrap my car Harrogate we collect outside this area. Scrap Car Comparison has a whole network of experienced buyers located throughout the UK. Harrogate scrap car collection is an extremely popular request we get due to the size of the city, and we are prepared to offer a quick pick-up for any scrap cars on offer.
We have a network of experts who specialise in salvage vehicle collection, all of which are based locally and in the surrounding areas who are available for all the scrap your car Harrogate needs. Contact us today!
Do I Have to Pay For Anything?
No. Selling your vehicle through Scrap Car Comparison Harrogate is a free service and we guarantee all of the prices offered by the buyers on our network. We promise there are no hidden fees or nasty surprises when using our service so, as long as you have accurately described your vehicle, the price which you were quoted is the price which you will receive.
Do You Quote On Salvage Cars?
Salvage cars are worth a lot more than scrap cars. If you have a salvage van or car, don't take it to the nearest car scrapyard in Harrogate, fill in our online form and get an immediate guaranteed price. We're your car salvage experts!
If you have any more questions on the collection, payment or the process, visit our scrapping FAQ page.
Other Locations Near Me
Our Harrogare collection service comprises of a number of professional companies committed to providing a five star service. Need your car or van collected quickly with the minimum of fuss? Contact us right now for a rapid collection anywhere in the UK.
Here are some of our larger collection areas.
Rotherham
Sheffield
All locations