If you're looking for a convenient, easy, and hassle-free way to scrap your car in Bolton, Scrap Car Comparison can help!
Our dedicated team will make it their mission to find you the very best available price for your scrap car, making scrapping your car in Harwood, Chorley, Heaton and the surrounding areas easy and convenient.

Free quote

Huge buyer network

Free Collection

Experienced and professional
---
Where to Scrap My Car in Bolton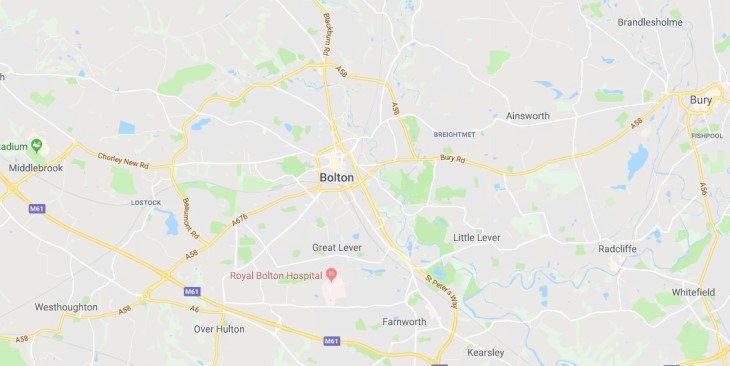 At Scrap Car Comparison, we'll help you find the best possible price for your scrap car in Bolton.
We pride ourselves on the long-standing relationships we have forged with our network of scrap and salvage yards across the UK. This allows us to compare prices from over 100 scrap and salvage yards and find the best available price for you.
We can quote for any car in Bolton and the surrounding area, regardless of its make, model, and condition.
Vehicle Recycling Bolton
For years gone by cars and other vehicles coming to the end of their lifetime would simply be scrapped at the local scrapyard, which would often mean they would be just crushed and left to rust. Fast forward to today, and old and expired cars benefit from the latest recycling techniques offered by modern technology, to the point where many parts are reused and most materials, especially scrap metal, are processed for recycling. Bolton motorists require cars to be scrapped for a variety of reasons – perhaps an MOT failure where repairs are more than the value of the car, or perhaps their car has been written off following involvement in an unfortunate collision. Whatever the reason for needing to dispose of your car, we have a network of scrap car collection companies covering Bolton who will be able to give you a great price for your car.
Scrap Car Collection in Bolton
We pride ourselves on giving our customers access to the very best prices to scrap their cars, no matter where you're located in the UK. If your chosen buyer isn't in the Bolton area, we will arrange for the collection and transport of your vehicle, free of charge. Once you have found the best price for your scrap car, we'll arrange for its collection from anywhere in Bolton, where it will then be transported to your selected scrap yard. This convenient service is completely free of charge.
Get in touch today to find out more about scrapping your car in Bolton and discover how Scrap Car Comparison can help you today.
Scrap My Van Bolton
Do you have a van that you're looking to sell? Scrap Car Comparison will offer you a top, guaranteed price for it – regardless of the condition. Whether your van has failed its MOT, is old and worn out, has crash damage or a faulty part, our knowledgeable scrap and salvage buyers will quote your van and offer you the most competitive prices, plus they'll collect it free of charge.

The process of scrapping a van is similar to our scrap car process, so find out more or get started with your personalised quote.
What Our Scrap Car Customers Are Saying
We pride ourselves on the professional, friendly and efficient services we provide, from the beginning of your journey, to the very end. We always give impartial advice and provide our customers with the knowledge they need to pick the deal that's right for them. Read what some of our customers have to say:

"Excellent service. Very friendly and easy from start to finish. Every step of the way was clearly explained by friendly staff and the car was collected within 24 hours. Would highly recommend."
Karen D – Reviews.co.uk

"Absolutely brilliant service. Quick, reliable and efficient. Would definitely use again."
Richard D – Reviews.co.uk

"Great service from start to finish! All went smoothly and both of the service advisors I spoke to were so helpful. Payment went into the bank exactly when they said it would."
William T – Reviews.co.uk
Scrap Yard FAQs
How Can I Scrap My Car in Bolton?
From Middlebrook to Bury and from Egerton to Farnworth, our scrap car collection service is ready and waiting to collect cars from anyone needing to dispose of their car in the Bolton area. So wherever you and your car might be in the Bolton region, you can use the same simple process to sell on your car – simply complete and submit our online form, and we'll be in touch with a selection of offers from local suppliers for your scrap or salvage vehicle. You can then choose which one you want to proceed with, and they will come and collect at your convenience.
Will I Need to Bring My Car to a Scrap Yard in Bolton?
If you use Scrap Car Comparison, there's no need to take your scrap or salvage vehicle to a Bolton scrap yard. With us you are also not tied down to a single quotation from one scrap dealer – as standard, we offer a range of quotes from scrap collection companies happy to make an offer for your car, and who'll give you competitive rates. They'll collect your car at your convenience, so you don't have the hassle of having to take it anywhere.
Will I Be Able Sell My Car for Scrap?
Definitely – even if your vehicle is off road or badly damaged, there's still a cash value for it based on scrap metal value and recyclable components. Several factors determine how much money scrap or salvage vehicles can raise, and these include the age of the vehicle, its condition, and market conditions such as the current rate for scrap metal. If you're interested in getting a proper price for your scrap car, why not get the ball rolling and request some quotes? All you need to do is complete and submits our online form, and we'll be in touch with offers from local companies – the final decision will be completely up to you.
Would You be Able to Collect a Car for Scrap Near Me?
Regardless of where you and your vehicle might be located in and around Bolton, our scrap car collection service will be able to collect your vehicle for you. Our network covers not only Bolton but the whole of the UK, giving all our customers the convenience of scrap car collection at a time and date that suits them.
I've Got a Salvage Car in Bolton, Can You Make an Offer for It?
We certainly can! In fact, salvage cars and cars written off by motor insurers will often raise better price offers than their scrap car equivalents. For advice from the experts, have a read of our salvage vehicle guide, and if you'd like quoting, just complete our online form for some competitive quotations.
If you have any more questions on collection, payment or the process, visit our scrapping FAQ page.
Other Locations Near Me
We cover the whole of the Bolton area, so if you're looking to "scrap my car near me in Bolton" then you've come to the right company. Our local experts collect from Daubhill, Burnden, Haulgh. Bradley Fold and all other areas. If you are in Bolton one of our experts will come to you.
Contact us right now for a rapid collection anywhere in the UK. Here are some of our larger collection areas.