Here at Scrap Car Comparison, we make it our mission to find the very best available price for your scrap car in Stoke-on-Trent.
You can rest assured knowing that each of the buyers we work with has undergone thorough quality and service checks, so when scrapping your car in Stoke-on-Trent, you won't encounter any unexpected costs.
As the first and only independent comparison site for scrap and damaged vehicles, we call upon our extensive network of scrap and salvage yards across the UK to help you find the best possible price for your scrap car.

Large Stoke-on-Trent

Guaranteed Prices

Free Collection

Experienced and professional
---
Where to Scrap My Car in Stoke-on-Trent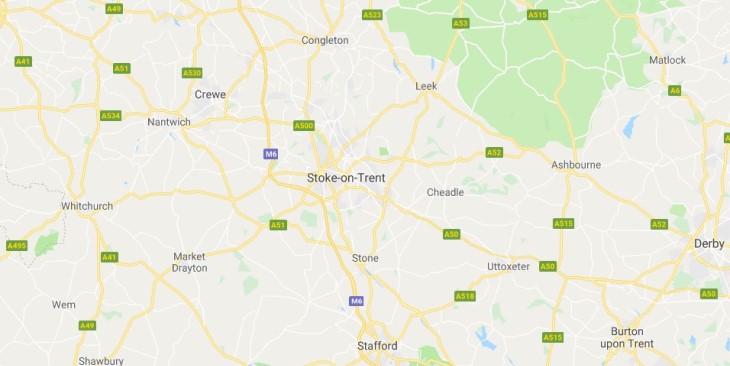 When it comes to scrapping your car, we're not afraid to look further afield. We don't just compare prices from your local area, we use our extensive network of scrap car buyers, so if the right price is not found in Stoke-on-Trent, we'll still find you the very best available offer.
Whether you're located in Hanley, Newcastle-under-Lyme, Fenton, or any other area of Stoke-on-Trent, we're committed to finding the very best price and ideal buyer for your scrap car.
Over the years, we've developed a network of over 100 fully vetted and professional scrap car buyers around the UK, allowing you to get more for your vehicle.
Vehicle Recycling Stoke-on-Trent
Recycling is increasingly becoming more and more of a part within the scrap car industry and nearly everything on a modern car can be recycled. If you're looking to potentially thinking about recycling your car in Stoke and want to be safe in the knowledge that this will be done in an environmentally friendly way, complete the quote form today and get the best price for your vehicle.
If you looking for more information on recycling your vehicle, read out article all about car recycling.
Scrap Car Collection in Stoke-on-Trent
Scrap Car Comparison is pleased to offer the collection of your scrap car, completely free of charge. We have local collection agents located around the country and will be more than happy to collect and transport your scrap car to your chosen scrap yard, at no additional costs.
This scrap car collection service is completely free of charge and we'll ensure the vehicle is collected at a time that's convenient for you.
To find the best price for your scrap car or damaged vehicle in Stoke-on-Trent, get in touch today.
Scrap My Van Stoke-on-Trent
Getting the best price for your van is a simple process whether you use our smart online tool or speak to our expert team directly.

Prices in the scrap metal market are calculated based on a van's weight, however the value of a van can fluctuate depending which way the market sways. The good news is that Scrap Car Comparison guarantees all quotes which means that regardless of any market fluctuations, the price which you have been quoted is the price that you will receive, guaranteed.
What our Scrap Car Stoke-on-Trent Customers Are Saying
We pride ourselves on the professional, friendly and efficient services we provide, from the beginning of your journey, to the very end. We always give impartial advice and provide our customers with the knowledge they need to pick the deal that's right for them. Read what some of our customers have to say:

"Amazing service, we got a quote online, then received a phone call, they not only matched the offer we had somewhere else but went above it. Very quick, easy and friendly service. Very pleased."
Jessica G – Reviews.co.uk

"Very happy with the service. Everyone involved was friendly and helpful, and (much to my surprise!) there were no hidden catches: everything proceeded as promised at the outset. Would strongly recommend it."
Paul J – Reviews.co.uk

"Very efficient and quick service. Happy with the price offered and the quick collection. Made getting rid of a burden on the front drive so much easier than I thought!"
Sue R – Reviews.co.uk
Scrap Yard FAQs
Can I Sell A With Finance?
Selling a car when you own the vehicle can be a fairly simple process, but for those looking to sell a vehicle that has finance attached to it, it can be a little bit more confusing, so it's important to fully understand the legalities that surround you doing so. Find out more about selling your car with finance in Stoke here.
Do You Buy Commercial Vehicles?
The buyers on our network buy all sorts of vehicles in all sorts of conditions. If there's a particular type of vehicle you're interested in selling either fill out the above quotation form or contact us and call 03333 44 99 50 to speak to one of our dedicated customer service advisors for more information.
How Much is My Car Worth?
Working out the value of a damaged vehicle can become a stressful time. Knowing when to sell, how much your vehicle is worth, or even how to go about selling a scrap car in Stoke-on-Trent can all cause unnecessary stress. At Scrap Car we've devised a straightforward comparison website which helps you to understand the process both car scrappage, and how to get the best price when you choose to do so.
Read our complete guide to find out how much your car is worth.
Where Can I Find Out More About the Car Scrap Process?
We have lots of informative articles that guide you through the process. We suggest starting off with the life of a scrap car guide. It even has a handy infographic!
Do You Quote on Salvage Cars?
Salvage cars are worth more than scrap cars. If you have a salvage van or car, don't take it to the nearest car scrapyard in Stoke-on-Trent, fill in our online form today and get an immediate guaranteed price. We're your car salvage experts!
If you have any more questions on the collection, payment or the process, visit our scrapping FAQ page.
Other Locations Near Me
We collect from Stoke-on-Trent and the surrounding areas. Our quick, easy and convenient service is perfect for anyone looking to scrap their vehicle in Hanley, Tunstall, Springfields, Trent Vale and elsewhere throughout the UK.
Here are some of our larger collection areas.