Looking for the best price for your scrap car in Nottingham? Look no further than scrap car comparison.
Using our free fee comparison service, you'll be able to compare deals from over 100 scrap yards around the UK.
We'll even come and collect your car from Nottingham for free. So, whether you're based in Beeston, Carlton, Hyson Green, West Bridgford, Tollerton, or anywhere else in Nottingham and the surrounding area, you'll be able to access the best deal for your scrap car.

Large Nottinghamshire Network

Guaranteed Prices

Free Collection

Expert Buyers
---
Where to Scrap My Car in Nottingham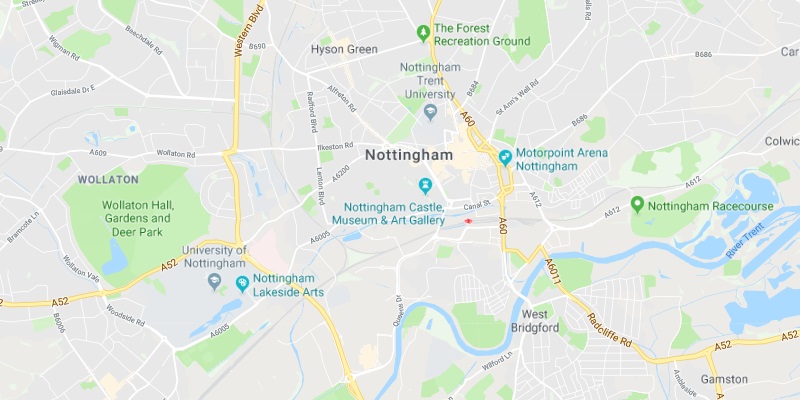 When you decide to scrap your car in Nottingham, it can be difficult to know where to turn.
At Scrap Car Comparison, we have a national network of approved wastage sites and salvage buyers, offering the easiest way to compare prices and get the best quote for your car.
So, if you're wondering where to scrap your car in Nottingham, get in touch!
Vehicle Recycling Nottingham
In times gone by, when a car or vehicle came to the end of its life and needed to be scrapped, it would simply be crushed at the local scrapyard. Today scrapping cars has developed to take full advantage of an expired vehicle's recycling potential, and the modern car recycling process means little is wasted. In Nottingham motorists need to scrap their cars for a variety of reasons – possibly due to being an insurance write off following damage in a collision, or having so much wear and tear that it becomes more expensive to replace a vehicle than to repair it. However the need may arise, if you have a car that needs to be scrapped in the Nottingham area, get in touch with us for a quote and we'll respond with a competitive offer for your old vehicle.
Scrap Car Collection in Nottingham
Once you've accepted a quote, our team will contact you to arrange for your Nottingham-based scrap car to be collected, at a convenient time for you, on a date that works for all parties. We can collect your vehicle from your drive, a nearby road, a local Nottingham garage, or further afield.
To find out more about scrapping your car in Nottingham, get in touch.
Scrap My Van Nottingham
All of the experienced buyers within our extensive network have spent years in the industry, and have an abundance of knowledge and expertise in both buying, and recovering, damaged or broken vans in and around [location]. So whether your van is old or damaged, we'll offer you a top, guaranteed quote for it.

In order for us to generate a quote for your van, we first require your van's details. This can be done by either calling one of our advisors on 03333 44 99 50, or by completing the form at the top of this page.
What Our Scrap Car Customers Are Saying
We pride ourselves on the professional, friendly and efficient services we provide, from the beginning of your journey, to the very end. We always give impartial advice and provide our customers with the knowledge they need to pick the deal that's right for them. Read what some of our customers have to say:
"Excellent service. Very friendly and easy from start to finish. Every step of the way was clearly explained by friendly staff and the car was collected within 24 hours. Would highly recommend."
Karen D – Reviews.co.uk

"Nice people to do business with! Best price we could find. Everyone was very helpful and explained the whole procedure clearly. Would happily recommend it to anyone."
Norman H – Reviews.co.uk

"Fantastic service. Trustworthy. Polite and friendly. Good value for service. Efficient. Demonstrated integrity. No complaints. Thank you very much for your service."
Roy J – Reviews.co.uk
Scrap Yard FAQs
How Do I Scrap My Car in Nottingham?
From West Bridgford to Ilkeston and from Arnold to Beeston, our car recycling network is ready and waiting to provide a service to anyone anywhere in the Nottingham region. So wherever you and your car are in Nottinghamshire, the process to scrap your car is the same simple process – just complete and submit our online form, and you'll receive a selection of quotes from local service providers. Choose which quote you'd like to proceed with and your selected provider will collect your car on a mutually convenient time and date.
Will I Have to Take My Car to a Scrap Yard in Nottingham?
With Scrap Car Comparison, you won't have the hassle of having to get your vehicle to a local scrap yard. You're also not limited to a price for your car offered by a single scrap merchant – you'll have a selection of quotes from companies competing for your business, with a much better outcome for you. They'll all be happy to collect your scrap or salvage car at your convenience.
Can I Sell My Car for Scrap?
Absolutely – even if your car is no longer fit to drive, there's money to be made from its scrap metal value and the components inside that could potentially be used for spares. A number of factors will determine how much a salvage or scrap car will fetch, including the age of the car, the car's condition, and also other wider considerations such as the current price of scrap metal. To get a true idea of what your scrap or salvage vehicle's worth, why not contact us for quote? Complete and submit our online form to receive quotes from local car collection companies, and you'll hear back from us with prices to make your decision.
Are You Able to Collect a Car for Scrap Near Me?
Wherever you and your car are located in or around Nottingham, our scrap car collection service will be able to collect your vehicle. We offer our collection service throughout the whole of the UK, saving customers the trouble of having to take cars to scrap yards for scrappage – with Scrap Car Comparison, a local service provider will collect the vehicle from your location at a time and date you are happy with.
I Have a Salvage Car in Nottingham, Can You Make an Offer for it?
Salvage cars and write offs will often receive better offers than cars being scrapped for other reasons. For expert advice check out our guide for salvage vehicles and fill out our online form now to receive a competitive quote for a salvage car.
If you have any more questions on collection, payment or the process, visit our scrapping FAQ page.
Other Locations Near Me
Our most popular Nottingham scrap car collection locations include West Bridgford, Hyson Green, Colwick, Wilford and Bramcote.
We work with a huge range of professional buyers throughout the UK. Contact us for a quick, hassle free collection anywhere in the UK. Here are some of our larger collection areas.