If you have a SORN (Statutory Off Road Notification) registered vehicle, and are wondering how you go about scrapping it,  or  what SORN  means, you've come to the right place.
At Scrap Car Comparison, we're experts in scrapping SORN vehicles and we're happy to answer any of your questions regarding SORN and any special considerations you need to consider.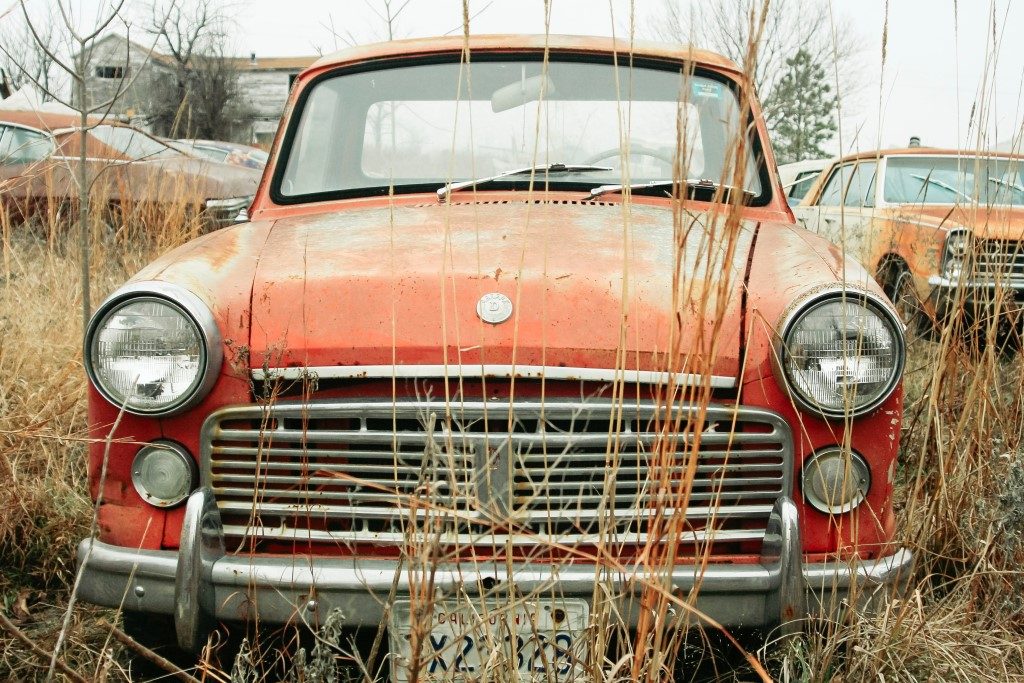 What Does SORN Mean?
As we mentioned above, SORN is the abbreviation for the Statutory Off Road Notification, which is the designation given to vehicles that are exempt from road tax since they are kept off the road on private property.
Why would a vehicle be registered as SORN?
There are several reasons why your vehicle may need to be registered as SORN.
When Would You Declare a Car As SORN?
The DVLA states that a SORN must be in place for any vehicle that:
Isn't road taxed
Is kept off the road by an owner
Doesn't have insurance
Is going to be dismantled for parts before scrapping
Owners can also register their car with a SORN if they are travelling for a long period of time and won't need their car on the road for that time, or if the car has failed its MOT and can't be fixed in a timely manner.
How To Find Out If My Car Is SORN
If you've SORNed your car yourself, you should know whether or not the process has been completed successful thanks to confirmation correspondence that you will receive. However, if you've just purchased a car from someone who you fear may have had the vehicle SORNed and might not have followed all the correct procedures for transferring ownership to you, your first port of call should be the government's website, or more specifically, their tax & sorn checker. This page allows you to check the status of any vehicle that you know the registration number of in a matter of seconds, without having to go through the hassle of contacting the DVLA directly.
Is It Safe to Buy a SORN Car?
When a car is sold properly, with all of the documentation completely as it should be, it's totally safe to buy a SORN car. This is because, much like road tax, the SORN status does not transfer with it. So, if you're concerned that you need to unSORN your new vehicle before you can drive it home, don't panic. You will, however, need to tax it immediately, otherwise you will be breaking the law by driving it!
The only other thing you might need to worry about is why the car was SORNed in the first place. Could the owner simply not afford to run it? That would explain why they're selling it, after all. Or is it hiding a mechanical failure that only the current owner knows about, and they're trying to shift it before it breaks down on them? If you're able to give the vehicle a once-over to confirm its reliability before buying, SORN status isn't a problem.
Can You Scrap A SORN Vehicle?
There are many reasons why you may consider scrapping your SORN vehicle:
You might have chosen to register it as SORN because it has failed its MOT.
Scrapping is preferable to insuring, because it is more expensive than you can afford.
It is just sitting on the driveway, unable to run anymore and it's just being salvaged for parts.
But is it possible to scrap a vehicle that's been given SORN status? Well, with Scrap Car Comparison, the answer is yes! We'll collect the vehicle from you without it having to be driven anywhere, so you won't need to stress about unSORNing it!
At Scrap Car Comparison, we want to make the scrapping process for a SORN car as easy and hassle-free as possible. When you enter your registration and post code into our quote form, we'll review all our trusted and approved buyers and present you with the best possible price for your SORN car.
Once you've received your quote, we'll also provide our Scrap Car Collection service to pick up your vehicle from your property (you will need to be there when the vehicle is picked up) and transport it to your buyer anywhere in the UK.
Once that is complete, you'll receive the payment for your vehicle, and it will be exactly what you were quoted – we don't take any fees after giving our quotes or at any point during the scrapping process.
How do I sell a SORN car?
There are three different ways that you can sell a SORN car:
You can tax and insure the car just before you sell it, and make sure it has an up-to-date MOT, but this can be expensive.
You could sell it to a car buyer, such as a scrap or salvage buyer at Scrap Car Comparison. Since the car can be transported to the buyer without needing to be driven, you won't need to remove the SORN status.
You can sell your car as SORN but must be prepared to inform all potential buyers of that fact. You may experience less interest and are likely to have to sell your car at a lower price.
Can you ever drive a SORN vehicle?
The regulations of a SORN means that your vehicle must be kept off the public roads on private land, in a garage or on a driveway. For that reason, there are only very limited conditions for when you can drive a SORN car.
You can only drive your SORN vehicle if you are going to or from a pre-booked MOT or other testing appointment and you can be fined up to £2,500 and face court prosecution if you use it on the public roads for any other reason.
How do I register my vehicle as SORN?
If you want to register a vehicle as SORN, and it meets the registration criteria, you will need to notify the DVLA. This is a simple process which we detail in our how to declare SORN article.
Can I sell a SORN car without an MOT?
A vehicle can be registered as SORN if it doesn't have an MOT. As with selling your car as SORN generally, you will often see less interest for a vehicle without an MOT since the buyer will have to tax and MOT the vehicle as soon as they buy it.
You will also often have to accept a lower price for the vehicle.
Do you need to declare a car as SORN?
If you don't want to tax your vehicle, and you're not planning on driving or parking it on any public roadway, then you can declare your car as SORN. It's not good enough to simply cancel your car tax or not pay it at all – you do need to notify the DVLA that you wish to SORN it.
Do you need to renew a SORN declaration?
No, the SORN status of a car does not expire and therefore does not need to be renewed.
Can I put a car back on the road after SORN?
Yes, but you will need to unSORN the vehicle before you move it anywhere at all. This can be done simply by retaxing the car; the SORN status will then automatically be cancelled and you go about your business without having to worry about the authorities interfering with your journey. Just remember, you'll also have to make sure it's MOT'd.
Can you SORN your car if you don't have off-road parking?
Not at all. If your car is subject to a Statutory Off-Road Notification, then it must be kept off the road altogether. You cannot just park it on the road and not drive it.
How To Scrap a SORN Car
If you'd like to scrap your SORN car with us, the process is very easy. Simply enter your details in our quote form and we'll find you the best possible quote from our trusted buyers.
Contact us here if you have any other questions about scrapping your car.