Looking for a quick, easy, and hassle-free way to scrap your car in Basingstoke? We can help!
As the first and only independent comparison site for scrap and damaged vehicles, we call upon our extensive network of scrap and salvage yards across the UK to help you find the best possible price for your scrap car.
Each and every one of the buyers we work with has undergone thorough quality and service checks, and we guarantee that you won't encounter any unexpected fees and costs.

Large Basingstoke Network

Guaranteed Prices

Free Collection

Experienced and professional
---
Where to Scrap My Car in Basingstoke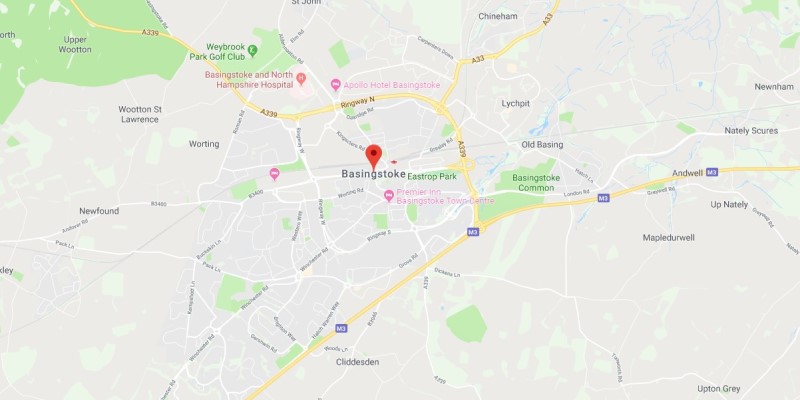 If you're looking to scrap your car in Basingstoke, the best deal might not necessarily be found in Old Basing, Newfound, Worting, Chineham, South View, Oakridge Village, or any other area of Basingstoke.
That's why, at Scrap Car Comparison, we don't just compare scrap car prices from your local area – we compare prices from across the country to ensure you're getting the very best offer.
Over the years, we've developed a network of over 100 fully vetted and professional scrap car buyers around the UK, allowing you to get more for your scrap car.
Vehicle Recycling Basingstoke
Gone are the days where end-of-life cars and vehicles are simply left to rust in a scrapyard. In recent years the scrap process for car breakers has become in truth a process of recycling. There are many reasons why a car may come to need to be recycled, including damage from crashes, cam belt failures – the list goes on. If you're from the Basingstoke region and have a car in need of a professional recycling service, complete our online form now for a competitive quote, and we'll take things from there.
Scrap Car Collection in Basingstoke
With local collection agents all around the country, we'll collect your scrap car and transport it to your chosen scrap yard, wherever you are in the country and wherever the yard is located.
This scrap car collection service is completely free of charge and we'll ensure the vehicle is collected at a time that's convenient for you.
To find the best price for your scrap car or damaged vehicle in Basingstoke, get in touch today.
Scrap My Van in Basingstoke
Getting the best price for your van is a simple process whether you use our smart online tool or speak to our expert team directly.

Prices in the scrap metal market are calculated based on a van's weight, however the value of a van can fluctuate depending which way the market sways. The good news is that Scrap Car Comparison guarantees all quotes which means that regardless of any market fluctuations, the price which you have been quoted is the price that you will receive, guaranteed.
What Our Scrap Car Customers Are Saying
We pride ourselves on the professional, friendly and efficient services we provide, from the beginning of your journey, to the very end. We always give impartial advice and provide our customers with the knowledge they need to pick the deal that's right for them. Read what some of our customers have to say:

"Very professional company everything went smoothly and would highly recommend you deserve the Five stars."
Beverley C – Reviews.co.uk

"Easy to use. Talked me through what they were going to offer and what they were going to do. collected on time. Paid exactly when they said they would. Definitely use them again. Best price I could get."
Neil R – Reviews.co.uk
Scrappage FAQs
I'm in Basingstoke, How Can I Scrap my Car?
We've worked hard to make the process of scrapping your car easy and hassle free, whether you live in Basingstoke, the surrounding Basingstoke area, or anywhere else around the UK. Just complete our online form to receive a quote from local providers, choose the one that's right for you, and arrange with them to have your car collected at time that's convenient for you.
Can I Sell my Car for Scrap?
Absolutely! The money you get when offering your car for scrap will come down to several different factors. These include the model of the vehicle, its age, condition, state of repair and the value of scrap metal at the time your vehicle is collected to be scrapped. When you submit your details, we'll get back to you with a selection of offers from local dealers in and around Basingstoke, and you can choose the most attractive option.
Will I Need to go to a Basingstoke Scrap Yard?
Short answer – no! In days gone by, you would need to take your car or vehicle to a scrap yard in Basingstoke, and you'd be limited to the price they offer you. Our service enables you to compare quotes from different providers, choose the most competitive offer, and have your vehicle collected to be scrapped – you won't even have to leave home.
Can You Collect Near Me?
We can collect your car to be scrapped wherever you may be in the Basingstoke region, including locations such as Winchester, Deane, Farnborough, Chineham and Aldershot – indeed, we can collect from anywhere within the UK. There's no need to take your car anywhere, the provider will make arrangements to pick up your vehicle at a time that's good for you.
Do You Collect Salvage Cars?
Yes, and it's often the case that salvage cars written off by insurers make more money than cars for scrap. Read the full guide on salvage cars here, and complete our form for a quote for a salvage car today.
If you have any more questions on collection, payment or the process, visit our scrapping FAQ page.
Other Locations Near Me
Our Basingstoke collection network are all waiting to pick up your scrap or salvage van or car. Contact us right now for a rapid collection anywhere in the UK.
Here are some of our larger collection areas.