---
Scrap My Car Manchester
If you're looking to scrap your car in Manchester, make sure Scrap Car Comparison is your first port of call!
Whether you're based in Deansgate, Salford, Wilmslow, Chorlton, Stockport, or anywhere else in the Manchester area, if you're looking to upgrade your car for a newer model or you're facing expensive repairs after an accident, we can help you find the best quote for your car.

Large Manchester Network

Guaranteed Prices

Free Collection

Expert Buyers
---
Where to Scrap My Car in Manchester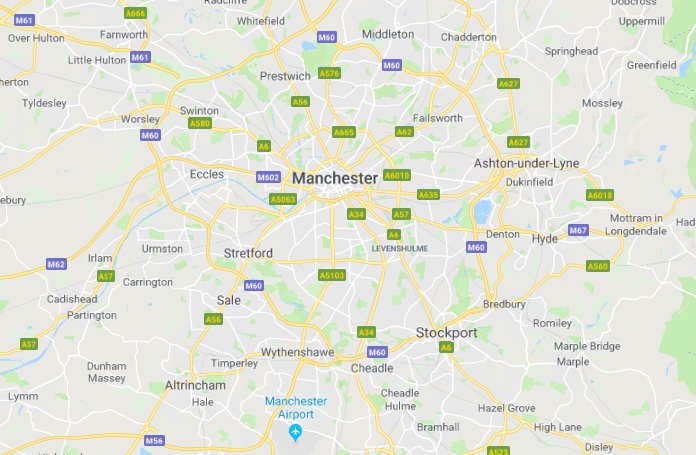 Collecting from Manchester and throughout the UK
Our network of the best scrap and salvage buyers are located across the country, meaning you can access the best prices from within Manchester and further afield. And, because we arrange for your scrap car to be collected free of charge, you won't have to worry about getting your car from Manchester to your chosen scrap yard.
Scrap Car Collection in Manchester
When you scrap your car with us, you'll get free scrap car collection included, wherever it's located in the UK.
At Scrap Car Comparison, we've been organising scrap car collections across the UK since 2008. So, you can rest assured, that whether you're looking for your scrap car to be collected from Hulme, Fallowfield, Risholme, Sale, or elsewhere in Manchester, we'll provide a smooth and streamlined process.
For further information about scrapping your car in Manchester, or to find out how much your car is worth, get in touch.
Scrap My Van Manchester
Do you have a van that you're looking to sell in Manchester? Scrap Car Comparison will offer you a top, guaranteed price for it – regardless of the condition. Whether your van has failed its MOT, is old and worn out, has crash damage or a faulty part, our knowledgeable scrap and salvage buyers will quote your van and offer you the most competitive prices, plus they'll collect it free of charge.

The process of scrapping a van is similar to our scrap car process, so find out more or get started with your personalised quote.
Vehicle Recycling
Collection by us means that your car will be recycled in Manchester. You may choose to recycle your car in a number of different situations, including a failed engine or MOT, crash damage or just old age.
If you're looking to recycle your car in Manchester and the surrounding area get in touch with us today.
What Our Scrap Car Customers Are Saying
We pride ourselves on the professional, friendly and efficient services we provide, from the beginning of your journey, to the very end. We always give impartial advice and provide our customers with the knowledge they need to pick the deal that's right for them. Read what some of our customers have to say:
"Perfect in every way. From the lovely man on the phone, who talked me through everything, a fantastic price and seamless collection and payment. Highly recommended."
Rebecca D – Reviews.co.uk

"Great service. Didn't know what to do with my car as the engine died. Scrap Car Comparison was great and helped me through the procedure of how to get the best deal for my car. Updates and service were spot on and ran like clockwork. Definitely recommend and use again."
Craig B – Reviews.co.uk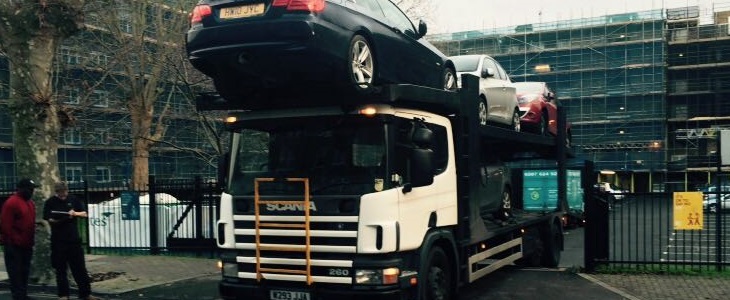 Scrappage FAQs
What Are My Car Salvage Manchester Options?
You do have the option to take your car to a Manchester scrap yard but why not take the easy option? Get a quick quote from us and you'll get the best price for your salvage car or van. We can then arrange collection at a convenient time and make a payment straight into your bank account.
Looking to buy? check out our how to buy a salvage car guide. 
What's Involved in the Car Scrap Process?
Our aim is to make the process as simple, easy and convenient for you as possible, and we have plenty of information to help. Why not take a look at our scrap car guide, it has a handy infographic that shows how simple the process is.
Where Are Your Scrap My Car Manchester Locations?
Although this page is titled scrap my car Manchester we actually collect throughout the UK. Manchester is one of our more popular locations. We have a network of salvage vehicle collection experts based locally and in the surrounding areas who are available for all the scrap your car needs. Contact us today! 
How Can I be Sure I'll Get the Best Price For My Car?
Scrap car price is dependent on many different factors. You can read more about this in the how to scrap or salvage a car article. Now you're here,  you can get a quick quote from us, giving you a guaranteed price for your car or van.
Do You Quote on Salvage Cars?
Salvage cars are worth more than scrap cars. If you have a salvage car or van, don't take it to a scrap yard, get a quote from us. We're your car salvage experts!
If you have any more questions on collection, payment or the process, visit our scrapping FAQ page.
Other Locations Near Me
Our most popular local scrap car collection locations include Didsbury, Longsight, Stretford, Old Trafford, Rusholme, Salford and Cheetham Hill.
We work with a huge range of professional car and van buyers in all areas of the UK. Contact us for a quick, hassle free collection anywhere in the UK. You don't need a Bristol scrap yard, let us help you. Here are some of our larger collection areas.