Since March of this year, petrol and diesel prices have continued to drop and for the first time since 2016, petrol prices are hitting the £1 price mark across the country. Scrap Car Comparison have taken a look into why this has happened and what we can expect to pay for our fuel moving forward as we continue to live through the UK lockdown.
Why Have Fuel Prices Fallen?
Since the Coronavirus broke-out in China back in late 2019, the price of oil has been steadily falling across the globe. This is heavily due to the big players such as airline companies, industrial corporations and transportation sectors dramatically dropping their need for oil and fuel, as the majority of flights were grounded and businesses across all industries were forced to close.
Plus, with less cars on the road day to day, petrol pump activity has fallen. Fuel retailers across the UK have been selling a fraction of the fuel they would have usually sold within the past 6 weeks.
Despite the current low prices of fuel, the number of drivers taking advantage of the cheaper fuel is limited because the lockdown has strict guidelines in place for when travel is permitted. Road traffic in the UK is around 58% lower than early February, whilst air traffic is down almost 90% compared to last year.
Petrol vs Diesel
Usually, petrol is a few pence per litre cheaper than diesel at fuel stations. However, diesel engines are generally more efficient than petrol. See how fuel efficient your car is here.
On average at the moment, the price of petrol is 107.56 and diesel is 114.94. Fuel prices have not been this low since 2016.
Where is Fuel the Cheapest?
This will depend on where you are in the country, and the type of retailer you are using to fill up your tank. Scrap Car Comparison finds typically, supermarkets can be cheaper than fuel stations as they use fuel as a loss leader. That means they sell it cheaper with the hope that you'll spend more in store.
Plus, prices at local garages are set with nearby competition in mind. This means, if you only have one local garage nearby with no immediate rivals, it will be able to charge more as it effectively has its own captive market. This can apply at many fuel stations and supermarkets, depending on the area.
To find the best deals, it's worth scouting round and comparing prices at different facilities.
Fuel Prices Across the Country Compared
According to Government figures published on the 5th May 2020, petrol and diesel prices across the country are continuing to decrease. Compared to this time last year, petrol has dropped 19.9p per litre and diesel has dropped 20.5p per litre.
Get me to the petrol pump we hear you cry!
Figures from Scrap Car Comparison London show us the biggest variance in fuel pricing with the cheapest fuel in South London costing 102.7p per litre and the most expensive fuel in the East End costing 112.9p.
While the team at Scrap Car Comparison Manchester found tighter knit figures from 102.9p-103.9p with fuel prices not dropping below 99.7p.
Here are some more average prices of fuel across the UK: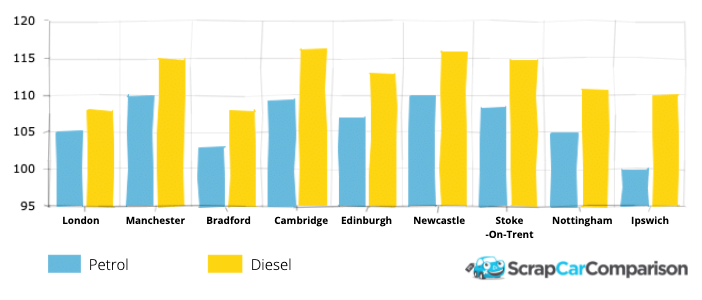 The Future of Fuel
As many fuel stations remain open for our key workers and essential services, some of the smaller independent fuel stations are struggling during this lockdown period.
Experts at Scrap Car Comparison say it's likely that fuel prices will continue in this downward fashion with potential for prices to fall even further, meaning more of us could be seeing petrol drop to under £1 per litre and diesel could fall to 102p per litre.
Ultimately this downward trend will depend on the timeframe around easing of lockdown measures. When businesses start to re-open and we see more drivers on the roads and planes in the skies, this will increase the need for fuel which would trigger the prices of oil to increase, and therefore the price of fuel will start to climb too.
Our advice to you is to take advantage of these low prices and fill up your tanks at your next essential journey.
On the other hand, you may find you don't need a car anymore, it's just too expensive to run or it's seen better days. You can still use an eco-friendly method of getting rid of your car, and pocket some cash at the same time. Check out Scrap Car Comparison's scrap vehicle quote tool and get an instant offer for your car.