One of the most popular reasons for scrapping a vehicle is that it's simply too expensive to run, with rising petrol prices and the cost of keeping the car fuelled being a major part of that. That's why we like to keep up to date on matters of the motor industry, so we can keep you up to speed on things that are helpful to know.
In April 2020, we investigated the sharp drop in fuel prices, so it only seems right to take a look one year on, to see if they are still being affected, and also what we can expect for the year ahead.

In late 2019, the price of oil began to steadily fall around the world. This was because airlines, industrial corporations and all areas of the transportation business didn't need as much oil, as businesses across the globe came to a halt as a direct result of the Covid-19 pandemic. Moreover, when the first lockdown was enforced in the UK in early 2020, the number of vehicles on the road dramatically fell. As people were told to stay at home and minimise travel, so the need for petrol dropped sharply. In March 2020, the price of petrol and diesel fell below the £1 per litre mark – prices not seen for over 4 years.
How Much Does Fuel Cost Now?
Every week in the UK, Confused.com finds the highest and lowest prices of both petrol and diesel. As of Thursday 1st July 2021, the cheapest price of petrol per litre is 119.9p and the cheapest price of diesel is 121.9p. The highest cost of fuel is 163.5p per litre for petrol, and 166.0p for diesel.
Right now across the UK, the average price of petrol per litre is 132.0p and the average price of diesel is 134.2p per litre. Currently, the cheapest places for fuel are the Isle of Man and Belfast. The most expensive places to fill up your tank are West, East and Central London. 
In the past 12 months, it's safe to say the price of fuel has been fairly up and down. As of late 2020 going into early 2021, the price of fuel seemed to be slowly increasing back to the price point we were seeing before the pandemic struck. Compare peaks and drops of fuel prices over the past year – see below.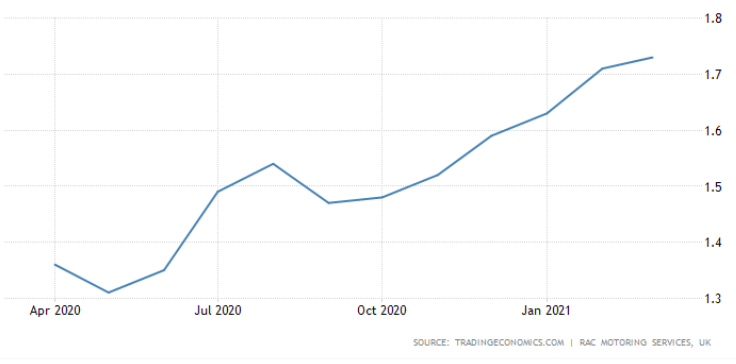 Did you know: According to the RAC, the price of petrol hit a record high on the 17th April 2012 with the average price of per litre costing an average of £142.48p. Diesel prices also hit a record high just 4 days earlier in 2012 – On 13th April the average price of diesel cost 147.93p per litre!
Why Do Fuel Prices Change?
The price of both petrol and diesel are governed by wholesale fuel prices, which is largely affected by the demand, supply and global price of crude oil. Generally, the higher oil prices are, the higher petrol and diesel prices will be.
The price of fuel can also fluctuate based on where you're filling up. Commonly, supermarkets tend to offer slightly cheaper rates of fuel compared to motorway stations and independent fuel stations. Independent fuel stations in rural areas can't compete with the competitive prices at supermarkets, so their fuel is usually slightly higher.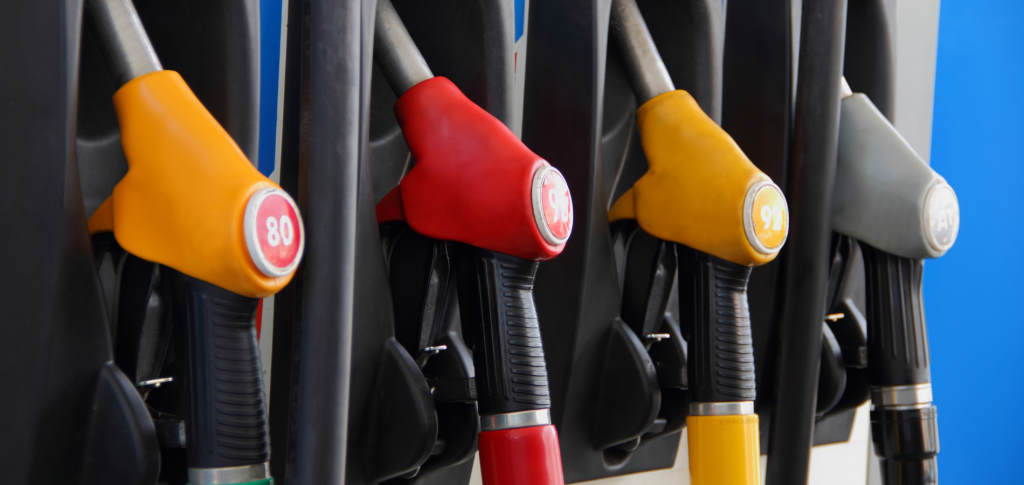 The Future of Fuel
Low fuel prices were never destined to last, as we've been in and out of lockdowns over the past 12 months, fuel prices have risen as the demand has grown again. There are more vehicles on the road, as well as planes in skies and transportation in transit, meaning the need for oil has increased. The current prices of petrol and diesel are not too different from prices we've seen over previous years – in pre-pandemic times.
In the summer of 2021, the standard (or Premium) petrol grade will become 'E10' in the UK. E10 petrol will be rolled out to reduce CO2 emissions while helping to meet the government's net zero target by 2050. The main benefit to using E10 petrol is that it reduces the levels of CO2 emissions emitted, as it contains 10% renewable ethanol. Once the petrol is mixed with the renewable ethanol, less fossil fuel is needed, which helps protect the environment and meets climate change targets.
E10 will be compatible with 95% of petrol fuelled vehicles on the road today. Check if your vehicle will be compatible. According to Gov.uk, if your vehicle or equipment is not compatible with E10 fuel, you will still be able to use E5 by purchasing the Super grade petrol from most fuel stations.
Save Money & Make a Profit
Want to ditch the price of fuel all together? You can use a trusted service to get rid of your car, while making some extra profit at the same time. Use Scrap Car Comparison's scrap vehicle quote tool for an instant car valuation. Compare competitive quotes from over 100 buyers and get your vehicle collected for free – no hidden costs!
Not sure if it's time to scrap? Read our 8 reasons it may be time to scrap or find out what the top 40 fuel efficient cars are for £5,000 or less.