A concept car is a vehicle that's made to showcase new designs, ideas and technology. They are designed to spark innovation and evoke a reaction. The concepts used may or may not be mass produced or inspire components in new, upcoming vehicles. Here at Scrap Car Comparison, we wanted to take a look at the 5 of our favourite concept cars of recent times and what makes them so unique. From self-healing skin to drones as headlights, a digital red carpet and alive geometry, is this really the future of driving?
1. Lamborghini Terzo Millennio
Terzo Millennio, translates to 'third millennium' and embodies the idea of what Lamborghini's first electric supercar would look like. This model is the first hybrid supercar featuring electric motors alongside Lamborghini's iconic 6.5-litre V12 engine at the rear axle. Lamborghini claims this supercar can reach 0-62mph in less than 2.8 seconds and can hit a top speed of 218mph. The clever design has four electric motors – one in each wheel, which gives room for more creativity such as a super-low F1 style seating position.
Aside from the futuristic look, what makes this concept car unlike any other is the self-healing carbon fibre skin. As seen in Supercar Blondie's 'Top 10 Craziest Concept Cars' video, the bodywork is able to generate energy through its unusual finish. When the carbon fibre detects a minor scratch or crack in its bodywork, a special aerospace polymer technology will emit a glue-like material which fuses the carbon fibre back together, preventing the crack from spreading so the whole piece doesn't need to be replaced. This is definitely a supercar like no other and Supercar Blondie agrees!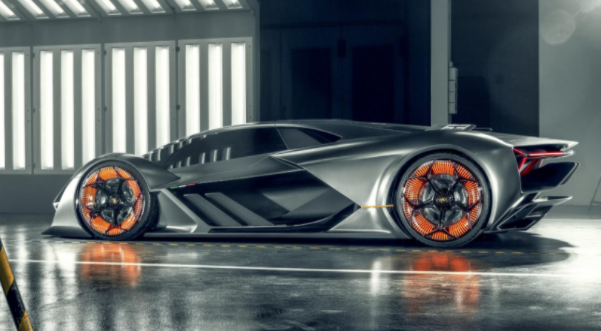 2. BMW Vision Next 100
The Vision Next 100 by BMW is a concept full of innovative and intelligent technology between human and car. What makes this concept so special is the alive geometry both inside and outside of the vehicle. On the inside there are 800 sensor-activated triangles that form a dynamic analogue display, spanning the entire length of the dashboard. These small triangles flip red when there is an object within the vehicle's vicinity, alerting the driver of potential dangers ahead. On the outside, the alive geometry also provides optimal aerodynamics. As the wheels are covered but space is needed to turn the wheels, the wheel section expands and contracts when the steering is turned. Enclosed wheel arches also help reduce drag and lower energy consumption.

In Boost Mode, the seat and steering wheel change position and the centre console turns towards the driver. The driver is also supported by a digital intelligence called the 'Companion'. In Ease mode, the concept becomes a place of relaxation with the interior completely adjusting to provide extra space and ambient lighting is used to create a more relaxing atmosphere – we're ready BMW!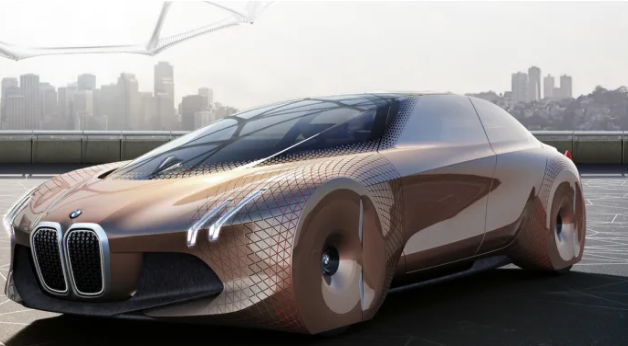 3. AUDI AI:Trail
Audi combines futuristic design with a special tribute to nature with the AI:Trail. This concept paves the way for the future of off-roading vehicles with it's innovative design and features.
Instead of traditional headlights, the AI:Trail has 5 drones docked to the roof rack called Audi Light Pathfinders. These drones fly autonomously in front of the vehicle which illuminates the road ahead. They can also be used when hiking and will follow passengers on their hike and back to the vehicle safely again. Another unusual feature is the rear passenger seats, Audi have replaced traditional seats with hammocks, which can be removed and used on hiking trips and camping breaks. The design itself is pretty striking, with its giant tyres and diamond like body to enhance the experience outdoors with nature.
The touch of nature flows throughout the cabin with materials used such as wood, felt and wool. The grab handles are made from climbing rope which has been knotted using macramé techniques.
This is another concept as shown in Supercar Blondie's top 10 Craziest Concept Cars as she shows us how to drive it. To control the vehicle, you simply put your smartphone into an opening in front of the steering wheel, this then acts as your centre console showing your speed and performance. Pretty unique!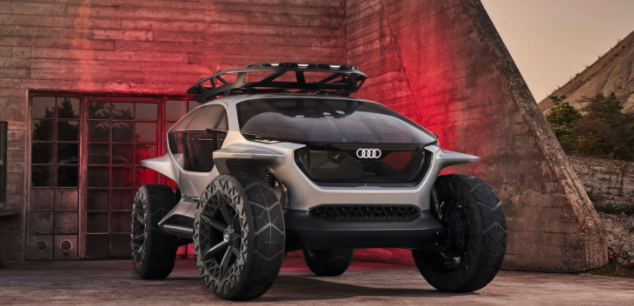 4. Rolls-Royce 103EX
This is certainly no ordinary Rolls-Royce. The 103EX is a vision vehicle, which presents the endless possibilities that await. It's a 19.4ft fully autonomous vehicle, providing an almost unobstructed 360 degree view from the cabin. There is no engine under the bonnet, instead one electric motor powers the front wheels and another drives the rear wheels. The bonnet space is put to use as a luggage compartment that fully opens out and delivers your luxury Rolls-Royce embroidered suitcases at the touch of a button.

There is no dashboard, no steering wheel and no fiddly controls. The sleek, luxury style exudes the Rolls-Royce vision while the clever technology transports you to the future of driving. The roof and doors glide open and a luminous red light projects a digital red carpet for that ultimate Hollywood entrance. The interior is finished to perfection with a silk sofa, hand woven wool carpet, and of course no Rolls-Royce would be complete without the iconic branded umbrella in the door panel.

This vision vehicle has an artificial intelligence presence called 'Eleanor' who has many high-tech functions, including calculating traffic and calling ahead to the driver's destination if they are expected to be late. Now that's the future of driving we want to see!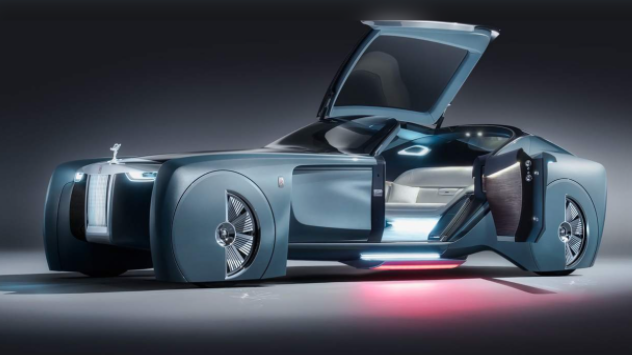 5. DS X E-Tense
DS Automobiles created a concept that is as light as a feather and as silent as the breeze, raising the bar for futuristic technologies and design. The DS X E-Tense is an asymmetric, three-seat concept which is essentially two vehicles in one.

The driving section of the vehicle resembles a cockpit, where the driver can experience a fully electric, flawless control system. The passenger side is a soothing cocoon with a seat which also doubles as a massager. The single driver's seat resembles an F1 racing car, which moulds perfectly to the driver's position. The open roof concept is to thrill the driver in the open air, providing optimum driver engagement. Whereas the comfortable cocoon-like section contrasts with the perfect relaxing atmosphere, with a Hi-Fi system and a coffee machine! The passenger side can seat up to three passengers, with asymmetric design creating more space underneath the gullwing door and glass shell.

The interior is beautifully designed in a two-tone blue leather with the DS trademark pearl top stitch pattern and finished with delicate feathers. This concept imagines a dream for 2035 and we're sold!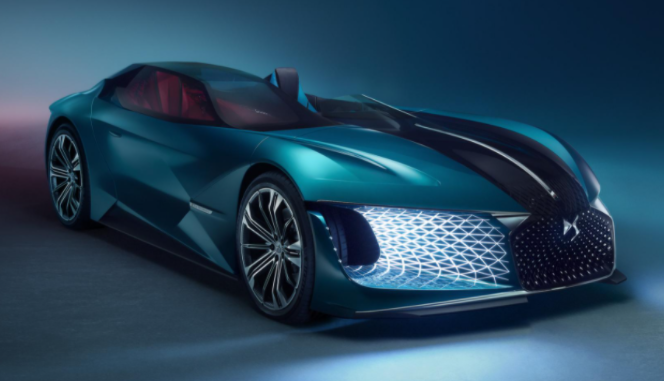 Read more
Supercars get scrapped too! Whether you've got an Audi, BMW or Lamborghini, find out how much your car (or supercar) could be worth. Get started with your own free quote with our comparison calculator and see how much your car or van could be worth in just 30 seconds – no strings attached!