Looking for a quick and simple way to scrap your car in Hull? We can help!
As the first and only comparison site for scrap and damaged vehicles, at Scrap Car Comparison, we compare over 100 trusted scrap and salvage buyers in order to find the best possible price for your scrap car.
Our nationwide network of buyers have all been checked to ensure they deliver the optimum level of quality and service, and you can rest assured that you won't encounter any unexpected fees or costs.

Large Hull Network

Guaranteed Prices

Free Collection

Experienced and professional
---
Where to Scrap My Car in Hull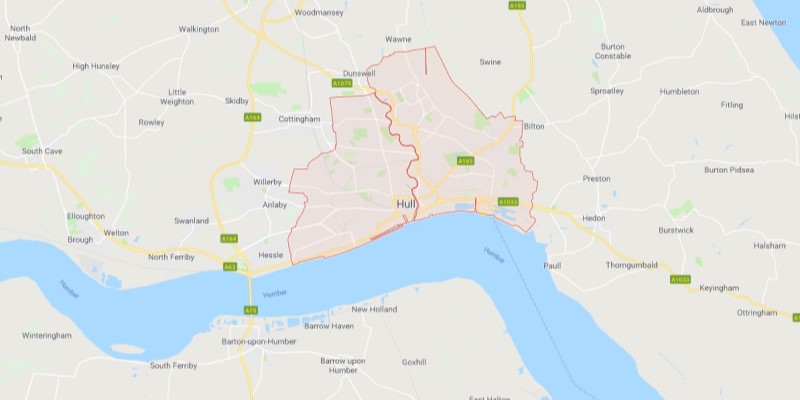 Collecting in Hull and the surrounding area, quick, easy and the best price guaranteed!
If you're scrapping your car in Hull, the best deal might not necessarily be found in Newland, Stoneferry, East Ella, Anlaby Park, Kingswood, Bransholme, or any other area of Hull. With this in mind, we compare prices from buyers across the UK to ensure that you secure the best offer.
Having built an enviable network of over 100 checked and vetted, professional scrap car buyers across the UK, we'll ensure that you get more for your scrap or damaged car.
We'll even come and collect your scrap car from your location in Hull and transport it to chosen scrap yard.
Vehicle Recycling Hull
Recycling is increasingly becoming more and more of a part within the scrap car industry and nearly everything on a modern car can be recycled. If you're looking to potentially thinking about recycling your car and want to be safe in the knowledge that this will be done in an environmentally friendly way, complete the quote form today and get the best price for your vehicle.
If you looking for more information on recycling your vehicle, read out article all about car recycling.
Scrap Car Collection in Hull
With local collections agents across the country, wherever you're located in Hull, and wherever your chosen scrap yard is located, we'll provide free collection and transportation, on a time and day that is convenient for you.
Get in touch today to find out more and find the best possible price for your scrap car in Hull.
Scrap My Van Hull 
We scrap vans in a similar way to scrapping cars, and your van will be collected free of charge and on a day and time that suits you. Plus, we'll guarantee all of our quotes which means that, regardless of fluctuations in the scrap metal market, the price which you have been quoted for your van is the price that you will receive.

Whether your van is old and worn, has been damaged or has faulty parts, you can browse and compare competitive quotes from over 100 trusted scrap and salvage buyers. Get your free quote in 30 seconds or speak to one of our friendly sales advisors.
What our Scrap Car Customers Are Saying
We pride ourselves on the professional, friendly and efficient services we provide, from the beginning of your journey, to the very end. We always give impartial advice and provide our customers with the knowledge they need to pick the deal that's right for them. Read what some of our customers have to say:

"So easy to do. Great conversation with the team members. Polite friendly and helpful. Gave me a great price even though the car would need extensive repair."
Sharon P – Reviews.co.uk

"Was very happy with the speed & efficiency with dealing with the pick up of my car & the quickness of payment"
Roy W – Reviews.co.uk

"Absolutely brilliant service. Quick, reliable and efficient. Would definitely use again."
Richard D – Reviews.co.uk
Scrappage FAQs
Can I Sell a With Finance?
Selling a car when you own the vehicle can be a fairly simple process, but for those looking to sell a vehicle that has finance attached to it, it can be a little bit more confusing, so it's important to fully understand the legalities that surround you doing so. Find out more about selling your car with finance in Hull here.
Do You Buy Commercial Vehicles?
The buyers on our network buy all sorts of vehicles in all sorts of conditions. If there's a particular type of vehicle you're interested in selling either fill out the above quotation form or contact us and call 03333 44 99 50 to speak to one of our dedicated customer service advisors for more information.
What Makes Scrap Car Comparison's Prices so Competitive?
With many years of experience within the scrappage industry, we have built up relationships with the most reputable Authorised Treatment Facilities and specialist buyers nationwide. When we first began building our network we did our research to ensure that only the most trusted buyers would be represented on our service, and we have continued with that same level of detail to ensure our users always get the best service when using one of the buyers on our network. Thousands of cars and a few years later and the relationships we have with the buyers, has strengthened. Because of this and the fact that we are able to offer a steady stream of vehicles to help our buyers work more efficiently, they offer us some of the most competitive prices on the market in return.
How Much is My Car Worth?
Working out the value of a damaged vehicle can become a confusing and frustrating time. Knowing when to sell, how much your vehicle is worth, or even how to go about selling a scrap car in hull can all unnecessarily stress. Unnecessary, because we've devised a straightforward comparison website which helps you to understand the process both car scrappage, and how to get the best price when you choose to do so.
Read our complete guide to find out how much your car is worth.
Do You Quote on Salvage Cars?
Salvage cars are worth a lot more than scrap cars. If you have a salvage van or car, don't take it to the nearest car scrapyard in Hull, fill in our online form and get an immediate guaranteed price. We're your car salvage Hull experts!
If you have any more questions on the collection, payment or the process, visit our scrapping FAQ page.
Other Locations Near Me
Our most popular Hull scrap car collection locations include Cottingham, Willerby, Hessle, Beverley and all surrounding areas.
We have a vast network or buyers in Hull, waiting to come and collect your scrap or salvage van or car. Contact us right now for a rapid collection anywhere in the UK.
Here are some of our larger collection areas.
Harrogate
Scarborough
Wakefield
All locations