Do you have a scrap car or van you're looking to sell? Scrap Car Comparison can collect any vehicle, in any condition and offer you a top price for it!

Whether you're in the city centre, or towards Fulwood, New Longton, Roach Bridge or surrounding areas, our scrap and salvage buyers are ready to offer you a free, personalised quote for your vehicle. Plus, we run a no-contact service so you can rest assured the process is safe and secure!

Local and regional collectors 

Guaranteed Prices

Free Collection

Trusted and experienced
---
Where to Scrap My Car in Preston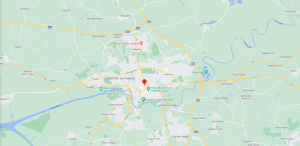 With an extensive network of trusted and experienced buyers, you can browse and compare quotes from all over Preston and the rest of the UK. This means you won't have to settle for average quotes in your town or nearby in Blackpool or Blackburn, you can handpick your quote from the most competitive prices in the market – and the best part is our buyers operate with a strict no-contact service and 100% free collections!
Scrap My Van Preston
Prices in the scrap metal market are calculated based on a van's weight – usually per ton. However, the value of scrap metal can fluctuate depending on how the market is performing, which will directly affect the quote you're offered. With Scrap Car Comparison, we guarantee all of our quotes for 24 hours, so while you make up your mind, you can rest assured that your quote is safe. 
We scrap vans in a similar way to scrapping cars, and your van will be collected free of charge and on a day and time that suits you. We'll quote your van regardless of it's condition too! Get your free, personalised van quote, or speak to one of our expert advisors to find out more. 
Vehicle Recycling in Preston
There are a number of reasons why you may be thinking of recycling your vehicle, including: failed MOT, written off, old and rusty or simply unwanted. Whatever the reason for wanting to scrap and recycle, the good news is that recycling within the scrap car industry is on the rise.

Did you know that almost every part in a modern vehicle can be recycled and reused? To find out more about recycling, read our guide to recycling in the automotive industry. 
What our Scrap Car Customers Are Saying
We pride ourselves on the professional, friendly and efficient services we provide, from the beginning of your journey, to the very end. We always give impartial advice and provide our customers with the knowledge they need to pick the deal that's right for them. Read what some of our customers have to say:

"Excellent and prompt service provided. Always spoke with knowledge and understanding regarding my situation. I rate them as the best in the business, especially how they helped and provided for my needs at a very difficult time with the car and organising my outcome. Thank you everyone at Scrap Car Comparison."
Derek T – Reviews.co.uk


"My experience was simple and easy , all instructions were clear and precise. Calls were friendly and informative. Price was competitive , overall I was pleased and relieved it went smoothly , thanks to all involved"
Adrian S – Reviews.co.uk
Scrappage FAQs
How Do Your Online Quotes Work?
All we need is your postcode to determine where the vehicle is located so we can find the best buyers around your area and further afield. Then we need your registration number to determine the make and model of your vehicle. Once you've submitted your details a friendly member of our team will get in touch with you to discuss your vehicle in more detail, talk you through the process and answer any queries you may have. 
My Car Is In Poor Condition, Can You Still Collect?
Yes! Our comparison service searches nationwide to find the best price for your vehicle no matter what the vehicle's condition, make or model. Whether you've got an MOT failure or crash damaged or broken vehicle, just be as accurate as possible when describing the vehicle's condition and we'll search our network to find the most suitable buyer for you!
Can I Scrap My Van in Preston?
Yes! Our network supports van scrappage too, simply complete our form providing the information about your vehicle and we'll issue quotes for scrapping your van from local providers based in the Preston region and further afield! Your chosen dealer will then collect the van on a mutually convenient date.
What Do I Do With Previous Car History?
Please let us know what vehicle history you do have. If you don't have any history that's not a problem, just make sure you've made us aware so that we can inform our buyers. Any car history that you do have should be given to the buyer when they collect the vehicle. 

Can I Donate My Car To Charity?
Many people choose to donate the funds raised from scrapping a vehicle to charity, and we're more than happy to help our customers do this. With Scrap Car Comparison you can choose to donate some, or all of the profits to one of our featured charity partners – find out more on our amazing 'Donate a Car Scheme'.
When Will I Get Paid?
You'll receive payment on the very same day your vehicle is collected.
If you have any more queries on the scrapping process, read our most frequently asked questions on scrapping a vehicle.
Other locations near me
We can collect from all over Preston and the North! Get in touch with us or get your personalised, free quote in just 30 seconds. 
Contact us right now for a rapid collection anywhere in the UK. Here are some of our larger collection areas.