---
Scrap My Car Northampton
If you're looking to scrap your car or van in Northampton, you've come to the right place! Here at Scrap Car Comparison, we take the hassle out of scrapping your vehicle. From Abington, Collingtree and Wooton, through to Daventry, Kettering and Corby, we're perfectly located to help you scrap your car, no matter where you're located.
As the first and only independent comparison site for scrap and damaged vehicles, our team of experts will help you find the best possible price for your scrap car.

Northampton Experts

Hassle free service

Quick collection

Experienced and professional
---
Where to scrap my car in Northampton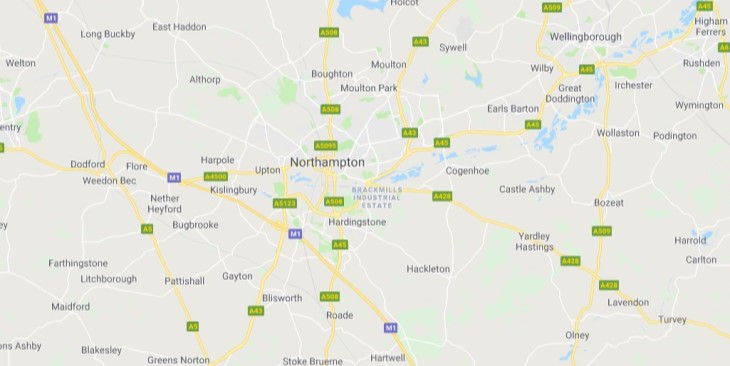 If you're looking to scrap your car in Northampton, contact the experts – Scrap Car Comparison!
At Scrap Car Comparison, our team will help you find the very best price for your scrap car in Northampton.
Whether you're in the process of upgrading your car or you've had an accident and are facing extensive repair costs, at Scrap Car Comparison we'll help you find the best quote for your car.
Once you've found the scrap yard offering the best deal, we'll arrange for your vehicle to be collected free of charge – so you won't have to worry about transporting your vehicle from Northampton.
Vehicle recycling Northampton
Thanks to advances in car recycling technology, the process of scrapping a car has changed hugely compared to years gone by, where old cars were simply crushed and left to rust in the corner of the local scrap yard. Nowadays motorists in Northampton can rely on a car recycling service that's fast, convenient and environmentally friendly too – just complete and submit our online form to get the process started.
Scrap car collection in Northampton
When you scrap your car through Scrap Car Comparison, free collection comes as standard, wherever your vehicle is located in the UK.
We've built up long-lasting relationships and boast a network of the very best scrap and salvage buyers across the country, including across Northampton. This enables us to secure the best possible prices for you.
Whether you need your scrap car collected from Hunsbury, Wootton, Brixworth, Moulton, or elsewhere in Northampton, you can rest assured knowing that you'll receive the highest levels of service and best possible prices.
To find out more about scrapping or your car in Northampton or the surrounding area, please get in touch.
What our Scrap Car Northampton customers are saying
POur experienced experts in and around Northampton provide the highest levels of services. Customer A (Miss M) recently provided a review of her experience.

"My car was collected within 24 hours and I was paid the full price I was originally quoted. The service and staff were A*. Very helpful at all times. I would recommend this company to anyone. Thank you" – 5 Stars!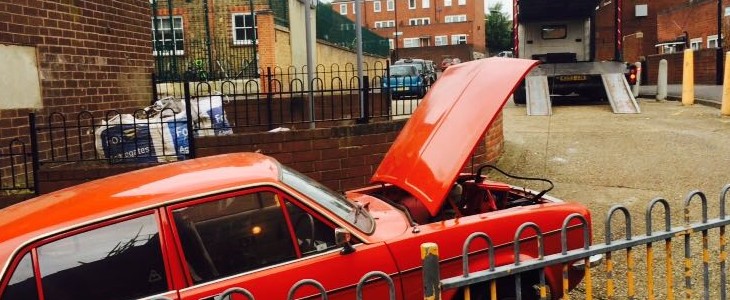 Scrappage FAQs
How much would it cost to scrap my car in Northampton?
You'll be happy to know that due to the latest methods of car recycling and scrappage, we can make full use of your old car's components and scrap metal, so you can always expect to profit from scrapping your car, which is a free service. To find out how much you will be paid for your scrap vehicle, complete our online form to receive a selection of offers from scrap car collection agents in and around Northampton.
Can you help me donate the value of my scrap car to charity?
We fully support anyone who would like to donate the proceeds from scrapping their car to charity. With our charity donation service, you can decide what percentage of the car's value you wish to donate, along with the specific charity you would like to receive the funds.
Can I get a SORN car located near Northampton removed?
Wherever your SORN off-road vehicle might be located, whether it's in the centre of Northampton or in surrounding locations such as Upton, Hardingstone or Boughton, we will be able to pick up your SORN vehicle and get it scrapped at your convenience. To get the ball rolling just complete and submit our online form, and we will forward you offers from local scrap car companies who will collect and remove your SORN vehicle as part of the service.
Can you scrap vans?
In addition to cars we also specialize in the collection of vans, so if you have a van in the Northampton area which needs scrapping, we'll be able to help you, and give you a range of competitive offers for your old van from local van scrappage providers. Just complete our online form and we will get back to you to get things moving.
Can you recycle a car in Northampton?
Recycling technology has now advanced to a point where almost every component and part of your old car can be reused or recycled. For anyone based in Northampton looking to recycle a car, we will be able to provide this service using the latest methods. Just complete and submit our online form, giving the basic details of your vehicle, and we will get back to you.
Other locations near me
We collect from Northampton and surrounding areas. Whether it's Dallington, Cotton End or Queens Park, one of our experts can come and collect your scrap car or van in next to no time. Quick and easy, start the process by getting a free quote today.
Contact us right now for a rapid collection anywhere in the UK. Here are some of our larger collection areas.