Salvage cars are a hugely beneficial way to acquire a car inexpensively. In the UK market, they're often cheaper than cars bought second-hand through a dealership, a car auction or online, such as websites like AutoTrader, but that's not the only thing you should be aware of when considering buying a salvage car.
There are some aspects of buying a salvage car that you will not encounter if you've bought a car through other means in the past.  To help, we've put together this blog to share everything you need to know about buying a salvage car in the UK market, so that you can find the right car for you and make a decision with confidence.
What is a salvage car?
"Salvage car" is the name given to a vehicle that has sustained damage and is no longer fit for use on UK roads. However, in contrast to a scrap car, a salvage car has not sustained enough damage to receive a warrant for dismantling, but instead, if fixed, could become road legal again, ready to drive or go back on the market.
In the UK there are four different categories for cars that have sustained damage on the roads – two of which are focused on scrap cars, and two on salvage cars. It's important to be aware of what category the salvage car you're considering buying is, since this can affect insurance and other aspects of buying the vehicle.
Category A
This category is for cars that are unable to return to UK roads due to the amount of damage that they received – they are only suitable to be scrapped. There will be no salvageable parts from these cars.
Category B
Category B vehicles will have sustained extensive damage but, unlike Cat A, will have some parts that are salvageable and able to be used in other cars.
Category S
This category designation refers to cars that are structurally repairable. It is purely for the cars that can be repaired and return to the road, but the costs of the repairs will exceed the value of the vehicle.
Category N
The vehicles in this category are described as non-structurally repairable, and will be able to return to the roads. However, they will still need significant repairs, which come with costs – although the costs won't be more than the value of the vehicle.
What do you need to consider before buying a salvage car?
There are a few things to consider about buying a salvage car before you make that decision. It's important to know everything you need to about the car you're considering buying so that you don't get caught out. Here are some of the most important things to check:
Make sure you get the full details of the vehicle, including the category it was listed under when it was damaged – we would definitely recommend focusing on Category S and N cars in your search.
Ensure you inspect the car before buying, so that you know exactly what you're getting and whether there are still any repairs that will need to be carried out.
Keep an eye out for stolen recovered vehicles – these are vehicles that have been stolen, written off by the insurance company after three weeks, and then found later and salvaged.
Talk to insurers about how much the car will cost to insure, since salvage cars can often require more expensive insurance or reduced coverage.
Buy from a respected and reputable dealer to make sure that the car is reliable and from the right category.
Our guide to Buying a Salvage Car
This downloadable guide provides you with information needed when buying or selling a salvage car, including:
The different salvage categories
Choosing a salvage car from a reputable seller
Checking a vehicle's history
Researching insurance companies
Buying your salvage car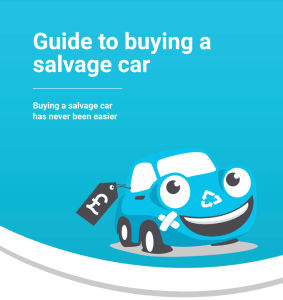 Frequently asked questions about salvage cars
Here are a few of the most commonly asked questions about buying a salvage car from the UK's used car market, together with our answers.
Why should I buy a salvage car?
As we've mentioned before, salvage cars are a lot less expensive than their non-salvage counterparts, meaning that if price is a big issue for you when buying a car, a salvage car purchased from a dealer, online or at auction could be the perfect solution.
Salvage cars can often cost less than their used market alternatives, even including the cost for repairs.
Can I buy a salvage car at an auction?
Yes – within the UK car market there are specialist auctions dedicated to salvage cars where you can make a salvage car purchase. When buying at salvage car auctions, check carefully the credentials of the dealer offering the car – if you can't find a well-established track record for them selling salvage cars, take it as a warning sign and walk away. And if you do make a purchase, you'll obviously need to get it fixed before it can be driven again on the UK road.
Can I insure a salvage car, and how much will it cost?
Any UK car that is allowed on the road needs to be insured, and salvage cars are no different – they can, and need, to be insured.
However, the options available to you may be more limited than if you're buying a non-salvage car. Insurance for salvage cars can often only provide limited cover for the vehicle and it may take longer to find the best price; UK car insurers will either ask for higher premiums, according to safety and other concerns, or they'll have very small premiums because they don't think the vehicle is worth much.
The most important thing to do here is your research and find the best deal for you.
Can I register a salvage car with the DVLA?
Until October 2015, any cars under Category A, B, or C would need to pass a Vehicle Identity Check (VIC) before the DVLA would provide a V5C for the car.
Nowadays though, following updates in UK regulations, the VIC test is no longer required, but only Category C, D, S, and N vehicles can apply for a V5C – Cat A and B are unable to go back onto the roads.
Can I drive a salvage car?
As long as you have registered the salvage car and have the right insurance, there's no reason why you cannot drive the salvage car once it is repaired. It is prudent to get a new MOT after the repairs have been completed so that you can ensure that it is road-worthy and full compiant with UK legal requirements.
If you're looking to sell a car that has sustained damage, come to us at Scrap Car Comparison. With a large database of trusted scrap and salvage buyers throughout the UK, we'll be able to get you the best deal for your vehicle and make sure it goes to the right place. Get a quote today to find out how much you could make.
If you'd like further information, you can download our salvage car guide here.