If your car is ready for the scrapyard, but the footwells, backseat or boot are filled with litter and personal items, you may be hoping you can save yourself a job and scrap everything in one go. Unfortunately, it may not be that easy. Learn more about scrapping a car that's full of rubbish with this guide.
Can I scrap a car that's full of rubbish?
It's best to ensure your car is clear of all rubbish and personal belongings before it's collected by a scrap dealer.
When you scrap your car, it is usually dismantled and either recycled or destroyed (you can find out more about what happens to scrapped vehicles here). The scrap dealers who collect your vehicle are experts in car parts and making sure your car is scrapped efficiently, but not at dealing with general rubbish. It will cost them time, and potentially money, to have to dispose of items left in your vehicle; so, if your car is filled with random items, wrappers or trash, you could find they may refuse to collect it, and even charge you for the wasted journey.
Therefore, we definitely recommend you take a few minutes to properly clear the car before it's picked up; this will ensure it can be collected without any delays or issues. Check under the seats, in the boot and in any compartments such as the glove box or centre console for any leftover items.
What can I leave in a car that's being scrapped?
Really, the only things left in your vehicle as it's taken for scrapping should be functional for the vehicle. So, anything that the vehicle would have come with originally (such as the seats, steering wheel, mirrors) or, in some cases, such as sound systems or alloys, any additions you may have made since purchase.
Non-essential, or decorative items, such as hanging air fresheners, phone holders, seat covers or boot liners should ideally be removed (you never know, you might be able to re-use them elsewhere). Likewise, any rubbish like food containers, coffee cups, papers and so on should be taken out and dealt with accordingly. Also make sure to empty ashtrays.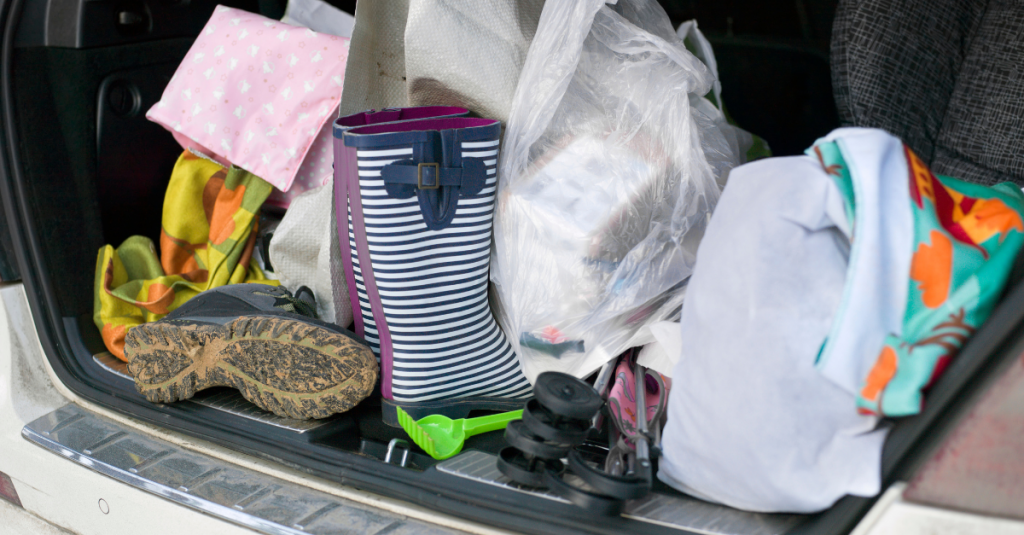 What should I do with the rubbish in my car?
Depending on what the rubbish is, generally you should be able to recycle many paper or aluminium containers (as well as some plastics), bin any other general rubbish or, in the case of larger or more challenging items, take them to the tip.
Does my car need to be in good condition to get scrapped?
As scrapping usually spells the literal end of the road for many vehicles, it's common for us to regularly quote for cars that are in pretty poor shape. We've been able to provide quotes for cars that are missing engine parts, doors and even have no tyres. In terms of the condition of the body of the car, then as long as the collector is able to get access to the vehicle and either tow or winch it onto their pick-up truck, then you will able to have your vehicle collected. In some cases, specialist equipment may be required, but we'll do all we can to help you scrap your car.
With regards to interiors, we would never expect you to valet or scrub your car clean just for it to go to the scrapyard. However, as mentioned above, if your car is full of non-essential items and rubbish, you may have difficulty getting the vehicle taken away, so please ensure your cars and vans are free from household rubbish, recycling and general waste.
Read more
Check out our Scrap Car Collection FAQs for more information about requirements for scrapping your vehicle. Then, why not get started on scrapping your car today? We'll help you to secure a quote and discover how much your scrap car may be worth.