Are you looking to scrap your car in Oxford or the surrounding area? Want to get the best deal for your car from a reputable buyer? At Scrap Car Comparison, we can lend a hand.
With a vast network of scrap and salvage buyers across the UK, we'll be able to get you the best price for your scrap car whether you're living in Oxford, Aylesbury, Swindon, Banbury, Milton Keynes or one of the other surrounding towns or cities.

Collecting throughout Oxford

Guaranteed prices

No hidden fees

Simple, quick and easy
---
Where to Scrap My Car in Oxford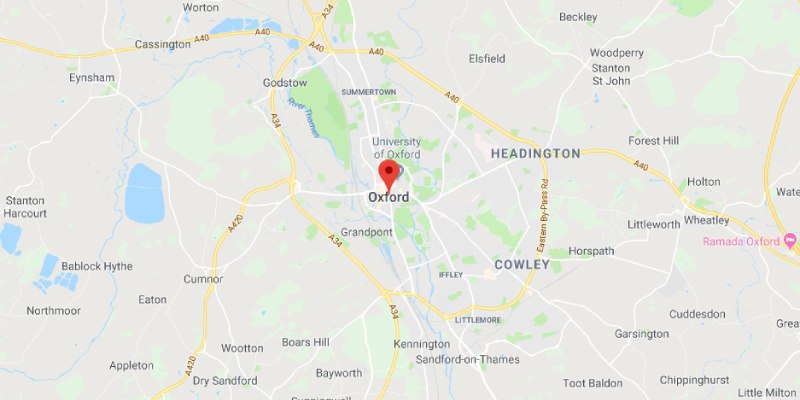 The best deal for your car isn't always found at the most local dealer or buyer. But, if you're selling your scrap car in Oxford and sell with Scrap Car Comparison, that shouldn't be a problem at all.
We compare prices from buyers all across the UK to make sure you're getting the very best deal for your scrap vehicle, instead of just looking at local companies and buyers. We give you a guaranteed price to scrap your car in Oxford.
All buyers in our network have undergone thorough quality and service checks, and we can guarantee that you won't be subject to any unexpected fees or costs at any point in the scrapping process. Why not get a free quote today and see what your vehicle is worth?
Vehicle Recycling Oxford
With Scrap Car Comparison's convenient and environmentally friendly service, you can arrange for your vehicle to be collected for a modern vehicle recycling process. Full information about current practices for dismantling and depolluting end of life cars can be reviewed in our guide to car recycling. If you're looking for a simple and straightforward way to dispose of an old car with the peace of mind that it will be recycled by a licensed provider, Scrap Car Comparison are the perfect option. All you need to do is complete and submit our online request form, and we'll come back to you with a selection of competitive quotes for your vehicle.
Scrap Car Collection in Oxford
Even if we do find a buyer for you that isn't local, that's no problem if you're scrapping with us. Our designated local collection agents will be able to collect your scrap car for free and take it straight to your chosen buyer, no matter where they are located in the UK.
All you have to do is choose a time and place convenient for you, and they'll pick up your vehicle. It's as simple as that.
Are you thinking of selling your scrap car? Enter your details in our quote tool and get the best deal for your vehicle today!
Scrap My Van Oxford
The process for scrapping a van isn't all that different from the process of scrapping a car. All of the experienced buyers within our extensive network have spent years in the industry, and have an abundance of knowledge and expertise in both buying, and recovering, damaged or broken vans.

We have hundreds of buyers across the UK that want to buy your scrap van, no matter what condition it's in. Get a top quote, guaranteed with a free, convenient collection regardless of where you are in the UK. There are no hidden fees or charges to catch you off guard!
In order for us to generate a quote for your van, we first require your van's details. This can be done by either calling one of our advisors on 03333 44 99 50, or by completing the form at the top of this page.
What our Scrap Car Oxford customers are saying
We pride ourselves on the professional, friendly and efficient services we provide, from the beginning of your journey, to the very end. We always give impartial advice and provide our customers with the knowledge they need to pick the deal that's right for them. Read what some of our customers have to say:

"Credit where due, A quick, friendly service and made the process very easy, I would recommend"
Nick G – Reviews.co.uk

"So professional and helpful. I really felt they had all the time in the world just for me. Nothing was too much trouble for them. Everything they said would happen DID and all in 2 days. THANK YOU Scrap Car Comparison."
Jan S – Reviews.co.uk

"Was very happy with the speed & efficiency with dealing with the pick up of my car & the quickness of payment"
Roy W – Reviews.co.uk
Scrap Yard FAQs
Where can I scrap car my old car in Oxford?
In Oxford and its surrounding area we have coverage by a network of local scrap merchants so wherever you are, you'll have someone available to collect your old scrap car. This means you will not have to take it to a local scrap yard.
I need a car collected near Oxford, can you help?
We can help anyone with a car to be scrapped, as we have the benefit of a range of scrap car dealers who are available to collect cars and make offers for them as part of the service we provide. The process is the same across the UK – simple and convenient. Wherever you are in Oxford or further afield in places such as Abingdon, Aylesbury and Didcot, we will be able to assist you with disposing of your vehicle.
Can I sell a salvage car?
If you have a car for salvage or a vehicle written off by an insurance company, Scrap Car Comparison will be able to give you an offer for it. Salvage cars and vans frequently receive a higher price than basic scrap cars, so to find out what you might get, simply complete and submit out online form.
What's the process to scrap a car in Oxford?
Scrap Car Comparison take pride in providing customers with a quick, convenient service for customers looking to scrap a car. To get things started, simply complete and submit our online form with details about your vehicle to be scrapped, and we'll quickly get back to you with a range of offers from local scrap collection providers. You can then choose the scrap car collection company you want to proceed with, and they will contact you to arrange the car collection at a convenient date and time.
Do I have to take my car to a scrap yard near me in Oxford?
You'll be glad to know that the days are gone when you have to work out how to get an expired vehicle to a scrap yard. Scrap dealers come to collect cars at your convenience, and you aren't' limited to a quote from just one dealer. You'll have the option of a range of quotes from local scrap and salvage car collection companies who will all come and collect vehicles at a time convenient to car owners.
If you have any more questions on collection, payment or the process, visit our scrapping FAQ page.
Other locations near me
Our Oxford collection network has professional teams waiting to collect your scrap vehicle. If you've ever asked "where to scrap my car near me in Oxford" you now know who to contact! Quick, hassle free collection from Oxford, the surrounding area and throughout the UK.
Here are some of our larger collection areas.