One of the biggest problems of the internal combustion engine is the constant need to top things up – oil, coolant, AdBlue… But what is the latter? If you've only driven petrol cars all of your life, then you'll probably be thinking we've just made it up, but diesel drivers, particularly of modern cars, will be well versed with the ritual top-ups, even if they don't know what it actually is. So, with confusion potentially coming from multiple angles, let's see if we can clear this up once and for all.
But first, if an AdBlue top-up is the least of your worries, why not get rid of all your problems in one fell swoop? All it takes is one phone call to our friendly team of experts at Scrap Car Comparison who, with just your postcode and registration number, will be able to find you the very best price in your area – and we'll even throw in a free collection, too.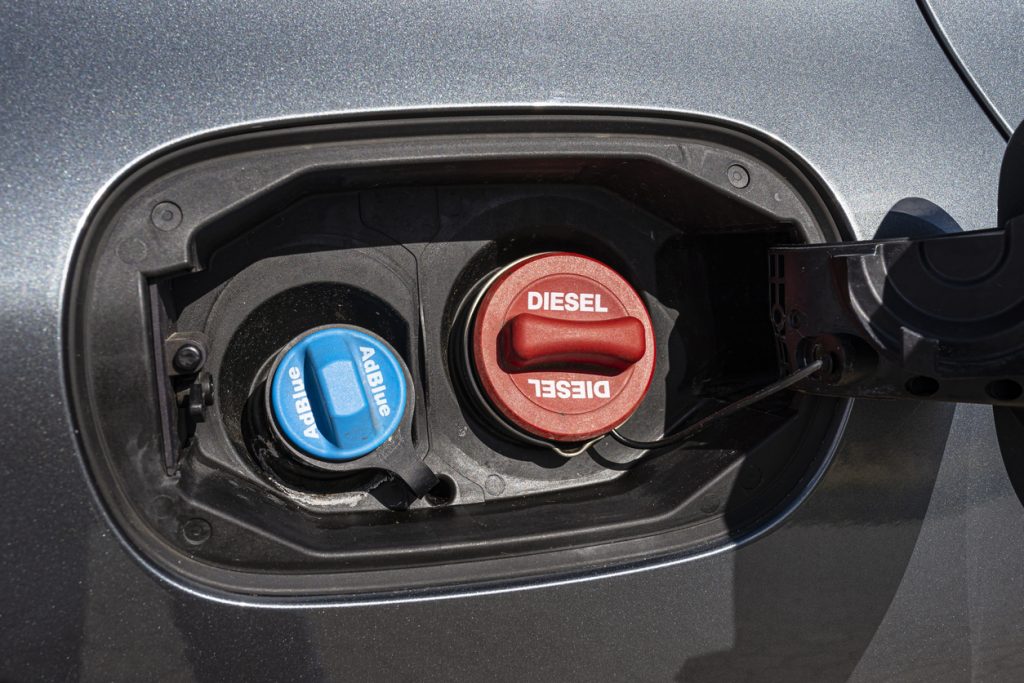 What is AdBlue?
Unsurprisingly, car makers have to go through a mountain of regulations in order to be able to produce vehicles that are suitable for the roads, with a large number of these applying to environmental restrictions. Euro 6, the most recent of said regulations, was particularly challenging for diesel-powered vehicles, aimed at reducing nitrogen-oxide emissions. AdBlue is a liquid made from urea and deionised water, which will reduce these emissions.
Why do I need it?
AdBlue is needed to keep the selective catalytic reduction process ticking over, which reduces the level of nitrogen-oxide emissions from your engine. It's a process that's been in use for decades, but only recently – since Euro 6 regulations came into force – has it become commonplace in diesel-engined vehicles.
How does it work?
Your car will inject tiny amounts of AdBlue into its exhaust system, the combination of which begins to break down the harmful mono-nitrogen oxides into the exhaust gases. It's not new, though, and has been used in buses and heavy goods vehicles for many years before being required under Euro 6 regulations.
Does my car need AdBlue?
If your car has a diesel engine then chances are it'll require AdBlue, particularly if it was built after 2016, when the new registrations came into effect. If you're unsure if your car requires AdBlue or not, then your owner's manual will be able to tell you. If you're still stuck, then a call to a garage that specialises in the make of car you drive should be able to let you know either way.
Do all diesel cars need AdBlue?
No – and you shouldn't assume that just because you have a diesel that you need to be topping up your AdBlue all the time. AdBlue should only be used on vehicles that are fitted with a Selective Catalytic Reduction (SCR) system, which generally are found on more modern diesel cars – predominantly from 2014 onwards. 
What happens if I run out of AdBlue?
Running out of AdBlue will not cause any damage to your engine, but certain models may limit your performance to ensure that you don't produce too many emissions while driving along.
Is it safe to drive without AdBlue or with the AdBlue warning light on?
Driving without AdBlue in your car is very much not recommended, as you run the risk of your car being dropped into 'limp mode' to ensure your emissions stay within the legal limit. While limp mode isn't dangerous – in fact it's designed to be the exact opposite – if you're on a dual carriageway or motorway you'll be driving considerably slower than almost everyone else on the road, and those speed differentials could become dangerous.
If you've had enough of constantly having to top up your AdBlue, then you may be thinking that it's time to move on to something a little newer and with a petrol engine, or even going totally green with an electric car. Whatever the reason, Scrap Car Comparison is here to help you get the very best price for your current diesel vehicle, giving you a bigger stepping stone to your next purchase as a result.
All you need to do to get the very best price for your car is to provide us with both your post code and registration number and we'll do the rest, scouring the market local to you and providing you with your best scrap or salvage quotes. Get started today and with collection agents operating across the entire country, we'll even come and collect it for free!