For the month of July, we are excited to be supporting Children's Air Ambulance.
Children's Air Ambulance is a national service, changing the face of paediatric and neonatal care through the high-speed transfer of critically ill babies and children and flying them from one hospital to another for specialist care.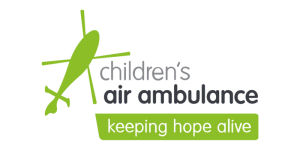 The clinically designed helicopter provides a flying intensive care unit for babies and children. We work with 10 NHS paediatric retrieval teams across the UK, enabling them to bring their specialist equipment on board to safely transfer their patients from one hospital to another. If a child is too sick to fly then the Children's Air Ambulance can fly a specialist team directly to them.
All transfers of critically ill babies and children carry an inherent risk – the longer a child is out of the hospital, the greater that risk. With our ability to fly approximately four times faster than a land ambulance, we can minimise travel times and risk. We receive no government or National Lottery funding for our daily missions and rely entirely on voluntary donations and support from communities and businesses to raise the £3,500 needed for every mission. Your support will help to keep hope alive for these patients and their families.