When you're at the drive-through of your favourite fast food restaurant, or trying to grab a ticket at the barrier entrance of a car park, or even if you're simply too hot or too cold… the ability to open and close your car windows is seemingly trivial, especially when you consider the other intricate mechanisms at play. So, it can leave you in an uncomfortable situation when you need to roll down the window to collect your chicken nuggets or you're commuting in the winter cold, getting blasted by snow with a window that's stuck down. Allow Scrap Car Comparison to explain why your car window might not go up or down, and how to fix it.
If a broken window mechanism is just the tip of the iceberg when it comes to faults with your car, get a quote from Scrap Car Comparison and see how much you could sell it for today! Our network of scrap and salvage dealers covers 99% of the UK, allowing us to find the best price that the market can offer for your vehicle wherever you are! We even throw in free collection, picking up your car or van at absolutely no extra cost. The entire process, from quote to collection, takes just a few days, with an initial price available to you in as little as 30 seconds. Call 03333 44 99 50 or use our scrap car price calculator to find out how much money you could make now!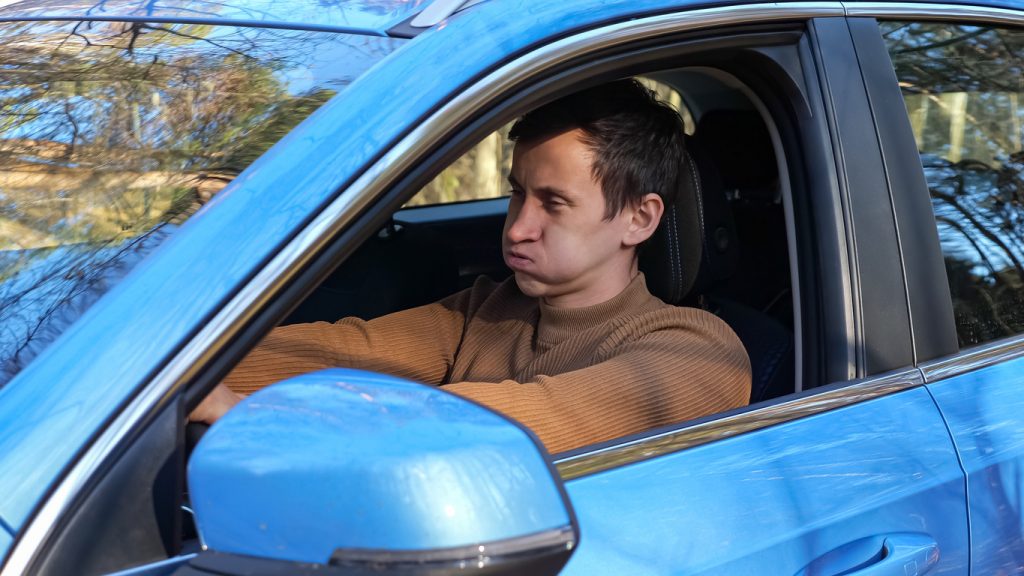 What Does It Mean When Your Window Is Stuck?
If one or more of your car windows are stuck, it means that something has gone wrong with the mechanisms that are hidden inside the window and door. There are numerous possibilities for what might have happened, which we'll cover later on, but it's important to be aware that there could be different issues to blame depending on whether your windows are electrically powered or manually using the old-school hand-cranks.
What Could Cause Your Car Window To Be Stuck?
Like we said, there are a number of things that could go wrong, but let's break them down into faults with electric or manual windows:
Electric
Faulty Motor – The reversible motor is what powers the window's up and down movements. If this fails, your window isn't going anywhere.
Faulty Wiring – The wiring inside the window might not be working properly, which means even if the motor and regulator are working as normal, they won't be connected to each other.
Faulty Regulator – In a similar fashion to the motor, if your regulator breaks or gets stuck, the window won't move in either direction.
Faulty Switch – It's not impossible for the problem to lie simply in the switch itself.
Manual
Stripped Gears – The mechanical gears inside the regulator or hand crank could be the source of the problem. They might need repairing or replacing.
Damaged Regulator – If the regulator has become damaged, like if it's bent out of shape for example, you might find that the window won't open or close fully.
Stuck Regulator – Another regulator problem could come in the form of friction preventing it from moving. A lack of lubrication could be to blame.
How To Fix A Stuck Car Window
Of course, the simplest way of fixing a stuck window (for yourself) would be to take it to a professional technician to be looked at and, if the problem is inside your door panel like a blown fuse, faulty regulator or flat motor, it will spare you some major taking apart and putting back together work. However, if you want to have a crack at fixing your window yourself before it gets to that point, there are a few things you can try.
Door Slam Method
If your electric window is stuck down and you need to park up securely, there's a 'brute force' method that can work, though it's far from guaranteed. First of all, turn the car on and ensure that the problem is isolated to this window and isn't an overall electrical failure (by testing the radio, etc.)
With power to the vehicle confirmed, hold the window switch in the 'up' position, as though you're trying to close the window like you normally would. Things might get a little bit fiddly next, and you're probably best off being inside the car to make things easier.
With the window switch still pressed, open the door and slam it closed. If the window doesn't start to roll up, repeat the process. Once it's up, keep it up until you can get it fixed permanently. If you lower the window again, the door slam method might not work a second time!
Double Palm Method
This method also requires a bit of strength, but could also be attempted to lower the window as well as to roll it up. To do it properly though, you'll need a second person available to hold the window switch in the direction that you want the window to move (with the power switched on again).
Once your helper is holding the switch, simply place a palm on either side of the glass and pull the window into the required position – up or down. Bear in mind that if the window is completely down to start with, you won't be able to use this method.
How To Keep Your Car Secure If Your Window Won't Go Up
Naturally, it's going to be difficult to keep people from entering your car if the window has to remain down. It goes without saying that if you can park in a garage or, at the very least, on a quiet driveway, this will either prevent people from accessing your car or will prevent attention from being drawn to it.
You could park the vehicle close to a wall, with the open window-side so close to the wall that, not only will it prevent passers-by from seeing that the window is down, but it will also block any opportunists from opening the door and being able to easily reach inside the car.
Whatever you do, it's essential that you remove any and all belongings – valuable or otherwise – from the car to discourage anyone from attempting to reach inside.
It would also be a good idea to get hold of an old-school steering wheel lock, just in case anyone wanted to try their hand at starting your car without the key and driving it away.
Get a quote from Scrap Car Comparison today and you could earn enough cash to put towards something newer and more reliable. We partner with scrap and salvage dealers across the country, giving us the ability to find the best price that the market can offer for your vehicle in any location! With free collection included, picking up your car or van at absolutely no extra cost, there are no hidden fees! Call 03333 44 99 50 or use our scrap car price calculator to find out how much your car is worth now!