---
Scrap My Car Northwich
Scrapping a car in the Northwich area can seem like a chore if you don't know where to go or who to talk to. At Scrap Car Comparison, we want to make selling your scrap car as easy as possible – that's why we have a large network of potential scrap and salvage buyers right at our fingertips.
If you're looking to scrap your car in Northwich, or further afield in Warrington, Altrincham, Liverpool or even Manchester, our UK network will be able to find the best deal for you with no trouble.
All our buyers have had thorough quality and service checks carried out, and we can guarantee that you won't be subject to any unexpected fees or costs when selling your scrap car with us.

Free quote

Huge buyer network

Free Collection

Experienced and professional
---
Where to Scrap My Car in Northwich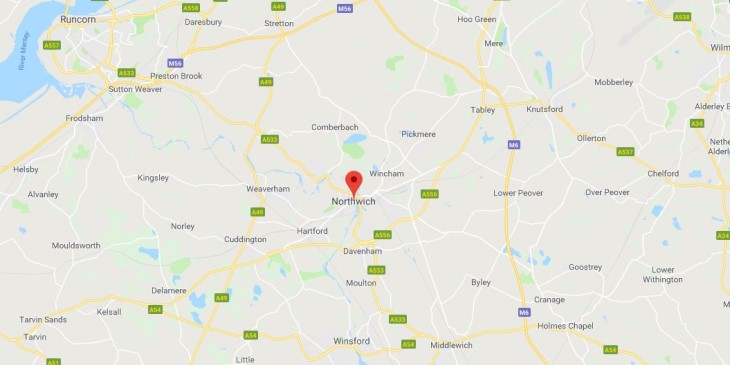 Scrapping your vehicle Northwich? get the best price available today!
While you may have imagined your buyer to be located near to your home in Northwich, searching nearby won't always get you the best scrap price. The best deal for your scrap car could be found in another part of the UK.
To make sure you don't miss out on the best deal for your scrap car, we don't just look for local buyers for your scrap car when you enter your details with us, but we also look at our buyers across the UK to find the right deal for you.
Vehicle Recycling Northwich
We can arrange for your car to be recycled in Northwich, all of which is done in the most environmentally friendly way, especially with the recent increase of interest in the issue of climate change, along with the increasing value of scrap metal, its more and more common for nearly every part to be recycled. You may choose to get your car recycled for a variety of reasons including a failed engine or MOT, crash damage or just old age.
If you're looking to recycle your car in Northwich and the surrounding area gets in touch with us today.
Scrap Car Collection in Northwich
Since our buyers are located across the UK, you may be worried that it won't be possible to pick your scrap car up from your home. However, you have no need to worry since we have local collection agents who can pick up your car, at a time convenient for you, and take it straight to your buyer, wherever in the UK you're both located.
Get a quote for your scrap car and find your buyer today at Scrap Car Comparison.
Scrap My Van Northwich
We scrap vans in a similar way to scrapping cars, and your van will be collected free of charge and on a day and time that suits you. Plus, we'll guarantee all of our quotes which means that, regardless of fluctuations in the scrap metal market, the price which you have been quoted for your van is the price that you will receive.

Whether your van is old and worn, has been damaged or has faulty parts, you can browse and compare competitive quotes from over 100 trusted scrap and salvage buyers from across Northwich and Cheshire. Get your free quote in 30 seconds or speak to one of our friendly sales advisors.
What Our Scrap Car Customers Are Saying
We pride ourselves on the professional, friendly and efficient services we provide, from the beginning of your journey, to the very end. We always give impartial advice and provide our customers with the knowledge they need to pick the deal that's right for them. Read what some of our customers have to say:

we got a quote online, then received a phone call, they not only matched the offer we had somewhere else but went above it. Very quick, easy and friendly service. Very pleased."
Jessica G – Reviews.co.uk

"Great communication, start to finish. Offered 75% more than local dealer. No issues, very prompt payment. Would recommend."
Calum M – Reviews.co.uk

"First Class service, professional and knowledgeable who provide the service you would expect and go over and above to ensure you are provided with the best quote. Fantastic and would highly recommend."
Jonathan A – Reviews.co.uk 
Scrappage FAQs
What If I Miss Important Information?
If you think you missed anything when providing details about your vehicle, or if anything has changed since you provided us with your vehicle's details, please let us know as soon as possible as it may affect the quote which you were given. You can also find information on what information is needed within our guide to scrapping your car. 
Am I Entering A Contract By Selling My Car Through Scrap Car Comparison?
Yes you will be entering a contract. Once you have accepted your quote our in-house team will go through our verbal contract with you. The contract is a sales agreement between the collector and the buyer explaining that 'X' price will be paid for 'X' vehicle upon receipt of the vehicle, subject to checks. This contract is in place to protect both the seller, to ensure that they receive their guaranteed price, and the buyer, to ensure that the vehicle is as it was described when the quote was generated. 
How Long Does The Process Of Selling My Car Take?
The quickest quote to collection we've ever had was the very same day, however the process usually takes about 2 days. Our buyers work to our user's requirements so once the quote has been accepted the collection can happen as soon, or as far as the user would like.
Are your prices guaranteed?
Subject to inspection from one of our experts, yes. All of our prices are guaranteed, upon receipt of a signed purchase agreement. This means that as long as the vehicle has been described accurately during the quotation stage you will receive the exact amount which you were quoted.
My Quote Expired But I Want To Accept.
We can only hold quotes for 24 hours so unfortunately if this time period has gone past than your guaranteed quote price has lapsed. However your vehicle may still be worth the same amount, please speak to one of our advisors to receive another guaranteed quote.
For any more questions or queries on the collection, payment or even the process, take a look at our FAQ page all about scrappage in Northwich.
Other Locations Near Me
We cover the whole of the Northwest area, so if you're looking to "scrap my car near me in Northwich" then you've come to the right company. Our local experts collect from Hartford, Moulton, Winsford, Davenham as well at the larger cities in the area such as Liverpool, Manchester and Sheffield. Our buyers are located throughout the UK and we'll be able to arrange quick collection for your vehicle.
Contact us right now for the speedy collection of your scrap or damaged car anywhere in the UK. Here are some of our larger collection areas.