---
Scrap My Car Droitwich Spa
Get the best deal in Droitwich for your scrap car or van with Scrap Car Comparison. Get multiple offers from scrap yards in your area in just 30 seconds.
Our network of vetted car buyers will collect your car from your driveway, help with paperwork and get you paid the best price.

Full Worcestershire coverage

Guaranteed prices

We collect for FREE!

Trusted and experienced
---
Scrapping your car in Droitwich
When your car or van has come to the end of its life then making sure you get the most cash for it is of the utmost importance to our customers. Rather than phoning around various scrap yards and repeating the same information, Scrap Car Comparison offers you multiple prices from different buyers in the wider Droitwich and West Midlands area.
We pay the highest prices for these vehicles
✅ Non starters
✅ MOT failures
✅ Insurance write offs
✅ Damaged vehicles
✅ Petrol and diesel vehicles
✅ Uneconomical cars and vans
✅ Missing paperwork
✅ Break downs
✅ SORN vehicles
✅ Electric and hybrid cars
How the scrap car process works
Step One: Get your quote online
In just 30 seconds you can get estimates and bids for your car or van. Enter your vehicle's registration and your postcode, and our system will determine whether the car can be salvaged (giving you more cash) or if needs to be scrapped. Provide as much detail as possible and we'll price accurately and competitively.
Step Two: Confirm Your Booking
Our dedicated team of scrap and salvage experts will confirm the state of the car, the exact location and access, and the schedule for completing the booking. Our experts will be able to answer any questions and guide you through the process including paperwork.
Step Three: Car collection and payment
Once your car is booked in we'll confirm the scrap yard (known as an ATF) that covers the Droitwich area that offered the best payment. They'll contact you to arrange collection at time that suits you. Once the car is collected we'll release payment via BACS the very same day. No haggling, no hassle.
Scrap car collection in Droitwich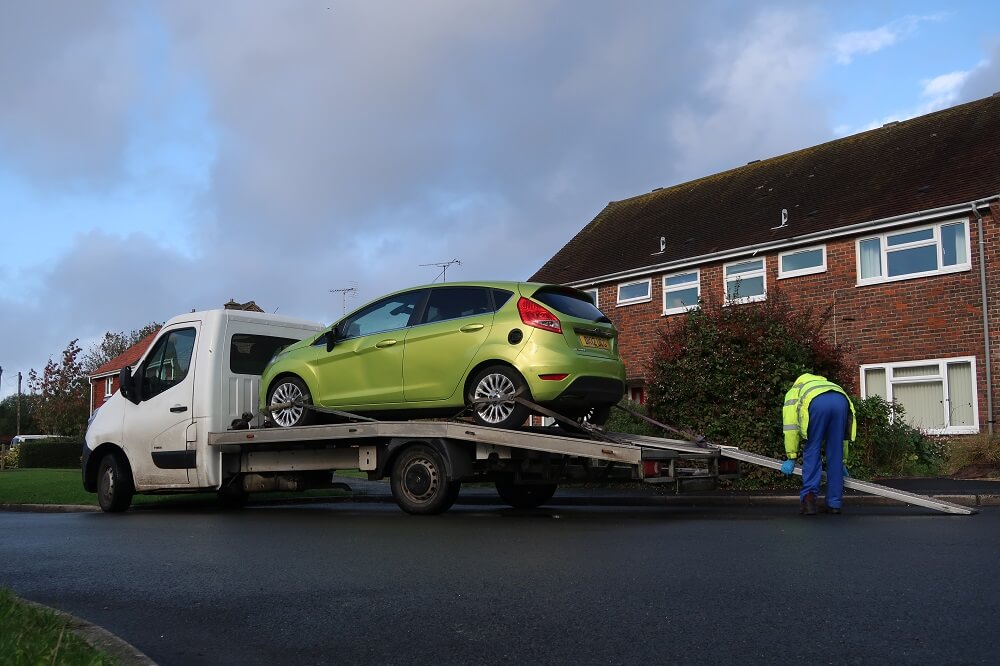 We have a wide range of car scrappers and salvagers covering the Droitwich area. Conveniently located close to the M5 motorway and cities of Worcester, Birmingham and Bristol, we'll get bids from multiple buyers for your scrap car or van. Your buyer will be able to collect your scrap car or scrap van in Droitwich from your driveway, place of work or other location.
Scrapping my van in Droitwich
We scrap vans in a similar way to scrapping cars, and your van will be collected free of charge and on a day and time that suits you. We'll quote your van regardless of it's condition with many vans being eligible for salvage, giving you an even better price. Get your free, personalised van quote, or speak to one of our expert advisors to find out more.
Frequently Asked Questions
What details do I need to provide?
To get accurate offers for your car or van we need the vehicle's registration and your postcode. We use the registration to get further details such as make and model and year which allows us to price accurately. Your postcode is needed to ensure we have coverage in your area and only scrap yards that cover your town or city bid for your vehicle. Your contact details are needed so that we can email your confirmation and complete bookings over the phone.
How is pricing calculated?
We use your vehicle's details to first determine if your car is salvageable or destined to be recycled as scrap. Our trusted network of scrap yards will offer to buy your vehicle mostly based on the weight of the vehicle and how much scrap they're likely to recycle. Generally, bigger cars will weigh more and be offered higher prices. Scrap car prices follow the national average with little regional variance.
What happens once I'm booked in?
Our team of experts will book you in over the phone with the number you've provided. At the time of booking you'll be told which 3rd party scrap yard or car salvager will collect your car. You don't need to clean or modify your car in any way. Just ensure it's in the condition you described when you confirmed the booking. The car collector will have your details and phone you to confirm a time and date to pickup the car, confirm access for the collection vehicle and answer any additional questions.
Who do I get help from?
Up until the point your car is collected you can contact the West Sussex based team here at Scrap Car Comparison. We're available 7 days a week over phone and email. If you need help then contact us.
Scrap coverage near Droitwich Spa
Not only do we serve all of Droitwich Spa and the WR9 postcode, our scrap and salvage coverage extends to all of Worcestershire. Local towns like Ombersley, Wychbold, and Rushock can also use Scrap Car Comparison to get local scrap yards to bid on your vehicle.
Here are some of our larger collection locations close to Droitwich: