If you've got an unused, damaged or old vehicle you're looking to get rid of, Scrap Car Comparison can help you compare the best quotes, so you won't have to settle for an average price in the Plymouth area. 
We offer free collections across the UK on a day and time that suits you, and all of our buyers are vetted to ensure they uphold the high standards of service we provide. Plus, all of our quotes are guaranteed and you won't run into any hidden costs, just scrappage made simple!

Large Devon Network

Guaranteed Prices

Free Collection

Experienced and professional
---
Where to Scrap My Car in Plymouth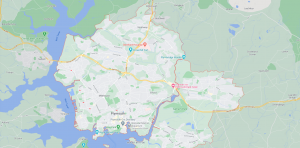 We can compare hundreds of quotes from across the country, so you won't have to browse through average prices in your area. Whether you're in Milehouse, Southway, Mount Batten or further in Yealmpton or Smithaleigh, our experienced scrap and salvage buyers can collect from all over Plymouth and surrounding areas. Because we've built up an extensive network across the UK, we can offer you a competitive price for your vehicle, regardless of the make, model and condition. Once you've found the quote you'd like to accept, we can collect your vehicle on a day and time that's convenient to you at no extra cost. Plus, all of our collections follow a no-contact service, so you can trust that the process is safe and secure.
Vehicle Recycling Plymouth
All of our buyers hold a wealth of knowledge and experience in the industry, and understand the value in end of life vehicles and the recycling potential they carry. Did you know, almost every part in a modern car or van can be recycled? To find out more about vehicle recycling in Plymouth and further afield, read our useful guide to recycling a car.
Scrap Car Collection in Plymouth
All you need to get started is your postcode and registration number. This helps us locate where in the country your vehicle is and helps us begin to understand the vehicle you are looking to dispose of. From these details, we can find the right buyers for you, both locally and regionally, so you can compare and find the best deal. Our friendly team will then be in touch to talk you through the rest of the process. Our inhouse team is on hand 24/7 to offer you impartial advice, so you can ensure you're making the right decision for you. 
One of the key parts to our service is that there are absolutely no hidden charges, and our price guarantee means that you will always get the price you have been offered. This is an area of our comparison service that we refuse to compromise on! To find out more about scrapping your vehicle in Plymouth, get in touch with our friendly team.
Scrap My Van Plymouth
The process for scrapping a van isn't all that different from the process of scrapping a car. All of the experienced buyers within our extensive network have spent years in the industry, and have an abundance of knowledge and expertise in both buying, and recovering, damaged or broken vans.

We have hundreds of buyers across the UK that want to buy your scrap van, no matter what condition it's in. Get a top quote, guaranteed with a free, convenient collection regardless of where you are in the UK. There are no hidden fees or charges to catch you off guard! In order for us to generate a quote for your van, we first require your van's details. This can be done by either calling one of our advisors on 03333 44 99 50, or by completing the form at the top of this page.
What our Scrap Car Plymouth Customers Are Saying
We pride ourselves on the professional, friendly and efficient services we provide, from the beginning of your journey, to the very end. We always give impartial advice and provide our customers with the knowledge they need to pick the deal that's right for them. Read what some of our customers have to say:

"I was a bit dubious as I'd never done this before but from the minute I made enquiry online and the call from the agent and the offer – everything was professionally done and quick – the instructions were clear and easy to follow. Emails were concise and the final payment was in my bank account the same day. The pickup driver was lovely, very professional and chatty Well done guys."
Debbie L – Reviews.co.uk

"I received excellent service and the staff were extremely helpful and very professional. Highly recommended. First class."
Dennis F – Reviews.co.uk

"From the first call all went smoothly and I was offered the best rate by far. Thank you" 
Graham E – Reviews.co.uk

 
Scrap Yard FAQs
Why Should I Use Scrap Car Comparison?
Scrap Car Comparison is an impartial service and doesn't favour any buyer. We simply make the process a lot easier for our users by sourcing the best prices from companies which operate in the Plymouth area and helping to make collection arrangements. We offer impartial advice and always have our users at the forefront of our service, a fact which is proven by our fantastic customer reviews!
Are There Any Areas in Plymouth Which You Can't Collect From?
The buyers on our network cover all of the UK and so the majority of towns, villages and cities can be collected from. If, however, your vehicle is in a particularly remote location it may be more difficult to retrieve, however that's not to say that our buyers won't be able to collect it! Our buyers have an array of recovery equipment and so if you'd like to know if we have buyers who collect from your area get in contact for a no obligation quote!
My Vehicle is In Poor Condition – Does That Matter?
No problem! Our comparison service searches nationwide to find the best price for your vehicle, regardless of the condition. Simply fill out the scrap calculator, making sure you include all of the information regarding your vehicle, and we'll search our nationwide network to find the most suitable buyer for you!
Can You Take A Car With Finance?
Selling a car when you own the vehicle can be a fairly simple process, but for those looking to sell a vehicle which has finance attached to it, it can be a little bit more confusing, so it's important to fully understand the legalities that surround selling a financed vehicle. Read our helpful guide on selling a car with finance.
Do I Have To Pay Anything?
No! Scrap Car Comparison is a free service with no hidden fees or nasty surprises. as long as you have accurately described your vehicle, the price which you were quoted is the price which you will receive. You'll be paid on the same day your vehicle is collected. 
When Will I Get Paid?
You'll receive payment on the very same day your vehicle is collected. If you have any more queries on our services, read our most frequently asked questions on scrapping.
Other locations near me
We can collect from all over Plymouth and the South coast! Get in touch with us or get your personalised, free quote in just 30 seconds.
Here are some of our larger collection areas.