YHA benefit from huge April donation
We are delighted to say we have raised a whopping £1933 for charity for the month of April.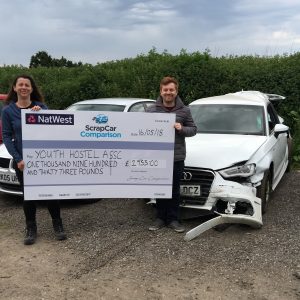 As our 'Featured Charity of the Month', we teamed up with Youth Hostel Association (YHA) for the month of April to raise much needed funds
for the charity.
YHA is a charity that transforms young lives forever through travel and real adventure.
They provide great places to stay and unique opportunities to explore. YHA fund stays for families and young people facing adversity so that everyone has the chance to gain new confidence, new skills and a new perspective on the world.
Everyone who stays at one of their hostels, cabins and campsites contributes to YHA's work as a youth charity. That's because the income they generate is reinvested back into their network and programmes, enabling YHA to achieve greater reach and impact on young people with challenging lives.
Lauren James, Relationships Manager for YHA, said: "Your donation will have such an incredible impact on children's lives. Just £80 will fund a 2 day break for a child from Chichester like Freddie. 9 year-old Freddie has a rare progressive eye disease. Last year his family was told that he would lose his remaining sight. Freddie and his family have since embarked on a vision bucket list; one of his biggest wishes is to see the coast made famous by his favourite author Enid Blyton. We are helping Freddie on his bucket list by enabling him to have a holiday to the coast."
Scrap Car Comparison's Sales Manager said he is delighted with the amount raised.
"Incredible. We are extremely pleased to be able to help such a wonderful charity with the funds raised from April."