Marie Curie is the UK's leading end of life charity, here to support people through all aspects of dying, death and bereavement – and to fight for a society where everyone gets to have the best experience possible at the end of their lives.

Marie Curie is here to help the UK talk, plan and prepare, to get things sorted in advance. Our nurses, hospices and support line officers are on the front line to help people, along with their family and friends, through their final years, months, days and hours of life – whether they have coronavirus, or any illness they're likely to die from.

Their bereavement service is there for loved ones left behind. Marie Curie's researchers push to discover more about what makes a good end of life, and our policy experts and campaigners fight for a society where everyone gets to have the best experience possible at the end of their lives.
Pictured below is Clinical Nurse Specialists, Alison Palmer with Sam Clements. People can speak to a Marie Curie Nurse, via the Support Line, about a clinical question or concern. The service will be staffed by the Clinical Nurse Specialist (CNS) team based at the Marie Curie Hospice, Cardiff and the Vale. These nurses will be known as Information and Support Nurses or Support Line Nurses.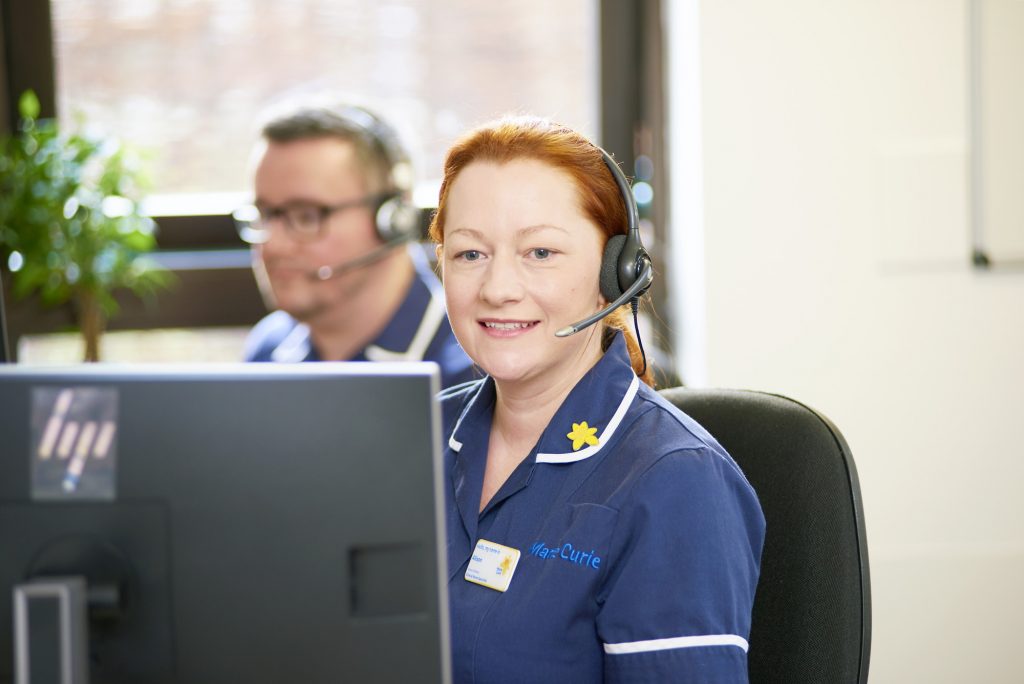 Already in the UK, 1 in 4 people don't get the care or support they need at the end of their lives. The coronavirus crisis has given Marie Curie a glimpse into the future and has also exposed a weakness in the delivery of end of life care in the UK. The health and social care system we know and have in place today simply won't be able to cope with the future demand for palliative and end of life care. This could mean increased isolation and suffering for people at the end of life, as well as for those who are bereaved and struggling.
Now more than ever in the wake of the Covid-19 pandemic, we need to stand together and support the charities who work tirelessly to care and support for patients and their families in times of illness, heartache, grief and stress. Everybody should get the chance to be cared for in their final stages of life, and every family should be able to access the support and care they need, and to also get the chance to say goodbye to their loved ones. Marie Curie is a wonderful charity and their work is crucial to millions across the country.
This month, you can donate directly to Marie Curie through our Donate A Car Scheme. You can choose to donate some, or all of the profits of your scrap car to this month when you scrap your vehicle with Scrap Car Comparison. Your donations make huge difference to charities and their vital work!
View our FAQs on donating a car to charity for further details on how to donate.