With January 2020 firmly underway, it's only natural to reflect on 2019 and its triumphs, challenges and accomplishments.
As we reminisce on 2019, we thought we would delve into the Scrap Car Comparison records and take a look at the top ten most scrapped cars over the last 12 months.
Perhaps you're considering scrapping your car, or you are just interested in which manufacturers and models made their way to the scrap heap last year.
Whatever your motivation, let's look at the most scrapped cars of 2019 and see what the results reveal.
The results
According to data from Scrap Car Comparison, the most popular scrapped car in 2019 was the Ford Focus. This vehicle, which also took the top spot in 2018, has been the most popular car to be scrapped in two consecutive years.
Just behind the Ford Focus in second place is the Vauxhall Astra, which has jumped to the second spot from third place in 2018.
The Ford Fiesta sits in third place, with over 15% less vehicles being scrapped than the Vauxhall Astra, but jumping up from fourth place when compared to 2018.
The Renault Clio remains in the sixth spot for the second year in a row, closely followed by the Ford KA. The Ford KA also stays in seventh place for two consecutive years.
The popular Volkswagen Golf, which hit ninth spot in 2018 hasn't made 2019's top ten and has been replace by the Vauxhall Vectra.
Ford Fiesta

Vauxhall Corsa

Peugeot 206

Renault Clio

Ford KA

Ford Mondeo

Vauxhall Vectra

Vauxhall Zafira

Interested in the results? Take a look at our list of the most scrapped cars of 2018 to compare vehicles and see the stats for yourself.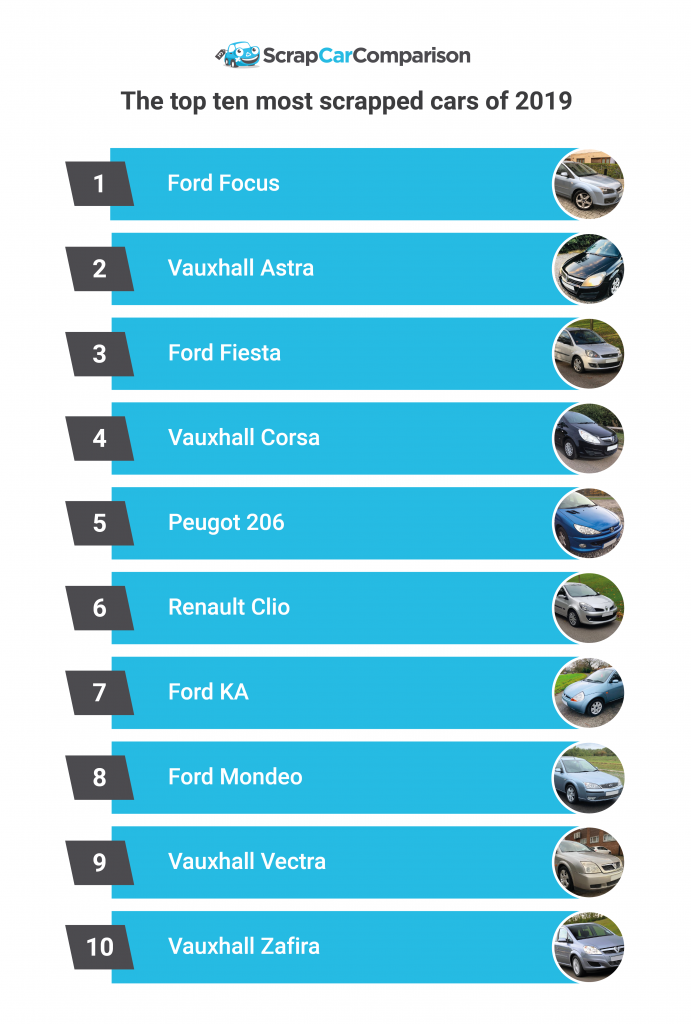 Why vehicles get scrapped
We can put the scrappage of these vehicles down to several reasons. Vehicles may have failed an MOT, been involved in an accident making them too costly to repair, or the manufacturer may have released a newer model – any of these could lead to any vehicle being scrapped.
If you would like to find out more about what happens to your vehicle once it is scrapped, download our comprehensive guide to recycling a car, where we discuss the three stages of the car recycling process.
Find out more
Looking to scrap your car? Look no further than Scrap Car Comparison.
Our database of trusted and certified scrappage buyers across the country will ensure you receive the very best deal for your scrap vehicle, while making the process as easy and hassle free as possible. 
Get in touch with our team of friendly experts today to receive a quote and find out how much your vehicle is worth.