What Is The Current Value Of Scrap Cars?
Years ago you could scrap your vehicle and expect a generous pay out of hundreds of pounds when recycling your vehicle; even if it was an eleven-year-old run-of-the-mill vehicle. But unfortunately, those days are gone. There has been a gradual, yet major slump in the worth of scrap metal as the international demand for recycled materials has decreased, and as a result so have the prices which are offered. The competition for scrap vehicles amongst companies however, has increased. Nowadays, the prices you can get for your vehicle vary, but there are many companies who lure people in with promises of high prices, only to sting them on collection day with lower prices. So how much are scrap cars actually worth?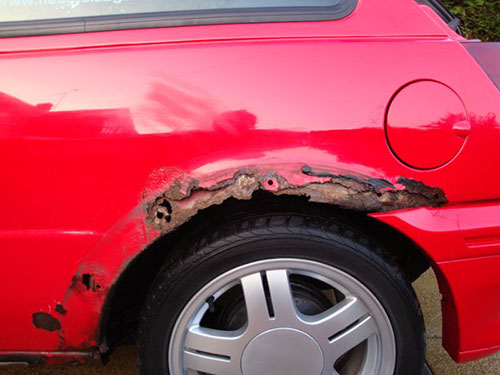 Around ten years ago you would have to pay to have your vehicle removed and recycled through the proper channels. However, the facilities which are legally allowed to scrap vehicles (Authorised Treatment Facilities, otherwise known as ATF's), and many others are now being forced into only offering free collections to make it easier for vehicle owners to recycle their vehicles.
What Signs Have We Had That Scrap Values Were Changing?
You may have read our news article at the beginning of October regarding the SSI UK Steel Plant in Redcar where around 1,700 jobs were lost. The plant kept around 400 employees to keep the stoves alight however, at the time of writing this the last few shifts are coming to an end. Smoke and steam have been seen bellowing from the plant's coke ovens which are now being shut down after no buyer was found for the Teesside plant. This process of cooling these ovens will take weeks and means that even if a buyer is found in the near future, it would cost them hundreds of millions of pounds to start the plant once again. Once the cooling is complete the ovens will inevitably collapse with severe structural damage to the inside.
Tata Steel announced today that they are cutting 1,200 jobs at their plants which are based in Scunthorpe and Lanarkshire. This is the second large steel plant within the space of a month to do this. The UK steel industry blames our government for not effectively controlling the cheap Chinese imports of steel, however David Cameron has stated that he'll "raise the issue" with the Chinese President, Xi Jinping, who is currently on a four-day visit in the UK as of now.
When Will Scrap Prices Increase Again?
Unfortunately, as far as we are aware, nobody is currently predicting an increase in the price paid for scrap vehicles. Even the largest companies in the industry do not attempt to make predictions as the scrap metal industry is simply too volatile and involves too many factors. Due to vehicles being made of more than one type of metal, any prediction would need to be based using data from prices of steel, aluminium, zinc and copper.
"Scrap price will go up after it bottoms in a few months."
According to Wikipedia, China and Japan are the countries producing and exporting the most steel, with the USA, Germany and Thailand being the countries importing the most from around the world. In 2014 China produced half of the steel for the whole world even through the global recession where they were actively seeking the raw materials to make the metal, iron and carbon. This large production of new steel will directly affect the price offered for your scrap car, making your car worth less as it still needs to be recycled before it can be used again.
Above Video: News regarding the Chinese steel industry
"I think the domestic steel industry will work very hard to do things to create a higher-priced market."
Governments are giving ever increasing targets to vehicle recyclers to achieve higher percentages of each vehicle being recycled (for environmental reasons) resulting in a more expensive recycling process. Countries such as China are aiming to produce higher amounts of new steel (from raw materials rather than recycling) while finding cheaper methods of production. The growth in the amount of steel used in China is slowing down to a point where they have to export it which floods the steel market of other countries with cost effective new steel. Steel producers in countries such as the USA need the governments to introduce higher taxes on steel exports from places like China, so that the prices begin to favour internal trade.
"Domestic scrap prices could potentially benefit from a decrease in steel imports."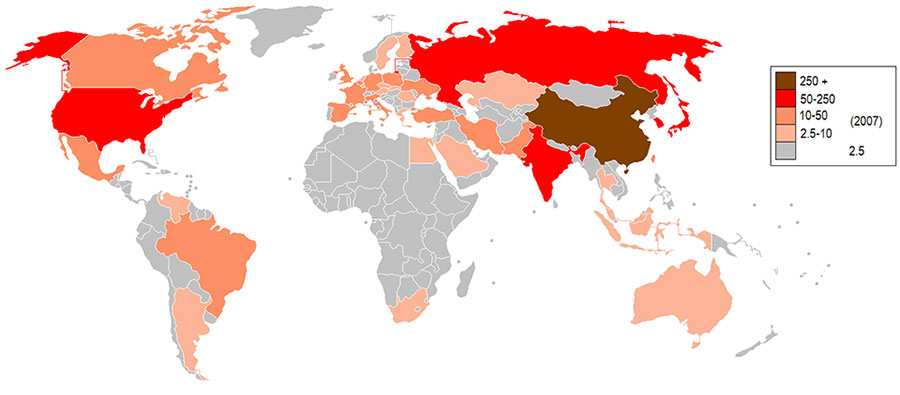 Above Image: Steel production (per million tonnes) by country in 2007 (Source Wikipedia)
Click here see the history of crude steel production around the world from 1980 to 2013.

What If I Need To Scrap My Car Now?
If you are looking to get rid of your old vehicle at this point in time (October 2015), we would simply advise you to make sure you obtain quotes from a number of companies. Our website, Scrap Car Comparison, provides no obligation quotes instantly to show you what your vehicle could be worth, it just requires your contact details and the registration number of the vehicle to be entered into the quote at the top of this page. Once we have these details we will be able to search our nationwide network of trusted buyers to find you the most competitive prices, both locally and nationally, for your vehicle. All of the buyers on our network operate with free collections and there are no hidden charges so the price you see, is the price you are paid. Which quote you choose, if any, is completely up to you and if you need time to think about it that's absolutely fine – all of our buyer's prices are guaranteed by us for 24 hours to enable you to make the best decision for your circumstance. But if you were planning to hold out for a jump in increasing costs, unfortunately now is not the time and so you may have to scrap your beloved vehicle for less than you originally hoped for.
Should I Wait Until The Price Improves?
That's up to you. In the near future we are expecting collectors to not be paying for vehicles, but offering free collections only, just like a couple of decades ago. But the market changes so drastically and so predictions are difficult. Waiting for prices to improve could be a risk as the market doesn't change quickly and if you don't have access to private land to store your vehicle, then your vehicle could end up generating unnecessary costs as it's legally required to be taxed and insured if kept on public roads. Waiting for the price to increase would probably be a very long term goal as some scrap yards around the country, who have been stockpiling cars for months, have found out the hard way! It may take many months or even years for scrap value to increase to a reasonable level once again. For the time being we advise customers to ensure that they are selling or recycling their vehicles through approved buyers or Authorised Treatment Facilities by searching through the government's ATF register, or by using trusted services to compare prices on their behalf.
If you would like to discuss your vehicle or the prices you have been quoted in further detail please do call one of our advisors on 0333 344 9950.