If you have a crash-damaged catering truck or an old civilian authority vehicle, you may want to consider scrapping it to make some money that could be put towards a replacement. Our guide to scrapping commercial vehicles takes you through the process and provides you with all the information you'll need to be able to complete the process quickly and easily.
We can help you throughout the entire scrapping process right from the moment you pick up the phone. With all our prices guaranteed, we ensure you get exactly the amount you're quoted.
This downloadable guide helps you with the following:
3 easy steps to scrapping a commercial vehicle
The details you'll need to provide
Finding a buyer
Payment and collection
What vehicles can be classified as commercial vehicles
There is also a comprehensive frequently asked questions section that addresses the most popular queries.
Read on to find out how to start the process of scrapping your car.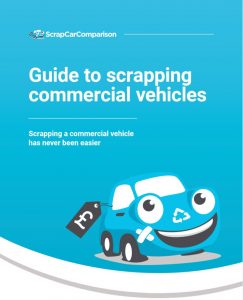 Click to Download