Trying to get the most when scrapping a car can be a daunting task, as it's not always obvious how you can go about ensuring the best valuation of your vehicle. We've already written a comprehensive guide to scrapping your car for money, which you can find here. But for those who just want a quick breakdown we've compiled our top five tips for getting the most when scrapping your car, into this helpful infographic! We hope it helps, and if it does be sure to share with your friends!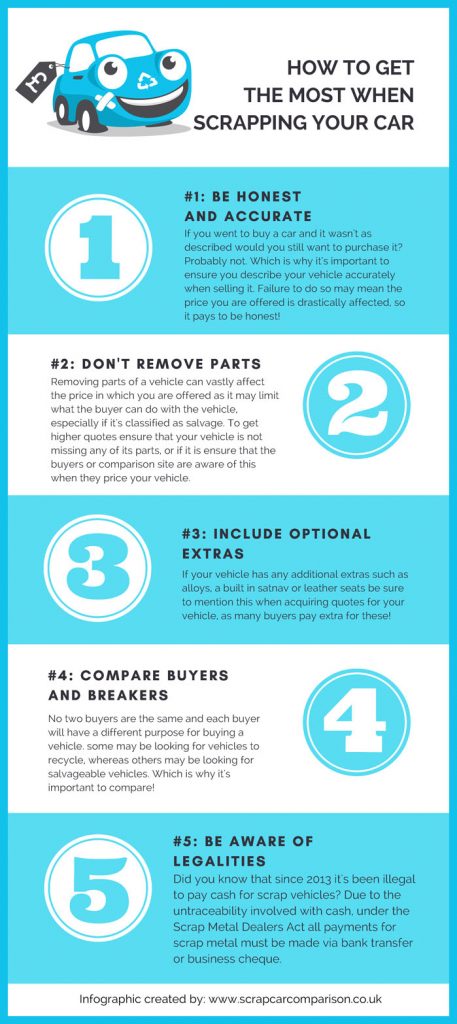 Still Not Sure How To Get The Best Price For Your Vehicle?
Why not try our service? Here at Scrap Car Comparison, we compare prices from hundreds of different buyers across the United Kingdom. Our buyers network is made up of scrap yards, authorised treatment facilities, specialist breakers and private buyers and as a result we are able to offer one of the most comprehensive comparison experiences.
It's completely free to obtain quotes and once you have prices there is absolutely no obligation to proceed with them, but if you do all of our prices are guaranteed and come with free collections regardless of your buyer, so the price you are quoted is the price you'll receive!
To get started simply add your registration number and postcode to the quote form above and our system will do the rest!