Our stories and comments featured across 3 countries during April
For the month of April we had an incredible 7 stories featured across England, Scotland and Wales in both national and regional print.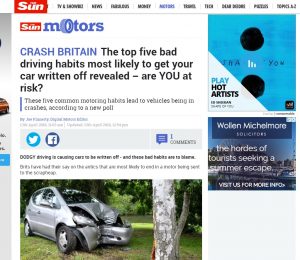 Stories varied from the 'new MOT changes coming into effect for May' to 'the top five bad driving habits most likely to get your car written off'.
We also had a popular – or unpopular you could say –  story about 'how potholes do more damage to your car than you realise'.
Thanks to The Sun, Scottish Sun, Daily Post Wales, Daily Express, Daily Star, Birmingham Mail, Birmingham Live, Somerset Live, Essex Live and Coventry Live for all their coverage during April.
We are happy to provide content and/or quotes for many topics within the motoring industry. Please contact press@scrapcarcomparison for further information in the first instance.