We're very aware that when it comes time to scrap your vehicle, your car may well have seen better days. We regularly help to arrange collection for cars without doors, seats or batteries. But what about the tyres and wheels – is it possible to scrap a car that can't physically move? Read on to find out more…
How scrap car collection works
Firstly, it's worth understanding how the process of collecting your car for scrap actually works. It's generally a very simple process – get a quote for a buyer to scrap your car, arrange for pick up, and sign over your vehicle on the day. Here at Scrap Car Comparison we can make these steps even simpler by finding the best quote for you in a matter of moments with our scrap value calculator, then all you need to do is arrange a time and place for collection.
On the pick-up day, you'll need a few key documents, such as photo ID and your V5C log book. A pick-up truck will arrive for your vehicle, you'll show and sign the relevant paperwork, and you can say farewell as your car heads off for scrap.
Can I scrap a car with a flat tyre?
So, when it comes to the actual pick up of your vehicle, is it possible for the car to be removed if the tyres are flat or in a poor condition? Many collectors will either tow your vehicle or load it onto a recovery truck or car transporter, ideally by driving or pushing it on, or possibly by using a winch. As long as the vehicle is able to roll (which it usually is, even with a flat tyre), then there shouldn't be a problem with the collection, as they'll still be able to load your car.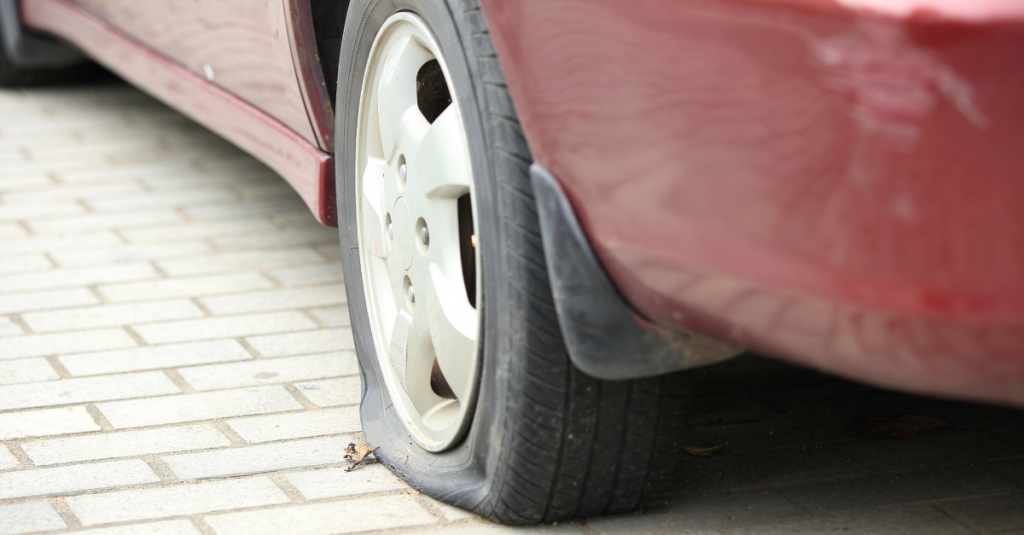 Can I scrap a car with missing wheels?
Scrap car collection becomes more complicated with missing wheels – this means you could find it very difficult (and potentially impossible) to arrange a pick up. If the vehicle doesn't roll because it has no wheels, then it will need to be lifted with a Hiab (a type of crane). Not all scrap collectors have one of these, meaning it may be a challenge to find someone willing or able to pick up your car, and if we are able to locate one for you, then you can expect the price you get for the vehicle to be much lower, as the cost and difficulty of collection increases.
Will missing wheels affect the price I'll get for scrapping my car?
Yes, you're likely to receive much less money for a car without wheels – in general, vehicles can be missing most other parts and still be collected, but if your car can't be rolled then the cost goes up for the collector, meaning the price goes down for you.
The price can also be affected because of the missing weight. Wheels and tyres are heavy, and much of the value of your car is based on its weight. Therefore, a lighter vehicle may well lead to a far lower price.
What to do if you can't get your wheel-less car collected for scrap
If your vehicle doesn't have wheels, you don't have to feel stuck with it forever, you still have options. It's not totally impossible to find a collector with a crane, but you should prepare yourself for some potential refusals. One simple workaround is to pick up some cheap, second hand wheels (they don't need to be in good condition, the car just needs to be able to roll) and fit them to the vehicle ahead of scrapping. This will increase the price you get for the vehicle and will enable you to easily arrange a collection with no complications.
Check out our Scrap Car Collection FAQs for more information about requirements for scrapping your vehicle. Then, why not get started on scrapping your car today? We'll help you to secure a quote and discover how much your scrap car may be worth.