---
The Best Prices Paid. Get a Quote For Your Scrap Car Today
Scrapping a car or selling a damaged vehicle can be made needlessly complicated by paperwork, arranging delivery, tyre kickers, hidden charges and non-obvious decisions about which service to trust. We built Scrap Car Comparison to make it easy. We'll help you compare quotes from over 100 buyers for your scrap or damaged vehicle, hassle-free.

Personal Support
Our friendly UK experts take away the guesswork, call our team on 03333 44 99 50 (free from most phones) to get a quote or ask a question.

Guaranteed Prices
Don't get stung by hidden charges or tyre kickers. Our buyers guarantee all their prices so the price you're offered is the price you get paid.

Free Collection
No hassle, no nonsense. Free and convenient collection from our professional buyers, who transport hundreds of vehicles every month.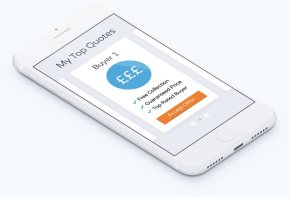 Scrap Your Car the Easy Way by Comparing Offers
As the first and only comparison site for scrap and damaged vehicles, we work on your behalf to get the very best prices when you scrap your car or sell your damaged car. Over the last 9 years we have built up a network of over 100 vetted, professional buyers across the country.
Our scrap and salvage car buyers are committed to upholding a high level of service and we regularly review their performance levels to ensure our customers have a great experience with us. We also monitor pricing levels across the country to get you the best quote for your vehicle.

Vetted, Professional Buyers
All our buyers have been checked for quality of service and customer satisfaction ratings, we've met every single one of them and personally vouch for their expertise.

The Only Comparison Service
We're the only company in the market that offers a comparison service, unlike some of our buyer owned competitors we're here to get you the most for your vehicle.
Any Make. Any Model. Any Condition.
We're proud to offer our services for any vehicle, comparing agents across the UK that understand the value in an end of life, damaged or unwanted vehicle. Our bespoke quote system allows us to offer the very best prices for your vehicle.
Free collection on a time and day that works for you
We'll quote on any make and model, regardless of condition
Official paperwork sorted with our help
Best scrap & salvage prices given with an instant quotation
Responsible, government approved vehicle recycling
Guaranteed prices – no price adjustment on collection
Comparison service to get you the best price
Local collection agents across the country
Great quotes for commercial and damaged vehicles too