Volkswagen has hit the news everywhere in the past 24 hours for admitting to rigging their US emissions tests on up to half a million of their diesel cars. They have been forced to recall these vehicles to be 'fixed'.
They have been stumped with fines that amount to possibly billions of dollars for the vehicles sold within the previous seven years, broken down into £24,000 ($37,500 USD) per vehicle.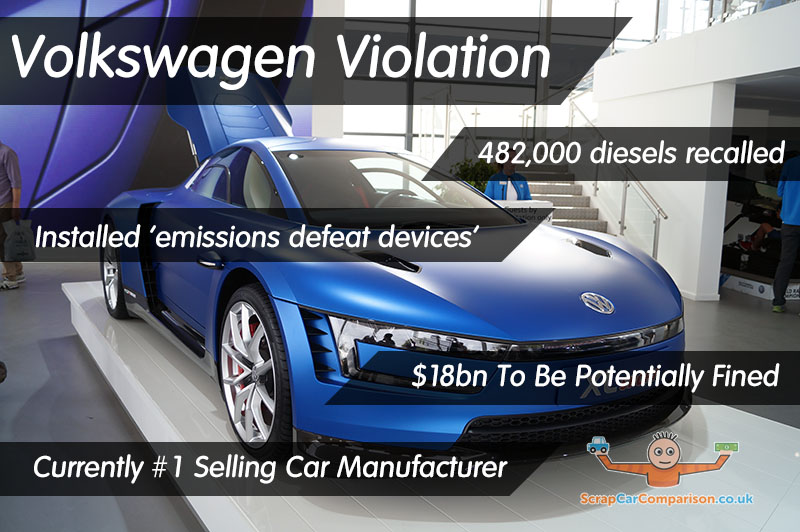 Drivers with the following vehicles may have been affected:
• Audi A3 (2009 – 2015)
• Volkswagen Beetle (2009 – 2015)
• Volkswagen Golf (2009 – 2015)
• Volkswagen Jetta (2009 – 2015)
• Volkswagen Passat (2014 – 2015)
Volkswagen and Audi improved the emissions test results by installing software within each vehicle that could detect when they were being tested under the official emissions tests, triggering the vehicle to enter an emissions friendly state. This illegal software is known as a 'defeat device'.
This blooper has resulted in their shares falling the £11 billion (15 billion euros) and their stock is now the lowest in three years being approximately £95 (130 euros).
Toyota will be glued to this news as they were only just overtaken by Volkswagen in being the world's top selling vehicle manufacturer earlier on this year.
Ultimately, Volkswagen owners have been mis-sold their vehicles, purchasing vehicles that are supposedly low in emissions at a premium, a product which they have never received.
Are Other Manufacturers Lying About Our Cars?
The American regulator for these emissions tests, along with the German government, have now both planned to start testing other diesels. This is not a surprise to a number of people, as car manufacturers have been known to exaggerate their "economic" miles per gallon figures with drivers reporting a significantly lower mpg figure in the real world.
Have We Been Lied To Before About Diesel Vehicles?
At this moment in time critics are asking the question whether people should still use diesel vehicles at all. Reports suggest that we have all been duped into believing that diesel is the future of fuel being a greener, cheaper alternative to petrol. In fact tests confirm that more harmful gases are released when running diesel vehicles compared to petrol equivalents. Channel 4 Dispatches digs a little deeper into this…
http://www.channel4.com/programmes/dispatches/on-demand/59670-003
Get a price for your Volkswagen, Audi or any other make of vehicle now! www.scrapcarcomparison.co.uk