---
How Much Is My Car Worth?
A Guide To Understanding The Worth Of Your Scrap Or Salvage Vehicle.
Working out the value of a damaged vehicle can be a confusing and frustrating time. Knowing when to sell, how much your vehicle is worth, or even how to go about selling a damaged vehicle can all add unnecessary stress. Unnecessary, because we've devised a straightforward comparison website which helps you to understand the process of both selling a damaged vehicle, and how to get the best price when you choose to do so.
When the above quote form is completed, your vehicle's details will be run through our network of specialist scrap and salvage buyers across the UK to find the most competitive price for your vehicle from trusted and reputable buyers.
It's important to remember, when looking into getting your vehicle valuated, that cars are priced on an individual basis and there are various factors which can affect the quote a vehicle receives. When assessing a vehicle's worth it's important to ask yourself "What would somebody be willing to pay for it?" This question is important because there are often certain car models which are more popular, or sought after. However as with all things, the industry changes rapidly so it's important that when you're trying to obtain the best price for your vehicle, you look in the right places.
On this page we'll help you to understand how to get the most for your unwanted vehicle, by explaining how to identify what category of sale your vehicle will fall under and the different factors which can affect a vehicle's worth.
The Different Sale Categories.
It can be easy to assume that vehicles are solely priced on their make and model but, whilst this is somewhat true, scrap and salvage pricing strategies work slightly differently. Each vehicle is priced on a vehicle-by-vehicle basis and the valuation which will determine a price will be based on the make, model, age and condition of the vehicle. Buyers take all of these aspects into consideration when making their offers and because the reasons for wanting to buy your vehicle vary, understanding the different categories can help you to understand why each quote differs.
The different sale categories are split into three: Scrap, Salvage and Retail.
What Is My Car Worth To Salvage Buyers?
Salvage vehicles are vehicles which have been damaged or broken, but could be repaired with the right parts. Damage on salvage vehicles can vary from electrical, to mechanical, to structural but the cars which fall into this category are typically under ten years old. Salvage vehicles tend to receive higher valuations than scrap because the vehicles are often more desirable. Things to consider when the vehicle is valued include:
• The Post-Repair Value
This will depend on the specific vehicle and an array of other considerations, such as the vehicle's: mileage, condition, service history, optional extras and whether there are any other known faults. These markers are carefully deliberated by a salvage buyer because when they purchase damaged vehicles, they do so with the intention of returning either them, or their parts, to the road once fixed. Because of this salvage buyers need to consider your vehicle's current worth, with what the value may be once fixed, to ensure that they have the opportunity to receive a reasonable profit for the time and resources they have invested in fixing the vehicle.
• The Cost Of Repairing The Vehicle:
Many salvage buyers have the space and expertise necessary to perform repairs in a cost-effective manner. Trade connections and years of experience in the industry mean that salvage buyers are often able to bring the cost involved in repairing the vehicle down, which makes it significantly cheaper, and safer, for a specialist to fix your vehicle than it would be for you to do so yourself.
How Much Is My Car Worth To Scrap Buyers?
Vehicle scrappage is the category given to vehicles which have reached the end of their life. The cars in this category are often considered as being old and unfit to drive, or they're not worth the cost it would require to fix them. As a result of this, scrap vehicles are often stripped for parts before being recycled for their metal. If you are selling your car for scrap, the main factors which will affect the price given are:
The Vehicle's Weight: The largest contributing factor to the value of a scrap vehicle, is the amount of metal it has. Therefore heavier vehicles usually mean more metal, which consequently holds a higher value.
Any Valuable Parts: Newer vehicles often have parts that are viewed as high value to some scrap buyers. These parts can include; engines, gearboxes, body panels or alloy wheels in addition to other parts and would be resold as used parts.
Catalytic Converters: A catalytic converter is the part of the exhaust system which filters the vehicle's emissions. These units are made from precious metals such as silver and platinum. These materials can be refined and reused to make jewellery, industrial components, and other high value items.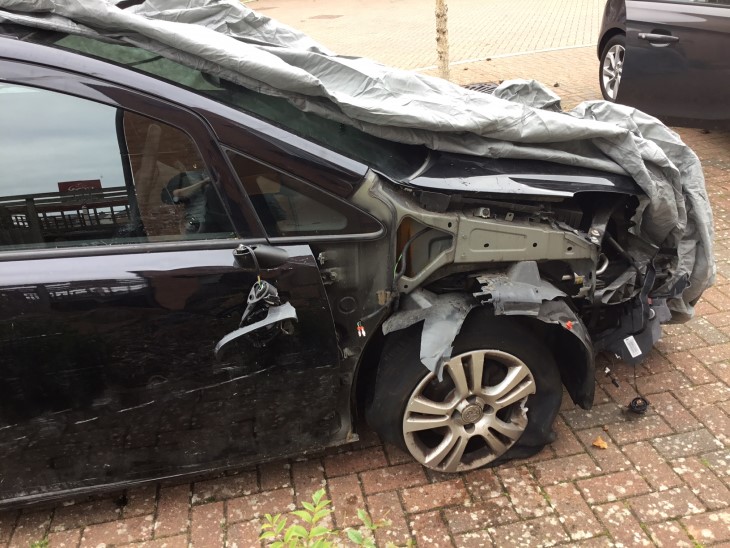 Car Value
The factors which make up a vehicle's worth are constantly changing, which means that the value of any given vehicle fluctuates and is never fixed for very long. As part of our service we guarantee all of our quotes for 24 hours regardless of any market fluctuations. To see what your vehicle is worth simply complete the form above for a free, instant quote.
Find your car value with ease
Car valuation based on up-to-date value
Quote guaranteed on the given value for 24 hours
How Much Is My Car Worth To Retail Buyers?
Even though many of our buyers specialise in scrap and salvage vehicles, if you're looking to sell a car that doesn't have any faults we've still got you covered. With a network of car buyers across the UK we can work out a price based on your car's condition using various trade pricing tools.
If you're not sure what category your car falls under or you're looking to obtain an instant, no obligation, quote for your vehicle simply fill out the quote form above or call one of our specialist advisors on 03333 44 99 50