Number plates have been used since 1903, when the Motor Car Act stated that all British drivers must have their vehicles registered to them. This would regulate and control the motors on the roads, which particularly comes in handy if a vehicle needed to be traced back to an owner in the event of an accident or crime.
Over time, as more and more vehicles have joined the roads, registration plates have adapted to keep up with the volume of vehicles, and to make the number plate system as simple as possible.
Past and Present Plates
Here at Scrap Car Comparison we have taken a look at the past and present number plates and the different styles. Have you ever wondered what the numbers and letters mean? Find out below:
Dateless Number Plates
The first number plates were simple, with the letter region code followed by a unique number to identify the vehicle's make and model. This number plate was used between 1903-1962, so is only seen on more vintage motors these days. These days, it's still perfectly legal to display a black and silver number plate as long as their car was registered before the 1st January 1975. This is down to a law that was passed in 2015, which also allows owners to keep their vintage car looking more authentic.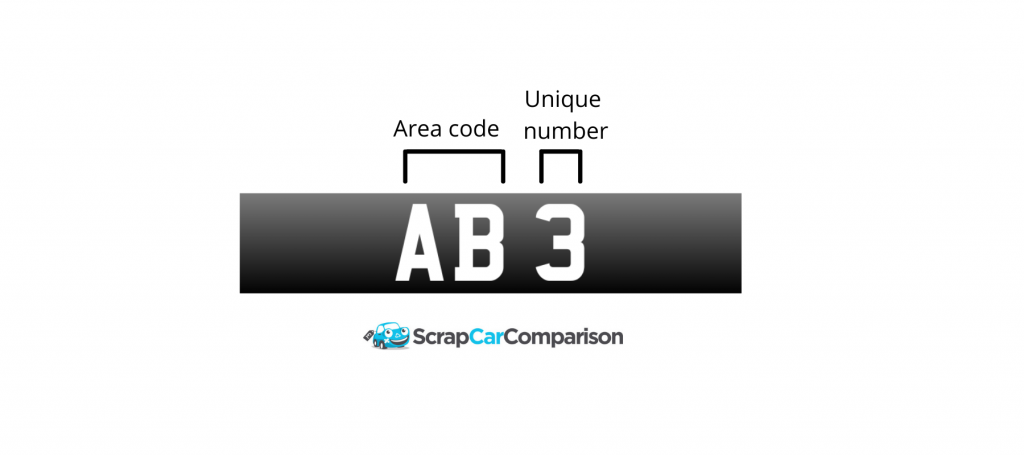 Suffix Format Number Plates
The next style of registration plate is the Suffix format, containing the area code, followed by three random numbers and an age identifier. These plates were used between 1962-1982.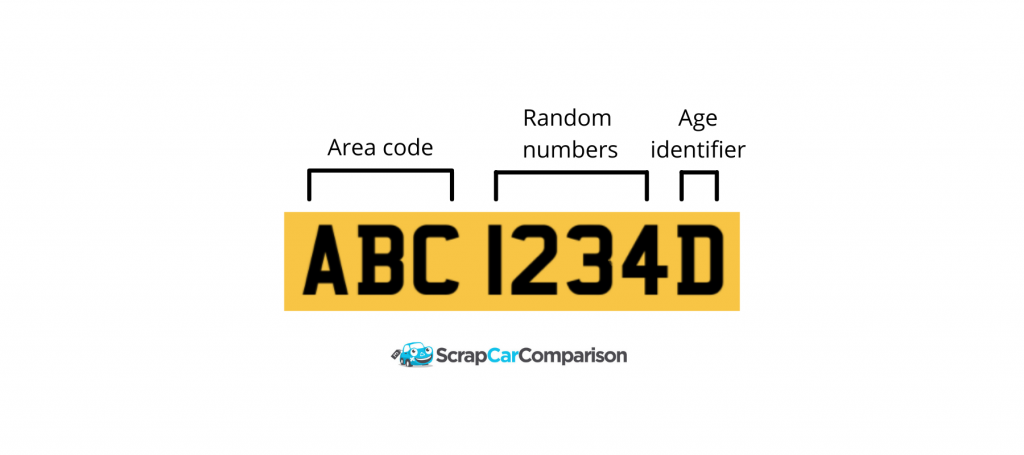 Prefix Format Number Plates
The next is the Prefix format, containing an age identifier to begin, followed by three random numbers and an area code. These plates were used between 1982-2001.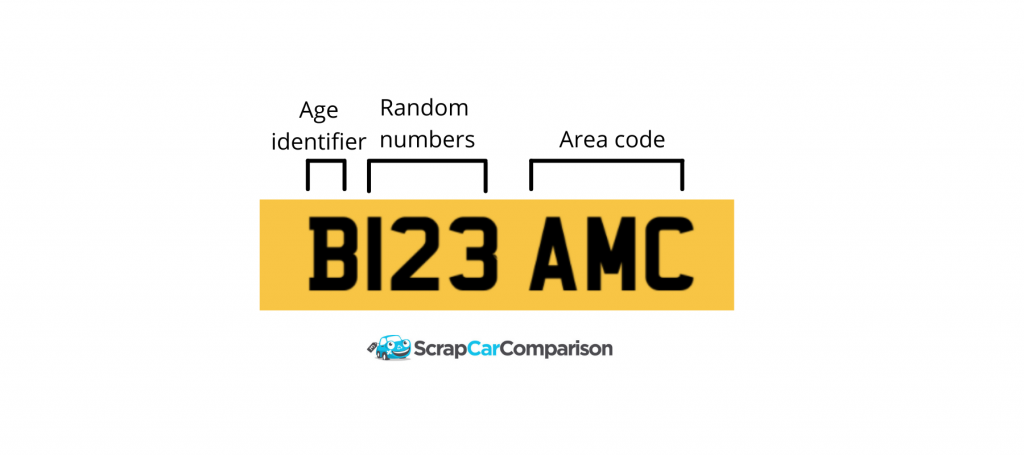 Inflix Format Number Plates
The current number plate format is the Infix format, containing a local memory tag (which indicates the area where a vehicle was first registered) followed by an age identifier and a series of random letters. These number plates came into circulation in 2001 and is the number plate format we still use today.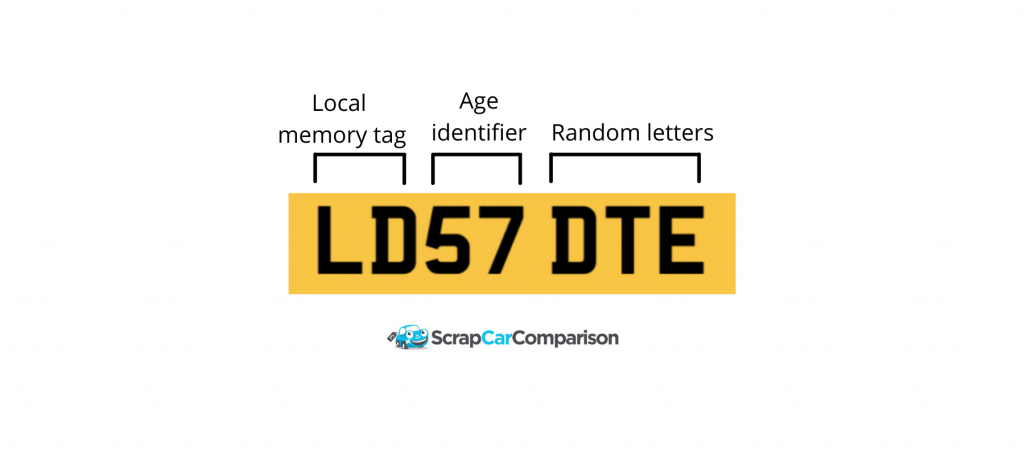 Banned Number Plates
Twice a year the DVLA holds specialist meetings in order to identify different number plates which could potentially be rude or offensive. During these meetings, officials go through all of the possible letter and number combinations, including the number plates for that year.
Almost 200 combinations were banned in 2020, including PR20 ZZY and FF20 KER, as well as SC20 TUM and VA70 GNA. Any letter and number combination that could be deemed as racist, offensive, sexual, drug-related or controversial are banned. Other banned combinations are: BU20 GER, A20 RSE and M20 RON.

Some of the latest banned registration plates from the '70 series' list include: AS80 HLE, BL70 JOB, EA70 DCK and FA70 NNY.
A spokesman told The Mirror: "The vast majority of registration numbers are made available but the agency holds back any combinations that may cause offence, embarrassment, or are in poor taste."
However, some questionable combinations have managed to slip the net in the past. In 2019, combinations including: ME69 LOL, ME69 GAG and BG69 WLY were snapped up quickly by British motorists.
Personalised Number Plates
You are able to purchase a private, personalised number plate for your vehicle, providing it meets the criteria. You're able to search for the desired letters and numbers, for example using your name, initials or any significant dates. The DVLA will check your application and contact you if your vehicle needs an inspection. To assign a private (personalised) number to a vehicle, you need one of the following:
A V778 retention document
A V750 certificate of entitlement
An online reference number
What's the Difference between the V750 and V778?
The V750 is for new issued registrations (which has never been used on a vehicle ever before), and the V778 Retention Document is when the registration has previously been assigned to and used on a vehicle.
How Much is a Personalised Number Plate?
Buying a personalised number plate can cost anywhere from a couple of hundred pounds to a few thousand pounds. You can purchase personalised plates online from the DVLA or at an auction. However, if you're buying from a DVLA auction, the price will be whatever the price is on the day, and could increase if other people bid on it.
How to Retain and Transfer a Number Plate
If your vehicle is being scrapped or you're selling your motor and want to keep hold of the plates, you're able to go through a process to retain it, providing you follow the correct procedure and do it all within the timeframe the DVLA sets out. You will need to go onto the Gov.uk website to organise transferring the number plate over to another vehicle, or to get a Retention Document to hold the number plate. Failure to do this before the vehicle is collected might mean you lose the registration plate!
How to Change a Number Plate
For any changes to do with your vehicle, always keep your v5c (log book) handy, as any significant changes to your car and its circumstances will involve this document. Read more about the v5c and the latest changes.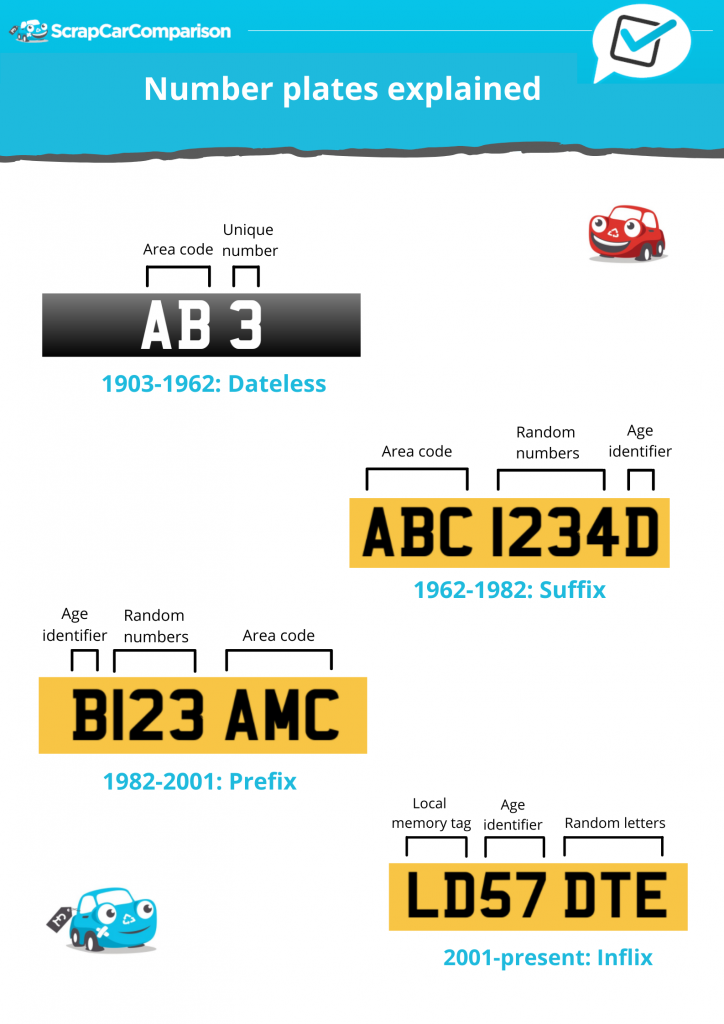 Read more
Discover what the latest number plate change for electric vehicles means, or find out more about the process of scrapping or get a free, no-obligation quote through our online price comparison tool.