Trying to get the most when scrapping a car can be a daunting task, as it's not always obvious how you can go about ensuring the best valuation of your vehicle. To make things easier, we thought we'd give you our top four tips to getting more for your scrap car. We've made them into an infographic for you to share with your friends and we hope that it can help you make the right decisions when it's time to say goodbye to your next car. Take a look!
Tips To Help You Get The Most When Scrapping A Car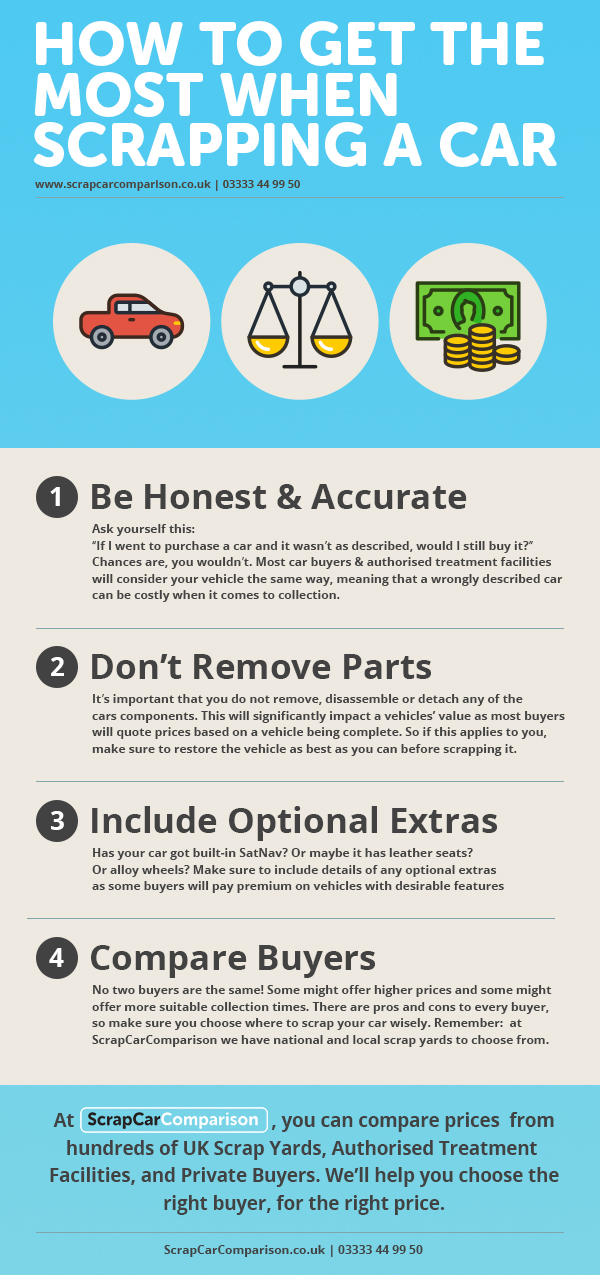 Get The Most When Scrapping A Car | Be Honest And Accurate
Ask yourself this: "If I went to purchase a car and it wasn't as described, would I still buy it?"
Chances are, you wouldn't. Most car buyers & authorised treatment facilities
will consider your vehicle the same way, meaning that a wrongly described car
can be costly when it comes to collection.
Get The Most When Scrapping A Car | Don't Remove Parts
It's important that you do not remove, disassemble, or detach any of the cars components. This will significantly impact a vehicles' value as most buyers will quote prices based on a vehicle being complete. So if this applies to you, make sure to restore the vehicle as best as you can before scrapping it.
Get The Most When Scrapping A Car | Compare Buyers
No two buyers are the same! Some might offer higher prices and some might
offer more suitable collection times. There are pros and cons to every buyer,
so make sure you choose where to scrap your car wisely. Remember: at
ScrapCarComparison we have national and local scrap yards to choose from.
Let Us Help You Get The Most For Your Scrap Car
At ScrapCarComparison, you can compare prices from hundreds of UK Scrap Yards, Authorised Treatment Facilities, and Private Buyers. We'll help you choose the right buyer, for the right price. Simply fill in the form above to get started!