Learning How To Scrap A Car can be a somewhat daunting task. With so much misinformation and confusion out there, it can be hard to know exactly what scrapping your car entails. That's where we come in: We have written this how to guide on scrapping a car to help you through the process, from start to finish. Whether you're a first time scrapper, or a seasoned veteran, we'll make sure that organising the disposal of your vehicle has never been easier!
Scrap Car Comparison has developed a hassle free method for not only obtaining the best price for your car but also recycling unwanted vehicles in the most environmentally friendly way.
We do all of the work for you, which means:
No Need To Ring Around For Prices
No Stressful Vehicle Collections
No Dodgy Dealers
No Nonsense

How Do I Scrap A Car?
We'd recommend that anyone learning how to scrap a car take a moment to think about the vehicle they are scrapping. The reality is, scrapping your car can be stressful. You may be in the situation whereby your car has failed an MOT and is now too costly to repair, you may be parting with your first car or you may be trying to dispose of a vehicle that was involved in an accident.
With these things in mind, making sure you are getting the best price can quickly become a struggle for anyone trying to evaluate their cars worth. Recognising this difficulty, we have prepared some simple steps to follow. Don't worry if the below process looks daunting, it's not. You will spend a maximum of 5 minutes on the phone and 15 minutes with the driver at the time of collection. It's that simple!
How To Scrap A Car | Preperation
Insurance
Make sure that your vehicle is still insured up until the day that your vehicle is removed. It is important that you build in a couple of days grace for transport delays, so don't cancel your policy until the vehicle has been removed. If your vehicle has been classed as a total loss by your insurance company, check out our guide to selling a category write off to learn more.
Tax
You will be able to claim back any full months Tax by declaring the car SORN and submitting a V14 to the DVLA. Please see our guide to declaring a car as SORN online for more information.
Remember, your car will need to remain taxed if it is kept on the public highway until signed over to the collection agent.
V5C (The DVLA Registration Document)
You will need a current V5C in your name, or at the very least some form of photo ID (Some collection agents will only accept photo ID). Click here to get a full breakdown of the V5C Registration Document and ensure sure you know what the steps are when scrapping a car.
Outstanding Finance
Any outstanding finance must be cleared before your vehicle is removed. Even if this is only a small amount, the collection agent will perform an HPI check on every car that they purchase before transport is arranged and sometimes finance that has been recently cleared can still show on your HPI. Don't worry if this is the case, as a quick call to the finance company will usually clear this up within minutes. In some circumstances, an agreement to clear the outstanding finance can be negotiated with specialist buyers. Head over to our guide on how to sell a car with outstanding finance to find out how we can help find the right buyer for you.
Once you are happy that you have the aforementioned points in check, the process is simple.
How To Scrap A Car | Step One: Fill In The Online Form & Review The Prices
Fill in our online form, remembering to fill in any relevant information in the notes section. Once we have received your details, both our comparison system and our in-house valuations team will set to work on generating the best offers for your car. Our team will consult our National Network of Authorised Treatment Facilities and Specialist Buyers to compile a list of Scrap prices for you to consider. You may even receive a Salvage Offer if a buyer considers your vehicle as high interest!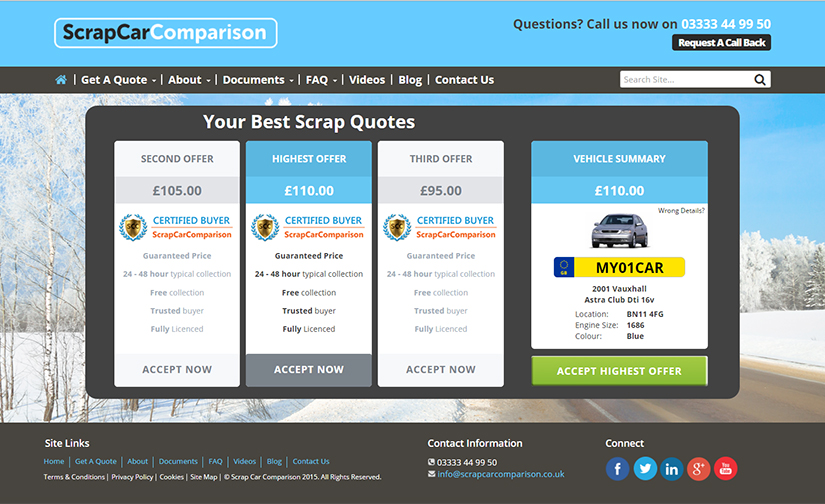 PLEASE NOTE – we never pass any of your personal details onto any third parties until a price has been formally agreed.
We will either give you an instant online quote or contact you via phone, email and/or text to give you the price.
At this point, as long as you are happy, then we are ready to move onto the step two.
How To Scrap A Car | Step Two: Confirm The Details & Organise Collection
Now that you have agreed to a price for your vehicle, it's time confirm your details and organise the collection. We make this step simple and easy by contacting you to confirm your acceptance and go over the next steps.
We'll confirm your collection address and contact information, along with any extra vehicle information required, and send the details off to our collection agent to schedule your vehicles collection.
It's important to note that all of our collection agents are contractually obliged to abide by the following conditions:
Collection will be free of charge. No hidden charges!
All Prices quoted are Guaranteed*
Collections will be made in a timely manner, with most of our collectors aiming for a 48 hour turn around from the initial booking.
A convenient time will be agreed and the driver will be sent out.
How To Scrap A Car | Step Three: Sign The Paperwork & Get Payed
Upon collection, the driver will guide you through which parts of the V5C to fill out, as well as sign the document on the company's behalf. They will take the vehicle away and leave you with both your payment and Section 9 of the V5C.
Important! You are required to send Section 9 of the V5C to the DVLA in order to notify them that you are no longer the vehicle's owner. If the scrap car is being sent to an ATF, you can request a Certificate of Destruction either at the time of collection or within 7 working days.
You Have Successfully Scrapped Your Car
Congratulations! You're all done! If you require any further information regarding your vehicle feel free to contact us anytime.
For full advice on how to let the DVLA know that you have sold your car for scrap or for salvage please see here www.gov.uk/notifying-dvla-if-you-sell-your-vehicle
*Prices are guaranteed providing that your vehicle is as described, is fully accessible upon collection, and a valid proof of ownership is shown to the driver