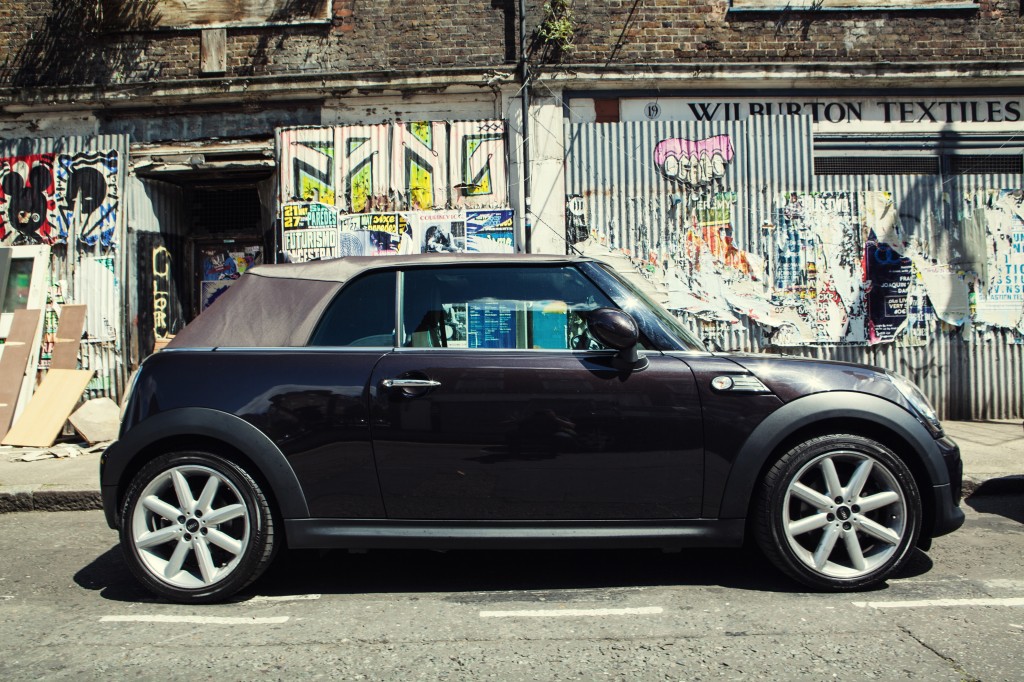 Last week we submitted data to Telegraph journalist James Foxall to use in his article on scrap prices, which questioned the declining price of scrap metal and it implications. James wrote a fantastic article that illustrates the effects of the current economical climate in scrap metal and we recommend that you go and check the article out here.
As leaders in the scrap car industry, we pride ourselves in finding the best guaranteed scrap prices in the UK , so we felt that we would share our original findings and guide you on how to get the best prices during the economic downturn.
So take a look at the data collected below and feel free to let us know what you think over on our twitter @ScrapCarCompare. We would love to hear your opinions.
So, Why Are Scrap Car Prices So Low?
If you have recently scrapped your vehicle or have been researching prices in preparation to get rid of your car soon, you have probably noticed that companies are offering lower prices than you might have expected, possibly in comparison to the last time you scrapped your old banger. Scrap car prices have been gradually dropping over the past couple of years, but recently these prices have gained momentum down an increasingly steeper hill to the point where scrap collectors have felt the squeeze so much they have had to review their prices up to a couple of times per week rather than monthly.
How much have the prices dropped?
Scrap Car Comparison have released this information showing the average price that people booked collections to scrap their Ford Focus' from scrap collectors across the whole of the UK in the form of a line graph. The graph shows the decrease in prices over the past 9 months, going back to July 2014 and going through to March 2015. As you can see the price does fluctuate, however the value of a Ford Focus has ultimately dropped on average 23% over the last 9 months.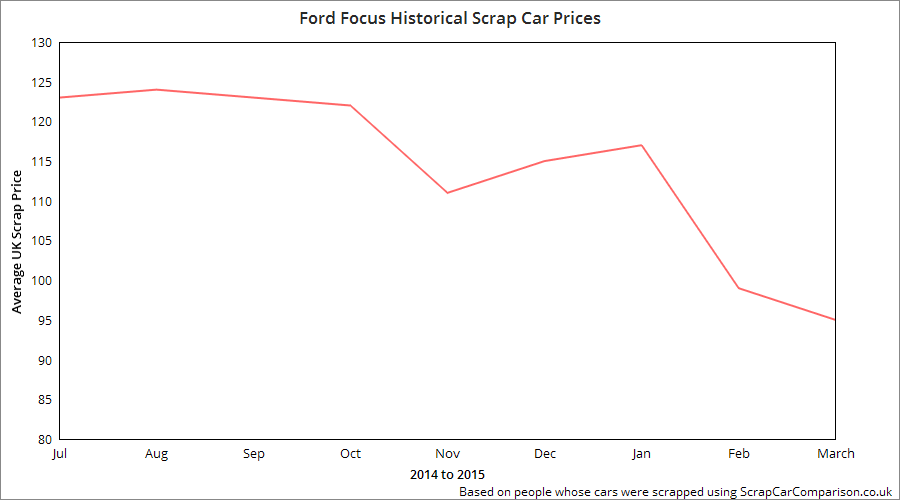 How do scrap yards work out prices?
The value of your vehicle at the end of its life is based on the weight of it, as scrap yards will be looking to recycle the metal it is made from. Scrap car prices across the country currently average around £60 to £80 per tonne (in February 2015).
So how heavy is my car?
If you are unsure how heavy your vehicle is, simply look at the table below and pick a similar size vehicle to yours for a rough guide where you can then estimate the price you should be able to find from the average price per tonne above.
*Remember: 1 Metric Tonne = 1,000 KG

Where do the prices come from?
Where do we start?! You would think it would be as easy as logging onto an official website source such as the "London Metal Exchange", looking for the prices of the metals cars are made from and roughly gauging a price from this. However this is unfortunately not the case. This would be difficult in itself as the main car components can be made from aluminium, steel, and other various alloys. To make this simple let's forget about parts such as copper wire etc. Look for the price of steel on the London Metal Exchange and you will only find prices for 'Steel Billet' – blocks of metal which require further processing. The prices for steel billet as of March 2015 stand at over twice the price of scrap cars being around £200 per tonne of steel billet. Can we say that from this information that you can value the price per tonne of your car by roughly halving the price of steel billet per tonne?
Why does the price constantly change?
Pricing is based on domestic steelworks and the continuously fluctuating international market – there are so many contributing factors making it a hard task for anyone to accurately track, let alone predict, future prices. The issue is that it's not just the UK domestic market that you have to think about, China and India both play large roles in price movements, as well as the recent volatile military situation in Ukraine. Scrap yards themselves find it difficult to predict it, – when you are looking at price changes internationally currencies also play a massive role along with which country is placing orders for the different metals that are recycled in that particular month. Domestic prices are agreed on a monthly basis at steelworks and that has been the historical case, but recently even the steelworks have had to amend these prices during that monthly time frame.
How else can I tell if I'm getting a good price when scrapping my car?
So from what we have talked about so far we are still fairly clueless regarding any official prices to benchmark exactly what a "good price" is. From the point of view of members of the public, the only way to ensure they are getting the best possible price is to use comparison websites such as Scrap Car Comparison who will be able to let you know the different prices that scrap collectors are paying in your area, as well as offering you the highest guaranteed prices.
So that's it! If you're looking to get the best possible price for your damaged, end-of life, or scrap vehicle then enter your details above to get an instant quote or give us a call on 03333 44 99 50 (Calls charged at your normal rate).
Thanks again to James Foxall for using our data. You can read more of his articles here.
Thanks also to isorepublic.com for the photo used in this article.
Nick Tech