Scrap Car Comparison is the country's first and only comparison website for scrap vehicle prices. Since 2013, our independent website has been offering free, instant scrap and salvage quotes for UK resident. Having amassed a nationwide network of scrap car breakers, collectors and dedicated buyers, we work with Authorised Treatment Facilities and Approved Buyers nationwide to provide you with a friendly and impartial service that takes that hassle out of vehicle sale and disposal.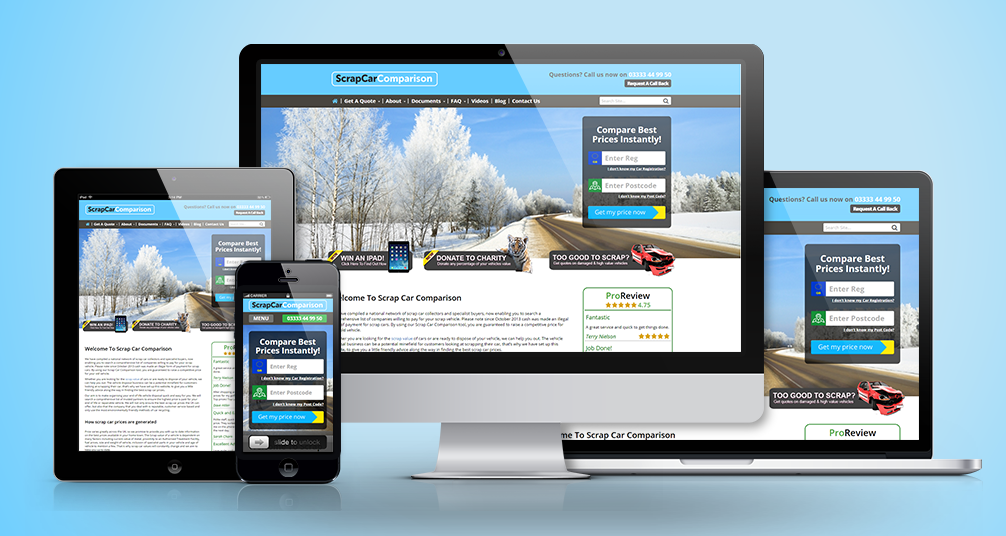 Why Choose Scrap Car Comparison?
As an independent service provider, our team of industry experts are ready to help guide you on your journey. We'll help you assess the best buyers for you, helping you get the best possible service and ensuring a guaranteed price for your end of life or repairable vehicle. Whether you are just looking to scrap your old car or sell a late damaged vehicle, our team will take the time to put you in touch with the company best suited to your requirements.
All it takes to get started is submitting the above form and you'll get guaranteed prices in minutes.
Alternatively, you can call us free on 03333 44 99 50 and speak to one of our friendly and informed advisors today!
Our Mission
At Scrap Car Comparison, we understand that the process of disposing of an end of life car can be confusing. We created this website to not only help you find the best price for your scrap car but to help you make informed decisions when selling or scrapping your vehicle. We make it our missions to give you the friendly and professional service that you deserve, empowering you with the knowledge you need to pick the best deal for you.
The main aim of Scrap Car Comparison is to make arranging the disposal of your scrap vehicle, simple and quick. We will search our broad list of trusted partners to ensure you get paid the highest price possible for your scrap vehicle, ensuring the best scrap car prices in the UK and making sure that the company you deal with is licenced, trustworthy, and completely customer focused.
How Scrap Car Prices Are Generated
When pricing a scrap vehicle many factors have to be taken into consideration.
Just a few of these influences might be the cars proximity to an Authorised Treatment Facility, current metal values, size and weight of the vehicle even fuel prices and the addition of specialist parts in your vehicle can make a difference.
It is these factors that mean salvage and scrap car prices are always fluctuating.
Head over to our vehicle scrap value page to learn how scrap car prices are worked out
Scrap Car Comparison's Trusted Partners
Scrap car comparison insist that all of our trusted partners adhere to a Price Guarantee Promise – this guarantee gives you the peace of mind that the price quoted over the telephone is the genuine amount that you will receive for your scrap car.
We also thoroughly and regularly evaluate the service and conduct of every company we work with to ensure the best quality service possible. You can click here to read more about our trusted vehicle buyers.
Free Collection With No Hidden Costs:
We make sure that all of our partners offer free collection anywhere in the UK. This means that, as a customer, you will never be asked to pay any collection charges what so ever.
What's more, some of our buyers will even offer an increased price if you would prefer to drop your car in personally. No hidden costs. No nasty surprises!