---
Scrap My Car Gloucester
If you're looking for the best price for your old, unwanted or damaged vehicle in Gloucester, Scrap Car Comparison can help. Whether you're located in Elmbridge, Twigworth, Hartpury, Tuffley or further afield, our scrap and salvage buyers are ready to offer you a free, personalised quote for your vehicle – regardless of the make, model and condition. Plus, we run a no-contact service so you can rest assured the process is safe and secure!

Large Colchester Network

Guaranteed Prices

Free Collection

Experienced and professional
---
Where to Scrap My Car in Gloucester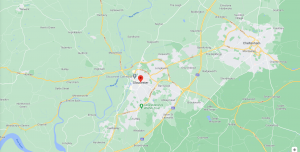 All of the scrap and salvage buyers on our network are fully vetted and regularly checked to ensure they uphold the high levels of service Scrap Car Comparison holds. With an extensive network of trusted and experienced buyers, you can browse and compare quotes from all over Gloucestershire and the rest of the UK. This means you won't have to settle for average quotes in your town or county, you can handpick your quote from the most competitive prices in the market – and the best part is our buyers operate free national collections!
Vehicle Recycling Gloucester
You may choose to recycle your vehicle for a number of reasons including, crash damage, failed MOT or simply old age. Whatever the reason for wanting to recycle, the good news is that recycling within the scrap car industry is booming. Our scrap and salvage buyers understand the potential an end of life vehicle has, so you can rest assured that your car or van is in good hands with Scrap Car Comparison.

To find out more about vehicle recycling, read our guide to car recycling. 
Scrap Car Collection in Gloucester
When you scrap your car through Scrap Car Comparison, scrap car collection is included free of charge, wherever you're located in the UK and wherever your chosen scrap yard is located.
We've been organising scrap car collections across the UK since 2008, so you can rest assured that, whether your scrap car needs to be collected from Barnwood, Highnam, Sandhurst, Quedgeley or anywhere else in Gloucester, we'll provide a quick, convenient, and hassle-free service.
Scrap My Van Gloucester
The process for scrapping a van isn't all that different from the process of scrapping a car. All of the experienced buyers within our extensive network have spent years in the industry, and have an abundance of knowledge and expertise in both buying, and recovering, damaged or broken vans.

We have hundreds of buyers across the UK that want to buy your scrap van, no matter what condition it's in. Get a top quote, guaranteed with a free, convenient collection regardless of where you are in the UK. There are no hidden fees or charges to catch you off guard!
In order for us to generate a quote for your van, we first require your van's details. This can be done by either calling one of our advisors on 03333 44 99 50, or by completing the form at the top of this page.
What our Scrap Car Gloucester Customers Are Saying
We pride ourselves on the professional, friendly and efficient services we provide, from the beginning of your journey, to the very end. We always give impartial advice and provide our customers with the knowledge they need to pick the deal that's right for them. Read what some of our customers have to say:

"Contacted Scrap Car Comparison when my car was found to be beyond repair.They offered me a great price and made the whole process really easy! Hopefully not going to be in this situation again, but would use them again before anyone else! Great service, fast and friendly."
Paul G – Reviews.co.uk

"Easy site to navigate, with help at each stage. Just fill in the list of questions, send and wait for the price. Contacting Scrap Car Comparison was easy and efficient and friendly. Best prices paid and simple and positive experience."
Lynne T – Reviews.co.uk

Scrappage FAQs
How Do Your Online Quotes Work?
All we need is a few details! We need your postcode to determine where the vehicle is located so we can find the best buyers around your area and further afield. Then we need your registration number to determine the make and model of your vehicle. Once you've submitted your details a member of our expert team will get in touch with you to discuss your vehicle in more detail, talk you through the process and answer any queries you may have. 
Where Can You Collect From in Gloucester?
Scrap car collection near me is one of the questions we get asked the most. The buyers on our network, local scrap car collectors across the country, can collect from Gloucester and the surrounding areas – as long as the vehicle is accessible for a recovery vehicle. So whether your vehicle is stored at a friend or family members house, at work or in a storage compound, they can collect it. The only exception to this is if the vehicle is still at the scene of an accident, or at a service station, as our buyers do not operate in roadside recovery.
My Car Is In Poor Condition, Can You Still Collect?
Yes! Our comparison service searches nationwide to find the best price for your vehicle no matter what the vehicle's condition, make or model. Whether you've got an MOT failure or crash damaged or broken vehicle, just be as accurate as possible when describing the vehicle's condition and we'll search our network to find the most suitable buyer for you!

What Do I Do With Previous Car History?
Please let us know what vehicle history you do have. If you don't have any history that's not a problem, just make sure you've made us aware so that we can inform our buyers. Any car history that you do have should be given to the buyer when they collect the vehicle. 
Can I Scrap More Than One Vehicle At A Time?
Yes as long as you have relevant paperwork. If you need to dispose of multiple vehicles you may also be interested in our fleet disposal services.
Do I Need To Contact The DVLA?
When your vehicle has been collected you will need to complete section 9 of the V5c document, or if you don't have this the registered keeper of the vehicle will need to notify the DVLA. Failure to do this means you may still be liable for any tickets and fines the vehicle incurs after the sale date! 
Will I Get Paid Before Collection?
You'll receive payment on the very same day your vehicle is collected. The buyers on our network will need to ensure that the vehicle is both there, and as it was described during the quotation process, so payments are made at the time of collection, or shortly after, once the buyer has done their checks against the vehicle.
If you have any more queries on the scrapping process, read our most frequently asked questions on scrapping a vehicle.
Other locations near me
We can collect from all over Gloucestershire. Get in touch with us or get your personalised, free quote in just 30 seconds. 
Here are some of our larger collection areas.