---
Scrap My Car Derby
If you're looking for the best price for your scrap car in Nottingham, look no further than Scrap Car Comparison. Our completely free comparison service allows you to compare deals from over 100 scrap yards around the UK.
Once you've chosen your scrap yard, we'll arrange to come and collect your car from Derby for free. So, whether you're based in Allenton, Chaddesden, Sunny Hill, Litchurch, Mackworth, Oakwood, or anywhere else in Derby and the surrounding area, you'll be able to access the best possible deal.

Best prices

Streamlined process

Huge buyer network

Pickup from your door
---
Where to Scrap My Car in Derby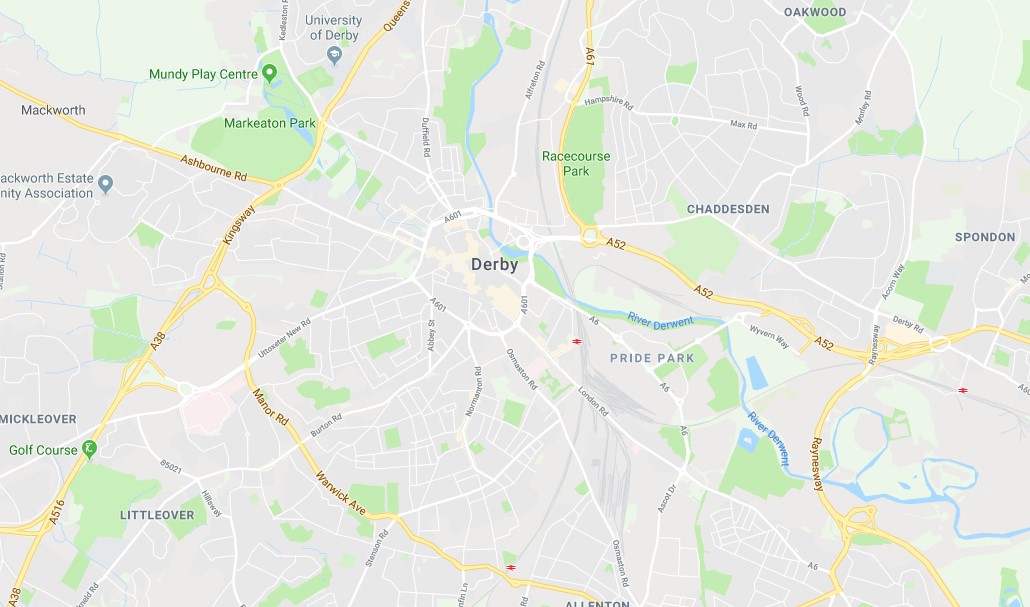 Having built up a network of over 100 approved scrap yards and salvage buyers, we'll help you get the most out of your scrap or damaged vehicle. If you are looking to scrap your car or van in Derby, you're in the right place as we can collect your vehicle from any location.
Simply enter your registration number and postcode and we'll compare buyers to provide you with the best possible deals for your damaged or end of life car. With guaranteed prices and no hidden fees, we offer free collection from any location at a time convenient for you.
Scrap Car Collection in Derby
All of our buyers are extremely professional and fully vetted, so you can be sure you are receiving the very best service. Over the years, we have forged strong relationships with reliable and trustworthy buyers who allow us to provide 5-star service at all times.
If you are looking to scrap your vehicle in Derby, enter your details into our easy comparison tool today to receive instant offers. You will receive all the official documentation need and our friendly team will be on hand to help and answer any questions you may have.
Scrap My Van Derby
Do you have a van that you're looking to sell in Derby? Scrap Car Comparison will offer you a top, guaranteed price for it – regardless of the condition. Whether your van has failed its MOT, is old and worn out, has crash damage or a faulty part, our knowledgeable scrap and salvage buyers will quote your van and offer you the most competitive prices, plus they'll collect it free of charge.

The process of scrapping a van is similar to our scrap car process, so find out more or get started with your personalised quote.
What Our Scrap Car Customers Are Saying
We always give impartial advice and provide our customers with the knowledge they need to pick the deal that's right for them. Read what some of our customers have to say:
"Absolutely brilliant service. Quick, reliable and efficient. Would definitely use again."
Richard D – Reviews.co.uk

"From start to finish the staff were very friendly and felt very confident using this company. They made everything easy to understand and very helpful throughout the process. I would highly recommend them."
Anthony T – Reviews.co.uk

"Nice people to do business with! Best price we could find. Everyone was very helpful and explained the whole procedure clearly. Would happily recommend it to anyone."
Norman H – Reviews.co.uk
Scrappage FAQs
Where Can I Scrap My Car in Derby?
We work with a number of local scrap car providers around Derby. Just fill out our form below. We'll send you the best quotes in and around Derby. Then pick the best quote for you and arrange a pick-up around your schedule.
Can You Pick Up My Scrap Car in Derby?
Absolutely. We have a network of scrap car dealers in Derby who routinely collect cars to be scrapped, so you don't need to worry about taking the car anywhere for quotes. We cover the whole UK too, so even if you're in Brailsford, Kilburn, Findern, and Etwall, we'll pick up your car for you. You won't even need to leave your house.
Can You Collect Salvage Cars?
Yes. We collect salvage cars. Sometimes cars written off by an insurer, you'll often get a better deal for salvage rather than scrap. Make sure you read our full guide on salvage cars here and find out which salvage category your car could be in and what that means.
What's the Process When I Scrap my Car in Derby?
Over the year we've made the process for car scrappage around the local area quicker, easier and more convenient than ever before. Just send us your details and the information on your car, and we'll get back to you with the most competitive quotes from local providers. Choose a provider and make arrangements with them to collect – simple!
Do I Need to Take my Car to a Scrap Yard in Derby?
Getting your car scrapped in Derby used to take a lot of time and driving around. You'd have to drive your car to a dealer, get a price, and either accept their offer or drive to another dealer for a quote. All you need to do now is fill in your details below, we'll offer you a quote for your scrap car back from our dealers in Derby. You just need to pick the best one and they'll pick it up for you. Easy!
Other Locations Near Me
Our most popular Derby scrap car collection areas include Chaddesden, Allenton, Littleover, Oakwood, Alvaston and Sunny Hill.
Our wide range of local collectors are ready to pick your vehicle up and take it away – simple and easy! Contact us for a quick, hassle free collection anywhere in the UK. Here are some of our larger collection areas.