The 17th of March can mean only one thing… Saint Patrick's Day!
As I'm sure most of our readers know, much merriment can be found today in the form of shamrocks, feasts, and drinks in celebration of the Ireland's patron saint. Something you might not have known though is that one of the many aims of the Irish governments St Patrick's Festival is
"To project (internationally) an accurate image of Ireland as a creative, professional and sophisticated country with wide appeal."
So what better way for us to join in the festivities then to share some of that creativity with our Guide To Irish Cars. We hope you enjoy the read, and hope you'll raise a glass to Saint Patrick with us!
Alex E-Roadster

We thought that we would start with an up and coming Irish car set to hit the electric car market in 2017, the Alex E-Roadster. The brain child of Irish inventor and designer Tom Finnegan, this lightweight two-seater is Ireland's entry into the modern age of zero-emission vehicles. With a top speed of 62mph, the Alex E-Roadster can get to 60mph in under 10 seconds and boasts 'evolutionary new batteries' with ranges of 300km between charges (Twice as much as the Kia Soul EV!).
The car's design is futuristic and forward thinking, opting for a forward tilting roof panel instead of standard car doors. Design features even include a removable tablet that allow you to communicate with the car on the go. The car will be built by Dunleer based manufacturers, Swift Composite Prototypes, and will be primarily constructed of materials like carbon fiber and kevlar. Swift have been quoted as predicting that the vehicle will be around 30% lighter then cars of a similar size. You can read more about Tom, Swift, and the cars development on the official Alex eroadster site.
The Shamrock

Now for an Irish Car Classic! The late 1950's luxury car, the Shamrock! Sadly the world never got to see more then ten of these beautiful american inspired cars roll off of the production ramps. Designed for the US car market by celebrated race car driver Alvin 'Spike' Rhiando, the Shamrock was the product of Shamrock Motors Ltd, a Tralee based company established by American businessmen James F. Conway and William K Curtis.
As we mentioned, despite the initial production target of up to 10,000 units a year, very few Shamrocks managed to be built to completion. This was due to several design flaws that could not be corrected before cash flow problems finally put an end to the venture. The Shamrock was a 2 door, four seat coupe with removable hardtop, 1.5 litre Austin engine, and fiberglass paneling. Due to their few numbers, they are now considered a rare collectors item with only eight suspected of being in existence today.
The TMC-Costin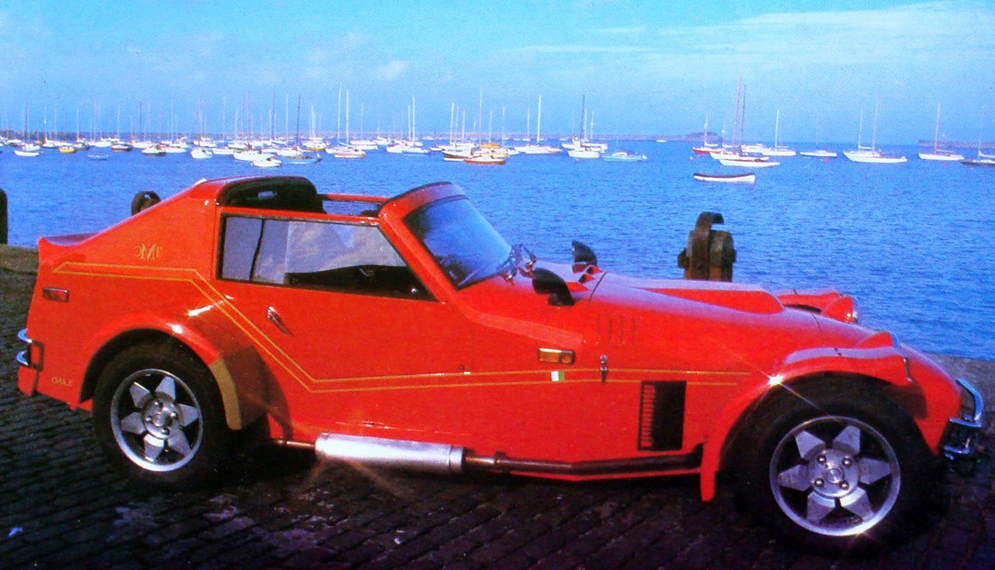 Frank Costin, co-founder of British sports car manufacturer Marcos Engineering, is a legend among Lotus and Maserati race fans. In his successful career working in race car design, he designed the bodies of both the the Lotus Mark VIII and the Grand Prix Constructor's Championship winner Vanwall. Today though we celebrate his 1983 collaboration with Wexford based manufacturers Thompson Motor Company. Unfortunately, the company went bankrupt after the production of only 39 TMC-Costin's, but they were hugely successful in the racing world. All was not to be lost though, as Daniel Panoz, founder of Panoz Auto Development, bought the chassis rights and later developed the Panoz Roadster using the Costin as a direct influence.
Bombardier Buses

Operating between 1980 and 1986, GAC (Ireland) Limited manufactured buses and coaches out of it's facility in Shannon, County Clare. They are most known for what quickly became a distinct and commonplace in many Dublin streets, the Bombardier KE InterCity Bus! The KE type touring coach featured the Detroit Diesel 6V-71 and was the unfortunate victim of structural problems (not dissimilar to it's siblings, the KD and KC class buses). As a result, they were sadly withdrawn and scrapped in 1997, but some were preserved and can be seen and the National Transport Museum of Ireland in Howth.
Check out this youtube video to see the Irish public say their affectionate goodbyes to the Bombardiers: